The N6QAB TH D7A GPS compatibility page
This page updated on 03/25/01

This page only applies to TH D7A's that have a S/N below 010xxxxx and have not had their firmware upgraded by a Kenwood Service Center.
See the Kenwood Service Bulletin here
---

Back to the N6QAB home page
---
Below are some of the GPS receivers that have been tested with the Kenwood TH D7A, and whether or not they are compatible in the "APRS stand alone tracker" mode. Included with the image of each the GPS receivers are it's NMEA sentences.
A summary comparison of each of the GPS receiver's $GPGGA sentence is provided below. See a pattern? Notice the number of decimal places in each of the position reports. The highlighted underlined numbers. The units that work with the TH D7A display three decimal places. Others, which don't work, display more than three, or less than three decimal places.
Works with the TH D7A
=Yes

= No
---
GPS-II, GPS-II+, GPS-III, GPS-III+, GPS-40, GPS12-XL, Eagle Explorer, Magnavox MX4200
---
NMEA comparisons
EAGLE Map Guide Pro

$GPGGA,094209,4027.0026,N,00341.8490,W,0,0,0.00,709,M,,,,*12
---
The Garmin StreetPilot
$GPGGA,014223,3934.273,N,08413.665,W,1,07,2.0,284.7,M,-33.3,M,,*74
---
The Garmin GPS 45 (XL also works)
$GPGGA,030902,3046.956,N,08140.515,W,1,05,1.5,123.9,M,-31.2,M,,*7A
---
Magellan Meridian XL

$GPGGA,233347.96,3609.08,N,11502.42,W,1,04,2.0,00680,M,1111
---
The ICOM GP-22
$GPGGA,194518,3821.009,N,07624.384,W,1,4,002,36,M,-047,M*5A
---
The Garmin GPS 20

$GPGGA,003058,3821.0090,N,07624.3898,W,1,06,1.5,32.5,M,-34.6,M,,*48
---
The Delorme Tripmate

$GPGGA,231208,3820.9939,N,07624.4219,W,1,04,1.23,-35.5,M,-33.9,M,,*5E
---
The Garmin GPS 35

$GPGGA,000637,3820.9855,N,07624.4190,W,1,07,1.0,86.8,M,-34.6,M,,*4D
---
---
The EAGLE Map Guide Pro
(TH D7E GPS configured for NMEA 2.0.)
(Data provided by Carlos Sanz/EA4BFS)


Compatible with the Kenwood TH D7A? No
The Eagle Map Guide Pro data stream
$GPAPB,V,A,0.01,L,N,A,V,3.6,T,1,344.6,T,,*68
$GPGLL,4027.0026,N,00341.8490,W,094209,V*2F
$GPRMB,V,0.01,L,,1,4027.0384,N,00341.8620,W,0.04,344.6,0.0,A*21
$GPRMC,094209,V,4027.0026,N,00341.8490,W,0.0,0.0,080299,3.3,W*6B
$GPGGA,094209,4027.0026,N,00341.8490,W,0,0,0.00,709,M,,,,*12
$GPGSA,A,1,,,,,,,,,,,,,0.00,0.00,0.00*00
$GPGSV,1,1,0*49
$GPAPB,V,A,0.01,L,N,A,V,3.6,T,1,344.6,T,,*68
$GPGLL,4027.0026,N,00341.8490,W,094210,V*27
---
The Garmin Street Pilot
(Data provided by George Pappayliou/W3GP)

Compatible with the Kenwood TH D7A? Yes
Street Pilot data stream
$GPRMC,014222,A,3934.273,N,08413.665,W,000.0,,170199,000.0,E*4A
$GPRMB,A,,,,,,,,,,,,V*71
$GPGGA,014223,3934.273,N,08413.665,W,1,07,2.0,284.7,M,-33.3,M,,*74
$GPGSA,A,3,,02,,04,05,,07,08,09,,,14,--00,2.0,3.0*1D
$GPGSV,3,1,12,01,00,334,00,02,21,156,41,03,00,134,00,04,82,311,51*77
$GPGSV,3,2,12,05,29,311,44,06,00,280,00,07,56,074,48,08,15,301,39*75
$GPGSV,3,3,12,09,20,265,42,10,04,189,00,13,00,157,00,14,16,041,40*71
$PGRME,15.0,M,22.5,M,15.0,M*1B
$GPGLL,3934.273,N,08413.665,W,014223,A*3E
$PGRMZ,934,f,3*15
$PGRMM,WGS 84*06
$GPBOD,,T,,M,,*47
$GPRTE,0,1,c,*36
---
The Garmin GPS 45 (XL also works)
(Data provided by Steven Bible/N7HPR)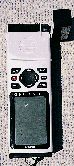 Compatible with the Kenwood TH D7A? Yes
GPS 45 data stream
$GPRMC,030901,A,3046.957,N,08140.515,W,000.0,185.9,160199,004.7,W*7B
$GPRMB,A,,,,,,,,,,,,V*71
$GPGGA,030902,3046.956,N,08140.515,W,1,05,1.5,123.9,M,-31.2,M,,*7A
$GPGSA,A,3,04,05,07,10,13,,,24,,,,,4.1,1.5,3.8*3B
$GPGSV,2,1,08,04,46,034,51,05,45,287,52,07,34,108,48,10,52,196,51*70
$GPGSV,2,2,08,13,18,131,39,16,12,038,00,18,15,071,00,24,58,317,51*7D
$PGRME,35.7,M,88.4,M,95.4,M*13
$GPGLL,3046.957,N,08140.514,W,030902,A*37
$PGRMZ,405,f,3*1A
$PGRMM,WGS 84*06
$GPBOD,,T,,M,,*47
$GPRTE,1,1,c,0*07
---
The Magellan Meridian XL
(Data provided by Steve Scott/KD8S)

Compatible with the Kenwood TH D7A? No
Magellan Meridian XL data stream
$GPGLL,3609.10n,115 02.41,w
$GPVTG,000.,t,000.,m,00.0,n,00.0,k
$GPGLL,3609.079,n,11502.433,w,233347.960,a
$GPGGA,233347.96,3609.08,n,11502.42,w,1,04,2.0,00680,m,1111
$GPVTG,0.0,t,346.2,m,0.00,n,0.0,k
$GPRMC,161603,a,3609.13,n,11502.47,w,00.0,000.0,281298,14.,e*50
---
The ICOM GP-22 GPS with the OPK-4 EXTERNAL ANTENNA SET
(OPK-4 consists of the EX 1443 Interface Unit and AH 33 antenna which are required to get a NMEA output)
(Data provided by Kevin Kelly/N6QAB)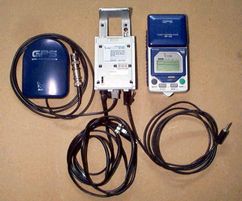 Compatible with the Kenwood TH D7A? Yes
GP-22 NMEA data stream
$GPGLP,194518,3821.01,N,07624.38,W,WP01*66
$GPGGA,194518,3821.009,N,07624.384,W,1,4,002,36,M,-047,M*5A
$GPGLL,3821.01,N,07624.38,W*7C
$GPVTG,051.,T,063.,M,02.6,N,04.9,K*46
$GPBWC,,2905.66,N,04808.17,E,046.,T,057.,M,999.9,N,WP01*09
$GPXTE,,,,,*72
---
The GARMIN GPS 20 with Trimble antenna
(Data provided by Kevin Kelly/N6QAB)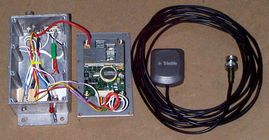 Compatible with the Kenwood TH D7A? No
GP-22 NMEA data stream
$GPVTG,118.5,T,129.0,M,00.0,N,00.0,K*49
$GPRMC,003058,A,3821.0090,N,07624.3898,W,0.0,118.5,100199,010.6,W*7E
$GPGGA,003058,3821.0090,N,07624.3898,W,1,06,1.5,32.5,M,-34.6,M,,*48
$GPGSA,A,3,02,04,07,,14,15,27,,,,,,2.2,1.5,1.7*35
$GPGSV,2,1,07,02,74,157,45,04,38,220,43,07,62,319,45,09,14,313,*72
$GPGSV,2,2,07,14,32,088,40,15,19,043,37,27,13,192,33,,,,*4C
$PGRME,63.7,M,70.1,M,94.8,M*1F
---
The Delorme Tripmate
(Data provided by Kevin Kelly/N6QAB)

Compatible with the Kenwood TH D7A? No
Tripmate NMEA data stream
$GPRMC,231206,A,3820.9939,N,07624.4219,W,0.000,0.0,100199,10.9,W*40
$PRWIZCH,19,0,14,0,31,0,07,7,04,0,31,0,02,7,15,7,16,0,26,0,00,0,27,7*43
$GPGGA,231207,3820.9939,N,07624.4219,W,1,04,1.23,-35.1,M,-33.9,M,,*55
$GPGSA,A,3,07,02,15,27,,,,,,,,,2.08,1.23,1.68*03
$GPRMC,231207,A,3820.9939,N,07624.4219,W,0.000,0.0,100199,10.9,W*41
$PRWIZCH,19,0,14,0,31,0,07,7,04,0,31,0,02,7,15,7,16,0,26,0,00,0,27,7*43
$GPGGA,231208,3820.9939,N,07624.4219,W,1,04,1.23,-35.5,M,-33.9,M,,*5E
$GPGSA,A,3,07,02,15,27,,,,,,,,,2.08,1.23,1.68*03
$GPGSV,3,1,10,02,70,323,37,15,49,057,37,27,45,210,31,07,42,274,35*75
$GPGSV,3,2,10,19,15,176,,14,15,121,,04,07,208,,31,06,069,*74
$GPGSV,3,3,10,16,03,154,,26,01,295,*77
---
The GARMIN GPS 35 TrakPak
(Data provided by Kevin Kelly/N6QAB)

Compatible with the Kenwood TH D7A? No
GPS 35 NMEA data stream
$GPRMC,000637,A,3820.9855,N,07624.4190,W,000.0,000.0,150199,011.1,W*73
$GPGGA,000637,3820.9855,N,07624.4190,W,1,07,1.0,86.8,M,-34.6,M,,*4D
$GPGSA,A,3,02,04,07,09,14,,16,27,,,,,1.8,1.0,1.5*31
$GPGSV,2,1,08,02,76,156,47,04,36,219,50,07,61,316,50,09,14,314,36*70
$GPGSV,2,2,08,14,32,091,40,15,20,043,,16,27,133,37,27,14,193,45*75