The Attenuator
An RF attenuator is an essential piece of equipment required by the T-hunter. The attenuator is placed in-line between the antenna and receiver to incrementally lower the level of transmitter RF signal reaching the receiver front end.
With attenuation switched in, the signal meter deflection is decreased, allowing the T-hunter to see the peaks and valleys of the signal no matter the proximity to the transmitter. Pictured above is the KAY laboratory attenuator that has become very popular with most hunters. It, and similar types of attenuators can be found at many Hamfests.
The smaller black variable attenuator is also popular with many hunters. It is 75 ohm, and does not have the amount of attenuation the KAY unit does, but they can be daisy chained together to provide useful attenuation. It is available from Radio Shack.
Below are examples of various commercial and hombrew attenuators.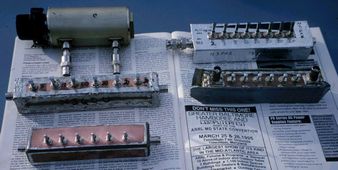 Back to the N6QAB home page
This page updated on 01/13/99