DXpedition to Guadeloupe
---
DXpedition Information
The QTH
The Shack
Log Search
Guadeloupe Fact Sheet
Guide to Guadeloupe
Current Weather Conditions in Guadeloupe
Southern California DX Club

---
Six members of the Southern California DX Club will be active from Guadeloupe (IOTA NA-102) from October 17th through October 27th. We will be active as a multi-single entry in the 1998 CQWW SSB contest using the callsign FG5BG. We will be on before and after the contest using FG/homecall on all bands (160m - 10m) using CW & SSB. We may also try to get on 6 meters. QSL via the bureau or direct to each operators homecall. QSLs for FG5BG for **1998 CQWW SSB ONLY** via K6RO.
The operators are:
N6RV - Bill Kendrick
K6RO - Larry Shapiro
N6ED - Craig Gullickson
W6SR- Rick Samoian
W6KK - Charlie Spetnagel
N6RT - Doug Brandon
---
Guadeloupe is 1,845 miles from New York, 4,306 miles from Paris, 2,138 miles from Montreal, and 310 miles from San Juan. It is an archipelago in the Caribbean Sea comprising several distinct islands. Guadeloupe proper is made up of two islands, Basse-Terre and Grande-Terre, separated by a seawater channel, the Rivière Salée. The other islands are Marie-Galante, La Désirade, and Les Saintes, which lie offshore, and St. Martin and St. Barthélemy (or St. Barts), some 125 miles north.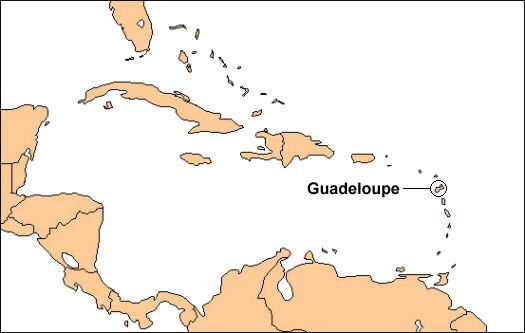 The butterfly-shaped island of Guadeloupe has a land area of 530 square miles: the western wing, Basse-Terre, has 312; the eastern wing, Grande-Terre, has 218. Approximately 386,600 persons live on Guadeloupe, with about 50% of the population still under 20 years of age.

---

The Shack

The shack is located on Roseu Beach, on the southeast side of Basse Terre near the city of Capesterre Belle Eau. Currently there is a 100 foot tower, and hopefully a second 60' tower will be installed by the time we arrive.


| | |
| --- | --- |
| | This is the 100 foot tower with cushcraft A4S on top |
This is the view looking towards Europe over
the Atlantic Ocean from the top of the tower
| | |
| --- | --- |
| | Nice beach, only a 2 minute walk from the shack! |
For information on renting this QTH or one of five others around the world, click here.
---
Web page designed by N6RT