Beam Mounting
---
There are several ways to mount a beam to your car. The ultimate in simplicity would be to toss your antenna in the bed of a truck, drive to a place to take a bearing, hop out and hunt, then start over.

Mounting the mast through the passenger side car window is another simple method. Just secure the mast near the top of the door frame, and drop the bottom through the door handle or whetever is available. This will create a lot of wind noise and may make the car somewhat uncomfortably cold for the beam turner, but requires no permanent changes to the car.

A popular solution for avaid hunters is to build a frame for a sun roof, or punch a hole through the roof. While it may take a couple hundred dollars off the re-sale value of a car, it provides a very comfortable, quiet, and secure mount.


---
This assembly consists of a marine water fitting secured to a hole punched through the roof. The van has a overhead console which hides the mount when not hunting. O-Rings on the cap keep the rain out.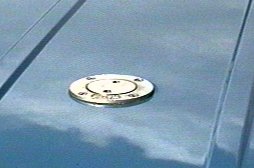 ---
This page by Byon Garrabrant N6BG

[email protected]

12/24/97