Prior planning - key to a successful DX cruise
Allen
Mattis

N5AFV

Could a new satellite operator successfully conduct a DX operation from a cruise ship? It was a little over a year ago on July 16, 2000, that I made my first amateur radio satellite contact. A few weeks earlier I had seen a satellite demonstration by Bruce Paige, KK5DO, at Field Day. When I was first licensed in 1978, I thought I wanted to work satellites, but I did not get around to it until Bruce piqued my interest. I soon became active on the FM satellites, UO-14, AO-27 and SO-35. I had been working the satellites for about a year when my wife and I began making plans for a Caribbean cruise, and I decided to take the opportunity to work the satellites from the cruise ship. I wanted the operation to go well, so I put a great deal of effort into the planning and preparation, just like the "big guns" do for a major DX-expedition.

My first step was to investigate licensing requirements, and determine where I would be able to operate. In order to operate maritime mobile from a ship, it is necessary to obtain a license from the country in which the vessel is flagged, and to have permission of the captain of the ship. The ship we had booked was the Ocean Princess, flagged in the United Kingdom. A visit to the American Radio Relay League (ARRL) web page (http://www.arrl.org/FandES/field/regulations/io/) indicated that the European Conference of Postal and Telecommunications Administration (CEPT) agreement T/R 61-01 gives US amateur radio operators operating privileges in the United Kingdom. I would still have to obtain permission from the captain to operate amateur radio from the ship, but I had crossed the first hurdle.

I also began to investigate operating from the various islands we were scheduled to visit. Again, the ARRL web page was extremely helpful. The CEPT agreement also included permission to operate from Curacao in the Netherlands Antilles. An International Amateur Radio Permit (IARP) available from the ARRL would give operating privileges for Isla Margarita, Venezuela, so I promptly applied to the League for an IARP. I knew that my US license was valid in St. Thomas in the US Virgin Islands. Information was also available for obtaining a reciprocal license from The Bahamas. Both Richard Long, W4AKE, and Al Lee, WA4EWV, were helpful in providing me with assistance during the application procedure, and I filed an application with the Public Utilities Commission in Nassau. In some cases it may take several months for reciprocal license applications to be processed, so it was important to apply well before my scheduled departure. Other scheduled stops on the cruise were Barbados and Dominica, but since our stops were for only one day, and reciprocal licenses had to be applied for in person after landing on those islands, I decided to pass on obtaining licenses to operate from those islands.
The gear
My next step was to determine what equipment to take on the cruise. I sent E-mail to John Sheets, N8QGC, and Ramon Santoyo, XE1KK, who had both operated on cruises during the past year, and asked for suggestions and recommendations. Both John and Ramon responded with excellent suggestions and help. John had operated on his cruise with an Arrow handheld beam, but after the terrorist attacks of September 11, 2001, we live in a different world. While operating satellites in the Houston metropolitan area after September 11th, I was frequently questioned by police and security guards attracted by my Arrow beam antenna. Therefore, I felt that I would not be allowed to operate from the ship with an Arrow antenna. On his cruise, Ramon had successfully operated with a Premier AL800 telescoping antenna and an HT. I decided to go that route, and the AL800 and my Icom IC-W32A HT became my choice of equipment. In case the AL800 antenna was not allowed due to security reasons, I selected an MFJ-1717 high gain dual band rubber duck antenna to be my backup antenna. Most cruise lines prohibit the playing of radios on deck because they disturb other passengers, so I decided to use an MFJ-288I headset with my HT. I also planned to take along a small, voice activated tape recorder to record the passes so that I would not have to log the contacts by hand. It would be difficult to write down contact information on a windy deck, in the dark, or in the rain, and the tape recorder would solve that problem. Next, I purchased a Garmin GPS unit. The GPS unit would give my exact position and grid square, give the exact time in UTC, and tell me what direction the ship was heading so that I would know which side of the ship to operate from. Both the tape recorder and the GPS unit use AA batteries, so I planned to take along a generous supply of batteries. My final equipment decision dealt with how to obtain satellite pass predictions during the cruise. I decided to travel light and not take along a lap top computer or Palm Pilot. I ran satellite pass predictions for the entire cruise at home using Nova for Windows on my home PC, and printed out hard copy sheets to take along.
Now that my equipment was selected, I began to check out the equipment and become familiar with it. I read the Icom IC-W32A instruction manual from cover to cover, even though I planned to take the manual along. I noticed a few minor problems with my IC-W32A, and decided to send it to Icom for servicing. In my cover letter to Icom, I explained how I planned to use the IC-W32A on an upcoming cruise, and Icom went over the entire radio to make sure that it was operating within specifications. I found that my HT battery packs were beginning to show their age and did not hold a full charge as long as they used to, so I purchased two new battery packs. I decided to take along three battery packs for the HT, a drop-in charger, and a trickle charger. I was very cognizant that Mr. Murphy would probably pay me a visit, and I planned backups for critical equipment such as the battery charger and antenna. An Icom HM-54 speaker microphone would be an acceptable backup for the MFJ headset. Because Icom had just serviced my IC-W32A, I did not plan on taking along a backup radio.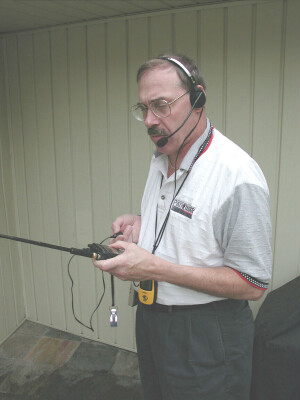 Double-checking the gear before the trip, Allen Mattis, N5AFV, is making sure it will work as expected
(Photo by KK5DO)
My final preparation consisted of making practice contacts with the equipment I planned to take on the cruise. I used the IC-W32A and AL800 antenna to make approximately 75 contacts under a variety of conditions during the month before the cruise. The practice operation continued until five days before my scheduled departure. This proved to be very important, because on the final day of practice operation, both Tony Campbell, W5ADC, and Bruce, KK5DO, reported that my audio was very low. A test of the MFJ-288I headset indicated that it was not working properly, and I quickly obtained a replacement headset to take along on the cruise. I hadn't left for the cruise yet, but Mr. Murphy had made his first visit.
A few days before departure, I called Continental Airlines, to find out how the new security regulations would affect the transporting of amateur radio equipment on an aircraft. I was told that transporting the IC-W32A HT should not be a problem if I could turn it on and show that it worked, and had my amateur radio license along. I was also told that the Premier AL800 antenna would have to be transported in checked baggage because it could be taken apart and used as a weapon. In addition, it was prohibited to carry most tools in carry-on baggage, so my emergency tool kit consisting of two screw drivers and a needle nosed pliers was also destined for checked baggage. Dave Paperman, W5WP, also suggested to me that extra battery packs for the HT be carried in checked baggage, because they could not be opened to show that they did not contain prohibited materials. I finalized my plans for packing - the HT with one battery pack and its regular rubber duck antenna, the MFJ-1717 high gain dual band rubber duck antenna, the trickle charger, the GPS unit, and the tape recorder would travel in carry on baggage. All other radio gear and related equipment would go into checked baggage. This distribution of equipment provided the ability to operate if the checked baggage was lost.
The trip from Houston to Florida went without incident. We moved through the security checkpoints with absolutely no problem, and arrived at the departure gate approximately 20 minutes after being dropped off at the airport. The flight was on time, and when we arrived in Florida, our ride was waiting. We stayed with relatives that night, and I took the opportunity to check my radio equipment by operating a UO-14 evening pass. I was totally surprised when I did not hear the bird - there was dead silence. What was wrong? The times shown in my computer printout indicated that the satellite should be present, but Mr. Murphy appeared to be present instead. I logged onto the Internet and went to the Heavens Above web site (http://www.heavens-above.com/). I soon determined that the pass times on my printout for Florida were incorrect. I spot-checked my printouts for other locations on the cruise, and the pass times appeared to agree with those in Heavens Above. It appeared that only the pass times for Florida were erroneous. Mr. Murphy had failed to inflict any serious damage.
Boarding the ship
The next day we boarded the ship. Security was just like the airport, and my carry-on baggage passed through without a hitch. After our bags were delivered to our stateroom, we unpacked. All radio gear arrived intact and was ready for use. The next step was to obtain permission to operate on the ship. I inquired at the Purser's Desk if it would be possible to meet with the radio officer, and was told that, due to security, I would have to send a written request to the radio officer. I was handed a piece of paper and envelope, and I sat down to write a one-page letter requesting permission to operate. In the letter, I stated that I was an amateur radio operator with a US license, and had obtained reciprocal licenses to operate on four of the islands we would visit. The radio I would use was a battery powered handheld unit with a maximum power of 5 watts. The radio used a telescoping antenna 34 inches long, and I would use a headset during operation so that I would not disturb other passengers. In response to my request, a letter was delivered to my stateroom giving written permission to operate, but not at full power. Since power seemed to be a sensitive issue with the radio officer, I located the ship's VHF antennas on the upper deck. I did not want to operate near the ship's antennas because I did not want to take the chance that my transmissions would interfere with the ship's radio system.
Hello, Mr. Murphy!
I was ready for my first satellite pass as a maritime mobile. It was an evening pass, so it was dark. It was also windy and raining, and there were five-foot seas. As a result, there were almost no passengers on deck to witness this momentous occasion. I turned on the radio, and within a minute I could hear the satellite. I turned on the tape recorder and made my first call. Bruce, KK5DO, was my first contact, and I proceeded to work nine different stations in that pass. I was excited when I returned to my stateroom. I turned on the tape recorder to transfer the log to paper, and heard nothing. The tape recorder played, but had not recorded the pass. What happened? Mr. Murphy was back. Before panicking, I decided to put fresh batteries in the recorder. Now the recorder worked. Apparently it takes more power to record than play, and with weak batteries, the pass had not been recorded. I remembered the calls I had worked and the approximate times, so no damage had been done. The recorder worked fine, and Mr. Murphy had been defeated again. Fortunately, this was the last time Mr. Murphy visited me on the cruise.
Lots of
QSOs
During the next ten days I operated 34 satellite passes, and made a total of 235 contacts from 21 grid squares. These totals include operating at sea, and operating from Curacao, Venezuela, US Virgin Islands, The Bahamas, and from Florida on the day we docked. Contacts were made with stations in Canada, United States, Mexico, Costa Rica, Cuba, Puerto Rico, US Virgin Islands, Trinidad and Brazil. I also operated 6 other satellite passes, but made no contacts. It was frustrating to operate from grid squares GK02 and GK03 east of the Windward Islands and hear myself in the downlink, but have no one else on the bird.
Another rewarding aspect of ham radio on the trip was working a number of local operators on two-meter repeaters as we sailed among the islands. It was nice to talk with these local residents and find out more about the islands. Like hams almost anywhere, the local operators were very friendly and welcomed me to their part of the world.
After I returned home, John, N8QGC, sent me a tape he made of the satellite passes when he worked me. It was very instructive for me to hear how the passes sounded in Michigan using a good antenna. I could hear stations calling me on the tape that I did not hear using the AL800 antenna. After listening to the tape several times, I estimate that I could have made as many as 50% more contacts on some of the passes if I had used an Arrow antenna. Another noticeable occurrence was that many stations gave their call signs rapidly without using phonetics. I had difficulty on the ship copying these call signs, and it was not much easier on John's tape. If these stations had used phonetics and slowed down just a little, it would have also increased the number of contacts I made. Despite these lessons learned, ham radio operation on the cruise was certainly a success. The attention given during planning and preparation paid off. I plan to take a cruise again someday, and ham radio will be part of it.
---
Published in
Worldradio

, April 2002, pp. 18-21
Also reprinted in The AMSAT Journal, May/June 2003 (Volume 26, No. 3), pp. 24-26
---
E-mail - [email protected]
Created: December 27, 2002 by Allen F.

Mattis


Last Updated: February 19, 2006