Click on any of the boxes to see a full size version of the pictures.
To return to this page click the "Back" button on you web browser
The pictures shown were retrieved with my Yaesu FT-847 connected to a vertical Cushcraft antenna. I used the SSTV program (W95SSTV) created by Jim Barber (N7CXI) and William Montgomery (VE3EC) and the computer sound card to decode the pictures sent by Mir. To obtain a trial version of the SSTV program visit their web site at the address bellow.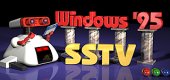 www.barberdsp.com
Last Updated: 06/26/2003

Back to Home Page