ROVER CATEGORY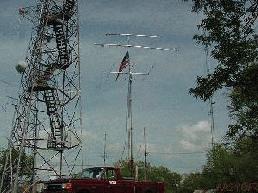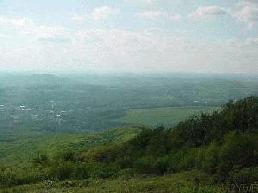 OPERATORS

AA2YG -- rover vehicle maintenance & driver, 50 & 432 op, partial equipment supplier

N2SLN -- rover site research & route planning, 144 op, partial equipment supplier





ROVER VEHICLE

before leaving for our first grid

full attack mode in FN22, our first rover stop

magnetic signs on each door to help explain the madness to the general public

driver's side view of the operating positions with a closeup here

the 2m radio mounted at the passenger's operating position

the 6m/432 radio mounted at the driver's operating position





ANTENNA SYSTEM

All antennas are operational with low SWR while in motion between grids. The 432 and 2m beams point in the direction of travel, and the 6m beam can be set up to point left or right only. The 13B2 has to be rotated to horizontal each time we stop and set up at a site.

6 meter homebrew 3-element yagi
2 meter Cushcraft 13B2 yagi
432 Gulf Alpha Antennas 16-element yagi
2 meter KU4AB loop on the roof
2 meter mobile whip for FM contacts

view of the 3 fully raised yagis from below

the rotor control box accessible from both operating positions





RADIO EQUIPMENT

6 meters:
Icom IC-706mkIIG
100 watts

2 meters:
Icom IC-706 original
7 watts
Mirage B1016G 160 watt amplifier

432:
Icom IC-706mkIIG
20 watts
RF Concepts 100 watt amplifier


terminal block to distribute all necessary DC power from vehicle battery

inverter so we can still turn the rotor if the generator dies





DESCRIPTION

The annual ARRL June VHF Contest starts 2 pm eastern time each year, and runs through 11 pm the next day. This year we entered the contest in the rover category, and clear weather was predicted for all of our rover sites. We had Sunday planned several weeks in advance, but Saturday's plans came together only a couple days before the contest, since we weren't sure whether to concentrate on grid multipliers by driving through two grids or to concentrate on QSO points by operating fully set up in one grid. We decided to start the contest fully set up in FN22 since we were able to secure a good spot. The next day we planned to set up in two more grids, and activate a third while in motion. The plan was FN22 Saturday evening, FN23 early Sunday afternoon, drive through FN13, then set up in FN12 and operate until dark.

This contest provided us with a new personal best score of 17,420. Saturday evening was great--it was our best grid for QSO points:


| GRID | QSO POINTS |
| --- | --- |
| FN22 | 125 |
| FN23 | 62 |
| FN13 | 1 |
| FN12 | 72 |

From FN22 we made 103 QSOs in 5 hours and 29 minutes, which translates to an average rate of 1 QSO every 3 minutes and 11 seconds for almost 5 1/2 hours straight. However, in the first hour the average rate was 1 QSO every 112 seconds (every 1 minute and 52 seconds). And the view wasn't bad either, although it was a bit humid (both days).

One out of every five contest QSOs was made on 432, but they accounted for 1/3 of our points! And 6m was the leader in providing unique grids to us. In all we worked 14 states, two Canadian provinces, Washington DC, and one all-water grid. We made 216 QSOs and visited 4 grids. The longest distance contact was Dallas, TX while we were in FN22, which was a distance of 1379 miles (2220 km) made on six meters with WD5K in EM12. One of the most interesting contacts was with someone in a rare all-water grid off the coast of New Jersey--we worked maritime mobile station N2MO/MM in FM39 on 2m. Another interesting fact is that in the half hour it took us to drive through part of FN13, we were only able to scare up one contact (W2SZ/1 on 6m), which was just enough for us to count FN13 as a multiplier. There was just too much noise (in Syracuse, NY) to hear much else at that time. Next time we'll choose a rural FN13 site in which to fully set up, rather than just drive through the grid during a time when our beams cannot be rotated. A little while later when we got set up in a quiet spot in FN12 at a good elevation, the signals came pouring in from all over. We even missed some contacts just because the other operator on the team was still busy working a pileup or sending folks to the next band. Advice to rovers: make either your first or last grid activation your rarest or highest elevation one...there appears to be lots of activity at the beginnings and ends of contests. That sure was the case this time.

There was slight band enhancement (Es) on 6m between 1810-1850Z Saturday afternoon, during which time we worked WD5K as mentioned, and K5UIC in Louisiana (EM32). Then toward the end of the contest Sunday evening, there was slight band enhancement on 2m (tropo?) while we were set up in FN12, during which time we briefly heard K4QI (North Carolina, FM06) on 2m.





POINTS SUMMARY



Band   QSOs    QSO pts.    Mults.
--------------------------------------------
50      84        84        24 
144     88        88        21 
432     44        88        18 
--------------------------------------------
TOTALS 216       260        63
                            +4 grids visited
                            --
                            67

       --- Claimed score = 17,420 ---








Thanks again to the local hams who loaned us equipment for the 2002 ARRL June VHF Contest. Another thanks goes out to local weak signal VHFer KE2DN who gave us QSO points on 6m & 2m SSB. All photos of the contest effort courtesy of AA2YG.
Long live VHF!






Professionals are predictable, it is the amateurs who are dangerous.