KP2A/D
DESECHEO ISLAND - 1981
Desecheo Island as we approached. Our operating
area was at the light green area to the left.
There were two primary operating sites on this DXpedition.
This one had 4 stations, the other had 3 stations.
Here you can see 2 of the stations;
a 20 mtr monobander to the rear and
15 meter monobander in the foreground.
Notice the wind, which was usually quite strong at this
site all the time!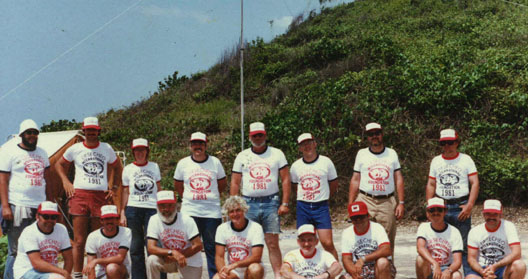 The 1981 KP2A/D team:
back row: K0OO, N5ADC, WA2KCL, N2OO, WB2KXA, N2DT, K2UQ, and K8HV.
front row: N2CW, WB2VFT(now KZ2I), W0DX, KP2A, WA2MOE, KQ4Z, K1MEM and K8CW.
missing from photo WB8ZJW and W0UN.