<--- Click here to visit all 3 of my sites
---
Last Update: 8/28/04

Welcome to Becky and John Yanagi's ham radio pages
---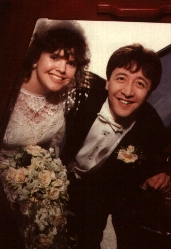 Welcome to our home page. We're glad you could join us. Becky and John are avid amateur radio operators. We hope you stay for a while, and discover the fun we have on the air and in life in general.
This picture is Becky and John on our wedding day, 6/21/92 - It was about time John! :-)
---
Click here for a secret message from us.
Please visit all of our pages, found via links in subpages or go directly from "quick links" below:
Quick link to our subpages:
Did you work my DXpeditions????
Check out our logs:
---
Links to other radio-active on the Web
Check out other neat radio sites
Is there life beyond ham radio? - Other great people/Cool sites
---
Please Sign our Guestbook and say hi!
Click here if you wish to View Our Guestbook
Or if you'd like to send us mail, by all means drop us a note.
Visit some other fine Amateur Radio sites by clicking on the Amateur Radio Ring below: