R e c e n t L o c a l E v e n t s

---
&nbsp 2014 Ham Radio Flea Market

"Hear ye, hear ye..."
Let it be known throughout the Ham radio community that this day, February 15, 2014, Jim Fitton – W1FMR, won the "grand prize" of $200.00 while attending the annual Marlborough ham radio flea market. &nbspJim, who is one of the founding fathers of NEQRP when it was called QRPNE (and holds membership #1) was heartily congratulated by all NEQRP members in attendance and, of course, many others. &nbspJim has been a strong supporter of the QRP minimalist philosophy for many years and his QRP activities and accomplishments have made him a legend in his own time. &nbsp Congratulations Jim!

L to R - K1IX, AARC Treasurer, KA1OS, AARC President, W1FMR)

Submitted by, NY1Z.




---
Annual Armed Forces Day &nbspCrossband Military - Amateur Radio Communications Test
I took part in the Armed Forces Day Crossband Communication Test read more last month, first for me.&nbsp I jumped around scanning the band for Armed Forces stations, checking off the schedule as I went.&nbsp At first didn't hear any stations CW or SSB.&nbsp Changed strategy and begin to look for stations on frequencies that favored by propagation. &nbsp I heard a few stations on SSB but they didn't hear me, or didn't realize that a CW station was calling them. &nbsp The bands were noisy and made things more difficult. &nbsp Soon I was making contacts not only cross-band but cross-mode, since I didn't have a microphone for that radio. &nbsp The AF radio operators were very professional and very efficient in handling the traffic.&nbsp It was a great experience for me.
Stations worked:
Call &nbsp Freq. &nbsp RST &nbsp OP &nbsp QTH
AAC &nbsp 20m &nbsp 59/599 &nbsp Harv &nbspLexington, KY
NWKJ &nbsp 20m &nbsp 59/599 &nbsp Carl &nbsp USS Yorktown Gilbert, SC
NWVC &nbsp 20m &nbsp 59/599 &nbspRick &nbsp USS LST325 Evensville, IN
WAR &nbsp 40m &nbsp 59/599 &nbsp - &nbsp Pentagon Arlington, VA
Report by NB1N

Received QSL confirmation from several statins, showing one here from the Pentagon.


---
Museum Ships Weekend
* On June 1st, 2013 six club members, k1din, wb6vva, kb1ouv, k1plh, n1ur and k1ix traveled to Battleship Cove, Fall River,MA. to activate the Destroyer Joseph P Kennedy Jr. (DD-850) for the 2013 Museum Ships weekend. &nbspWe were active on three bands 40M, 20M and 15M.&nbsp The propagation conditions were just terrible due to the recent Solar flare.&nbsp Between Saturday and Sunday we did however managed to garner 346 contacts while working 11 other Museum ships that were active in the event.&nbsp This compared favorable to the 350 we worked last year in better conditions.&nbsp Much of that can be attributed to installing the antennas the day before the event to allow us to begin operating earlier Saturday morning.&nbsp A good time was had by all and we look forward to doing it again next year. &nbspReport by K1IX.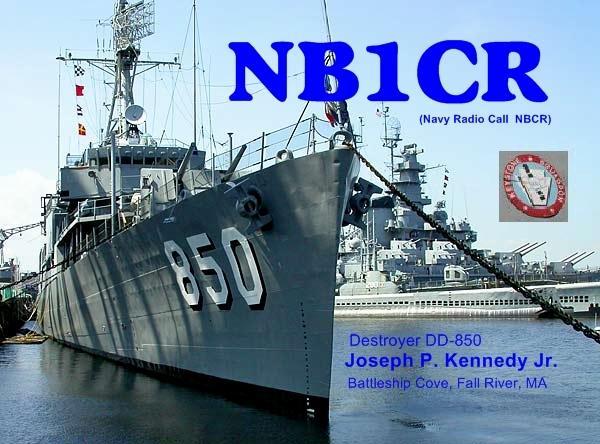 * We operated NB1CR special event station for 2013 Museum Ships Weekend.&nbsp The original callsign for JP Kennedy, Jr (DD850), a Gearing Class Destoyer, was NBCR. &nbspThe team operated both Saturday and Sunday, 1-2 June. &nbsp We made 346 successful contacts. &nbsp We had 3 operating positions, 1 on each band: 40, 20 & 15M, we used 2 verticals on (40M & 20M) and 1 dipole on (15M). Propagation and Band Noise was the worst experienced thus far by the AARC Museum Ships Weekend Team. &nbspReport by WB6VVA.
Rigs included:
K3 on (40M)
K3 on (20M)
IC-706MKIIG on (15M)

QSL card designed by K1IX.



---
Last updated Nov. 23, 2014