Welcome to my
1935 Ford Restoration Project
Elliott Olson
---
Site under construction. Now using Rebol on Amiga to upload. This page uses PNG images (GIFs available soon).
---
Last update - Mar 15, 2004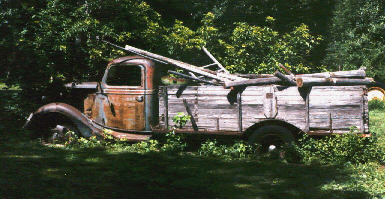 This is my '35 Ford truck, not a pickup but a 1-1/2 ton truck (according to 1935 truck information). I got it from my uncle who had it sitting on his farm 10-15 years. The fourth owner tells me that he hauled gravel with the truck for the original owner, who also had another which was later used to haul fuel. I have a 3 compartment delivery tank which I may put on it.




The wiring is a mess due in part to weather and probably mice, as is the upholstery (the mice stuffed some of it above the windshield).
For sitting so long outside, I was a little surprised that the engine wasn't frozen up, just a little stuck. The clutch is stuck, so that it won't release yet. But that's not very important until I get the engine running once.




For more information e-mail Elliott Olson at

.

Return to N0UKF home page.