2004 Repeater Project
August 21, 2004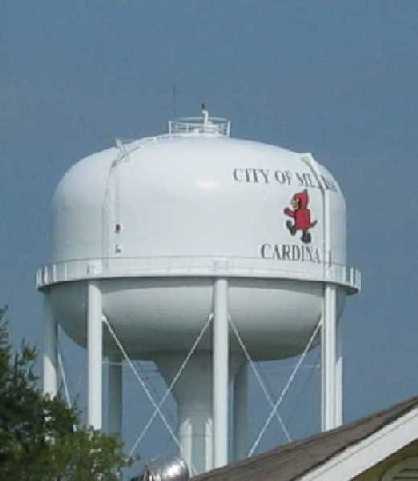 the Melissa water tower, before repeater installation
(the antenna seen belongs to the city)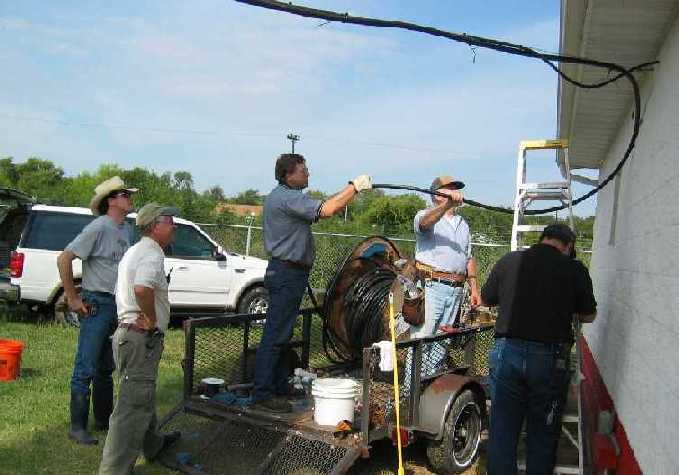 running Heliax to the shack (also called the pump house)
"Let's see... is that measure once, cut twice,
or the other way around....?"
after double- and triple-checking, the cut is made
getting the next run ready...
(at least K5ZX is looking where AE5PL is pointing)

if you've never seen the inside of a water tower, here it is...
a l..o..n..g.. way up!
(that's probably WA5M sticking his head in the hatch, looking down)
more than a few dead bugs and dead bug parts came floating down from above
feeding the second run to the poor soul (NØRQ) just inside...
AE5PL on the ladder, NA5E walking,
KD4WLZ on the second ladder, and K5EEN holding up the tail end
(fortunately, the tornado siren (upper left) didn't go off while we were there!)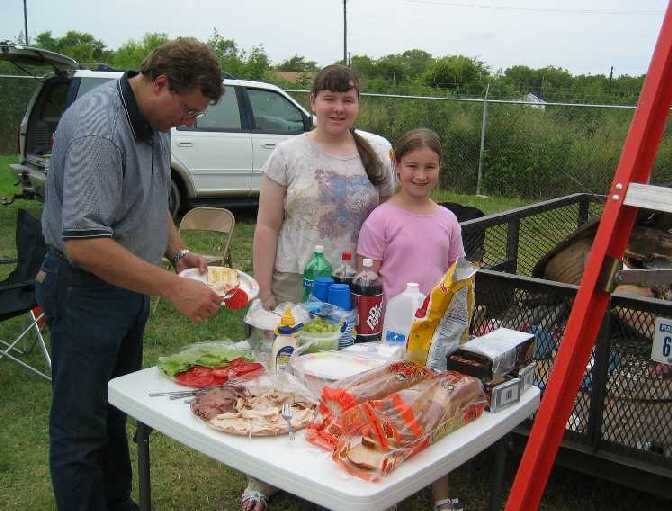 lunch provided by KE5CII (center), KE5CIJ (right), and mom KC5POV (not pictured),
and enjoyed by all, including K5EEN (left)
hmmm...
HMmmmmmm...
Ah!
W8CM and KD4WLZ are happy
7/8" Heliax is not small stuff!
and it takes some pretty good-sized tools for the connectors
(that's a 1 1/4" wrench)
August 28, 2004
good grounding is imperative!
the back of the rack (before the UPS was set in next to the big battery)
closeup of the cans & fans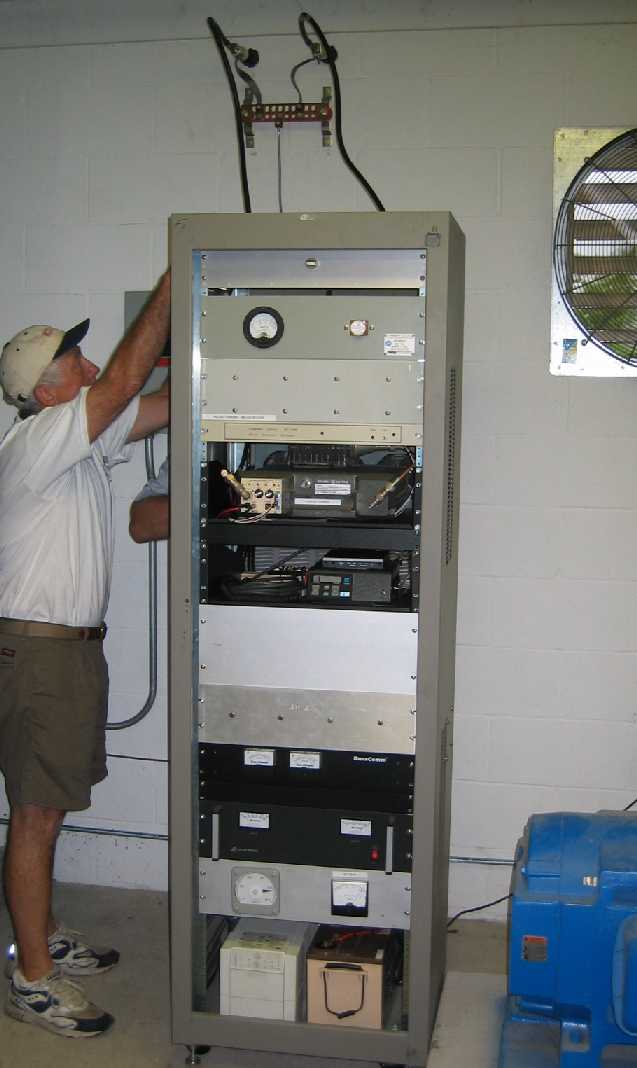 view from the front, installing the rear door:
WA5M adjusting something; W8CM in back
repeater controller (tan) on top, UHF GE repeater next,
and Kantronics KPC-3+ (v9.0) TNC sitting on GE MVS digi rig
August 31, 2004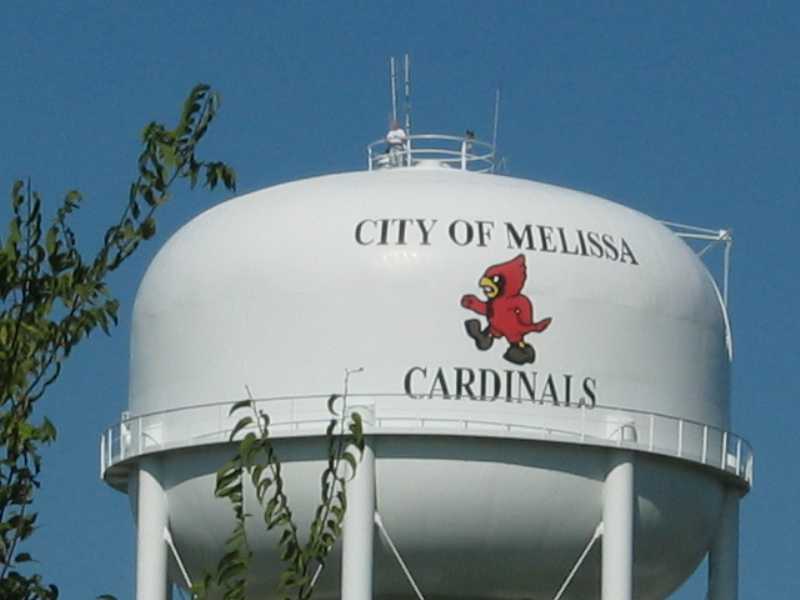 a view of the tower from the east -- W8CM on top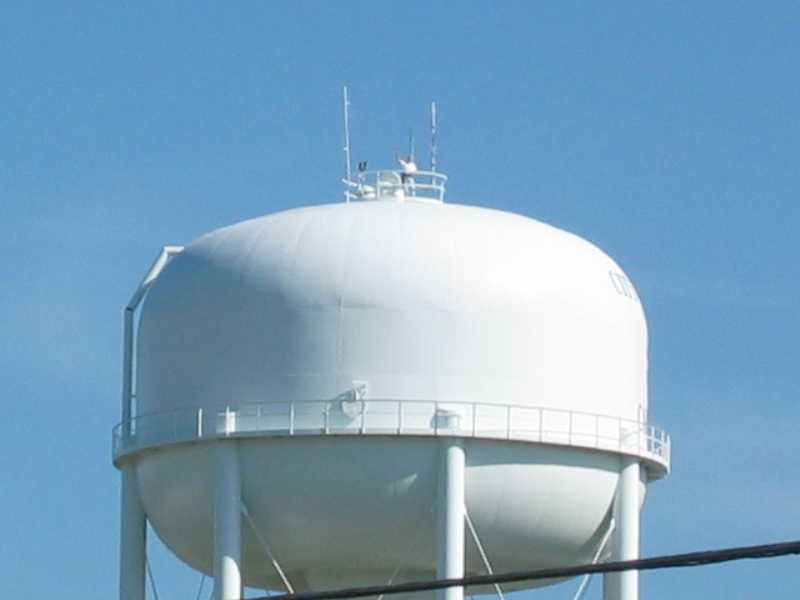 a view from the west -- W8CM waving
the finished product -- 2m digi on the left, 70cm repeater on the right (city's data antenna in the middle/back)
Both are up and functioning very well !
this photo by W8CM, shows the view from the Melissa water tower, looking SE over Berry Farms,
in the direction of the 620 AM broadcast station, which is where the W5MRC/R 146.740MHz repeater resides
(on the middle tower of the five towers seen in the background)
(full-sized versions of these pictures available if needed - contact NØRQ)
click to go to the MARC homepage