August 2001 ARRL UHF Contest
The 2001 August UHF contest proved to be a real good contest this year. The band conditions were quite good as I roved from EN 21,22,31,32,41,42,43,33,23. Did not work any farther east than EN71 but did work several in EM45,48,37,29,39 and EN18 from En42. I activated 9 grids and ended up with 265 QSO's for 1260 points and 71 multipliers for 100,800 points. This score was good enough to win me 1st place nationally in the Rover category!
---
July 2001 Grid hopping expedition EN16 Minnesota North Dakota border. And on the right is the pic of the 6 meter dipole I quickly installed late Saturday evening during the June 2001 VHF. It is the element running about 3 inches above the roof. That was the best match I could get in a hurry and worked a bunch of the opening to the east with it. Amazing it worked when I could not get my other 6 meter ant to work. RF is strange sometimes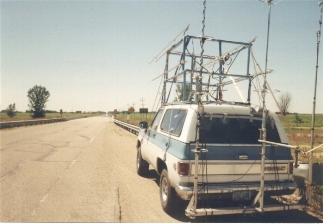 ---
July 2001 CQ VHF contest
I also operated the July 2001 CQ contest as a rover. It was hard to find many 2 meter qso's this year but 6 meters was in real go shape for the contest. I activated EN 20,21,22,23,30,31,32,12,and 13 and I had a good time with it. I used a 10 element yagi mounted on a rack and stacked HO loops on 2 and my homebrew " V " dipole for 6 meters. I ended up with 159 (106 on 6 and 53 on 2) qso'and a total of 138 rover grids. 212 points x 138 multi's = 29,256 rover points. A little better than last year. As I am sure all the scores will be. ( This turned out to be good enough to earn me 2nd place nationwide rover)
---
I have enjoyed the last 2-3 years of operating from the mobile and rovering during the contests. It is really quite a challenge and a learning experience. I would recommend one thing for all of you prospective rovers when wondering what to use for a vehicle. First decide what type of operation you want to do, I mean run and gun as they say or do you want to stop and sit up. I prefer to set the rover up so I do not have to stop and do any sit up work and I find myself operating from some pretty interesting spots at times and making some qso's while on the run. I do use a remote PTT and a single muff headset to really simplify operating.. Guess one thing I find very helpful is a short wheelbase and 4 wheel drive. This allows me to peak the yagis even in the middle of a deserted dirt road in the middle of South Dakota or Nebraska and turn around just about anywhere. You cannot imagine how many times I turn around to work another QSO ( hey it's just like a rotator }. And I also appreciate using an older vehicle for the rover cause if it gets a scratch or dent in it I do not worry a bunch about it.
I find after operating the contests and grid expeditions what gives me the most satisfaction is when I get a pile of QSL cards in and I read thru them and discover some individuals that have just completed there VUCC on 2304 or 903 or any of the bands and the thanks from all of you for activating those grids. It seems to help inspire activity where it was lacking before and that is gratifying to see. I also want to again thank Mike KMØT for loaning me the transverters for 902,2304 and 3456.
---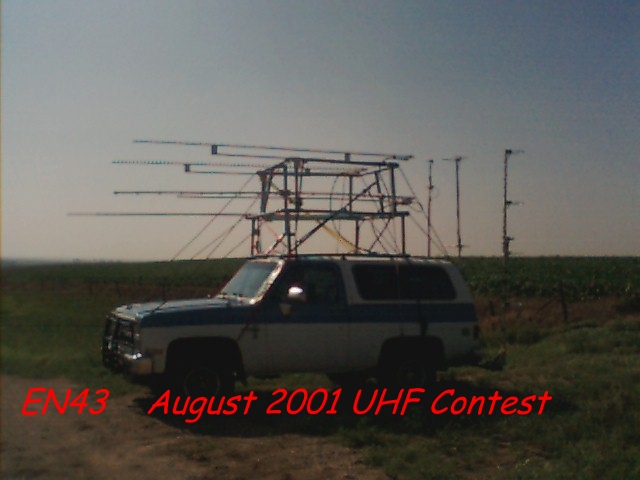 August grid hopping in Nebraska DN92

August grid hopping in South Dakota DN93

August 2001 grid Expedition

Hello, Well things have settled down here a bit from the weekend. I want to thank all of you who followed me thruout the weekend and kept the weekend active for me. I hope some of you ended up with some new grids. I sure had fun although I was sure tired when I arrived home @ 0140 am cdst Monday morning! I ended up driving 896 miles and traveling thru 8 grids but did not work anyone from en11 or 22. I had 2-3456 qso's with KMØT in en13 and I was in DN92 and 93 we tried from 91 and I was hearing him fine but I could not find a good location there. Too many hills higher than me and NO roads other than the main roads. When you look at the Rand McNally and look at the roads that it shows for that area, well that is all there is. Also had 3-2304 Q's with KMØT from DN91,92,93. I had 19 1296 Q's and 8 902 Q's. In all I had 238 logged Q's for the weekend. Not bad for the area covered. It gets pretty desolate out there. I think the hardest part of the trip was in DN91. Good elevation but as I mentioned where I was located there was no place to get off the main road and of course the highways do not go over the high hills. I always had hills that were 50 to 100 ft higher than me around the operating locations and this made it tuff on the higher bands, most of the time the Yagis were looking right into a hill. I still managed 25 Q's from there. I want to thank everyone for there post's on the logger and reflectors which helped everyone keep track of my location. The equipment worked flawlessly and the only problem during the trip was a busted air conditioning belt while traveling from DN92 to 91,seems that when the diesel idles a lot the belt likes to flop more and it will break belts. Not a problem as I always carry spares for the alternator and air and I found a nice shady spot and about 15 minutes later I was on the road again with coooool air. Sorry for those of you who I did not get worked. I did hear many calling on 2 and 6 when it was open and I just could not get everyone worked. Early on fromENØ1 and 02 on 6 meters I had a pileup that took me by suprise and tried to work as many as I could while heading to my overnite location. I had to leave many short for some 2 meter skeds and when I came back the band had relaxed a bit. During this trip I worked many stations from,Colorado,Wyoming,South Dakota,Kansas,Iowa,Minnesota and many to the Twin Cities area,plus many states on 6 during the band opening.

September 2ØØ1 ARRL VHF

The 2ØØ1 ARRL Sept VHF started out slow, I was in EN2Ø MO. when it started and only worked KMØT from that location. The band was real tuff as I was having trouble working calls from locations that normally are not a problem.

---

On the left is a County Road ?? in the middle of ENØ5 SD and on the right is my operating location in MO. in EN20, I was back 2 miles into a timber/pasture area and it had rained 5 inches the nite before. The bottom pic is at the EN2Ø MO location.

I ended up Sat evening in EN 23/33 area and decided I was not going to make it to my EN13 overnite so the search began for a motel at Spencer, IA and I forgot that the Clay County fair was on and not a motel to be had. Was going to turn south to my home qth for the nite but decided to head to Spirit Lake and at 4 am local time I found a motel and would have paid any price for it. After a 2 1/2 hours sleep and a good hot shower I was up and going again at 7:30 am local and headed west to 13,24,14 etc. Was raining and conditions seemed better. I was having more difficulty on 2304 and 3456 than normal and only found out last weekend what the problem was. The FT-736 (2 meter if) was set @ 2 watts to drive the transverters originally ( at this output 3456 was @7watts out and 902 was just under 50 watts) well seems the pot was a little unstable and from all the rovering and grid hopping this summer seems the vibration had retuned the 736 to under 500 mils! Just think what I could have done with full power! I did manage another clean sweep with Mike KMØT as we completed on all bands from all grids. I also completed with WBØULX in en04 SD from 12 grids including EN21/31/22/32 in central IA AND 9 grids with WAØTDK in en04 SD ( 2 meters) worked WØZQ a number of times on several bands. Heard WAØAMT/rover from many grids but could not get his attention but managed to work him once. Ran across NØPG/r and K9ILT/r several times. Not much for DX probably the best dx was working Mike KMØT while I was in MO. on all the bands 6 thru 3456 ( we had difficulty on that band and I now know why) and then working Lloyd and Bill In ENØ4 SD while in central and S. central IA. No enhancement at all that I experienced. I guess maybe this was a true contest! I fell short on grids worked do to the lack of conditions and nothing on 6 meters. I had a good time working the contest and as usual I ended up about 5 hours from home (ENØ3 South Dakota) when the contest ended and arrived home @ 4 am local time Monday morning and my GPS and odometer agreed that I had traveled 1211 miles for the rove! Thanks to all of those who followed me thru the grids it was a lot of fun! Will most likely see you all in January 2002!

---

---

---

---

Back