ACCEPTING ALL IVE DONE AND SAID,,,, I WANT TO STAND AND STARE AGAIN, , ,, TILL THERE IS NOTHING LEFT OUT.... OHHH OHHHH OHHHH, IT REMAINS THEIR
in your eyes
SUE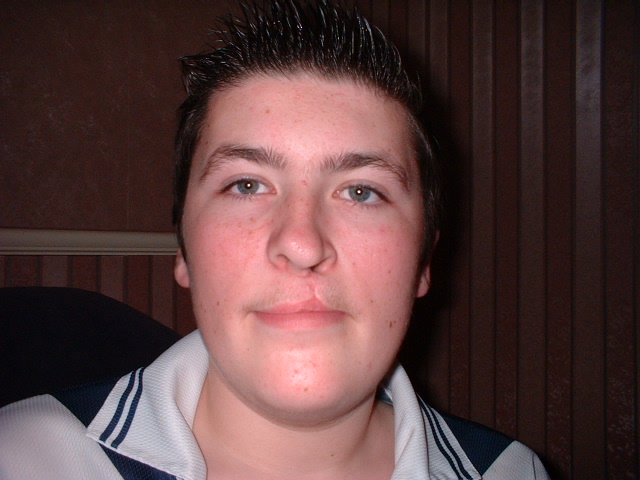 WILL
WE ARE NOW TRULY LIVING THE DREAM, MUSIC, CONCERTS, ENJOYING LIFE TO THE FULL....
The Homepage of M0-BIB, M3EYW AND M3EYX
ROB
UPDATE 17/7/2005
YESTERDAY MY FRIEND ZAC FROM SCOTLAND WON MANY AWARDS FOR HIS TRYKE HE WAS QUOTED AS SAYING HE ENJOYED THE EVENT IN WALES BUT DID NOT ENJOY HAVING TO SPEAK TO OVER 11,000 SPECTATORS . . HE HOPEFULLY WILL BE HELPING ME WITH MY NEW HOBBY AND FULLY INTEND TO BUILD AND RUN ONE MYSELF HERE IS TO YOU ZAC, WELL DONE M8
UPDATE 02/07/2005 LIVE 8
THE GREATEST BAND IN MUSIC CAME BACK TOGETHER FOR A SOLO PERFORMANCE AT HYDE PARK , LONDON ON THIS DAY, NO GUESSES FOR GUESSING WHO THEY WERE, JUST SIMPLY THE GREATEST BAND EVER, FIRST TIME COMPLETE IN 22 YEARS, WHAT A DAY, WHAT A DAY, AWESOME
FROM LEFT TO RIGHT,,,, DAVE ,ROGER , NICK , AND RICK, (AFTER THEIR PERFORMANCE)
WHAT AN EXPERIENCE THAT WAS FOR ME AND THE WIFE........ SIGNED...... AS SOME PEOPLE KNOW ME NOW.....BOB... FLOYDIAN WATERS
UPDATE 18/03/05 BY BOB
IT WAS WITH A HEAVY HEART I WENT TO A SHOW IN SKEGNESS TO SEE DEREK AKORAH.
FOR MANY YEARS I HAVE BEEN A TROUBLED SOUL AS MOST OF MY LIFE WAS IN ORDER BUT CERTAIN ASPECTS WERE IN DIS-ARAY. I WENT EXPECTING TO SEE A STUNT SHOW OF DEREK AS HE IS A STAR OF UK LIVINGS MOST HAUNTED SERIES.
WHAT CAME OUT OF THE NIGHT FOR ME CAN BE DESCRIBED AS NOTHING SHORT OF SPIRITUAL HEALING. I NO LONGER HAVE PAIN, ANGUISH, TORMENT AND EVERYDAY LIFE STRESSES, I CANT HOLD ON TO LIFES ANGER NO MORE AS IT SIMPLY DOES NOT EXIST. I KNOW THE FUTURE OF LIFE AND NOW I AM AT PEACE WITH THAT.... I GUESS YOU COULD CALL IT A SPIRITUAL AWAKENING WHICH CONTINUED AFTER THE SHOW INTO MY THOUGHT AND WELL INTO MY SLEEP THAT NIGHT.
I ASK NO FORGIVENESS FOR WHAT IS DONE IS DONE. MY LIFE IS MOVING ON IN HAPPYNESS WITH COMPLETE PEACE OF MIND... THIS IS NOT A STUNT, THIS IS ME, THE REAL ME, THEY WAY I SHALL ALWAYS BE. AT PEACE WITH MY LIFE.... BOB THORNTON RWT AKA BIBY M0BIB
HELLO, MY NAME IS SUE, I AM 37 YEARS OF AGE, AND TO BE TRUTHFULL, NEVER HAD A GREAT DEAL OF INTEREST IN AMATUER RADIO UNTILL THIS YEAR 2003, I AM HAPPILY MARRIED TO MY HUSBAND ROB (M0-BIB) WHO GUIDED ME AND MY SON WILLIAM THROUGH THE M3 CALL SIGN, WE HAVE 4 CHILDREN BUT FORTUANATELY NOW HAVE ALL FAIRLY WELL GROWN UP. I WOULD LIKE TO SAY A BIG THANKYOU TO RAF FINNINGLEY ARS FOR THEIR HELP IN GETTING US BOTH THROUGH THIS EXAM AND SHOWING GREAT SUPPORT AND EXTREMELY GOOD FRIENDSHIP, 73S AND GOOD DX FROM SUE, PS, PEACE AND GOODWILL TO YOU ALL AND ENJOY YOUR RADIO AND MUSIC,,,,WE HAVE FOUND OUR OWN SLICE OF HAPPINESS,,,MAY YOU ALL DO THE SAME FROM ROB AND SUE, FOR WE ARE ONLY AS STRONG AS THE WEAKEST LINK (IN THE CHAIN)(TONY LEVIN BACK NI NYC)
OUR CHAIN IS UNBREAKABLE....
MY HUSBAND ROB WHO I LOVE WITH ALL MY HEART
BIBY
M3-EYX WILLIAM (SON) M0-BIB ROB AND M3EYW SUE (BELOVED WIFE)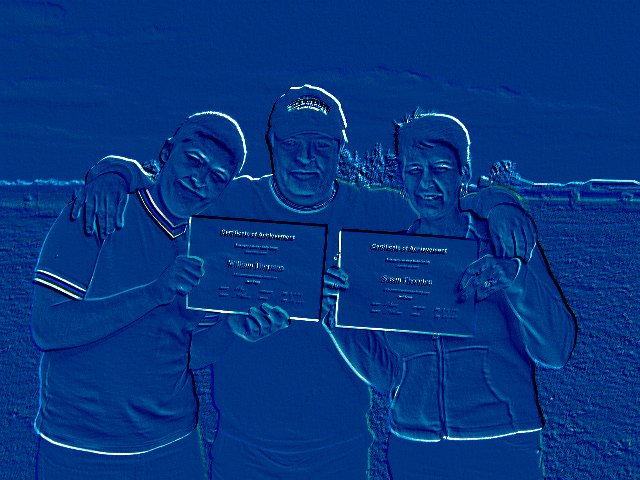 THE UPS IN LIFE OTHER THAN LIFE ITSELF
INNER PEACE
MEDITATION
THE OTHER RADIO FRIENDS THAT HELPED ME IN THE PAST NAMES BIENG SO MANY BUT I WILL MENTION BUT A FEW
G4WZI
G0VHI
G7KEK
G7JDH
M3SWL
M1BUX
M3OXO
M3OYX
M0CTN
M0CTQ
2E1RAD
AND WELCOMING BACK M3WXB WHO I HAVE KNOWN FOR MANY YEARS
THE LIST CAN GO ON AND ON BUT SPECIAL MENTION HAS TO GO TO THE SUPPORT OF A MR ROBERT DENTON, A TRUE FRIEND AMONGST FRIENDS, HERES TO YOU ROB
(G4YRZ) THANKS BUDDY
( ROB M0BIB)
Below is what is basically my other hobby i share with my husband Rob, we have been to hallam fm arena to see this group perform this year and we are going to see him at liverpool on the 30/6/2004 SUE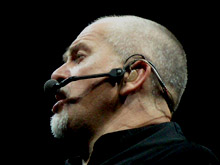 Peter Gabriel Still growing up tour 2004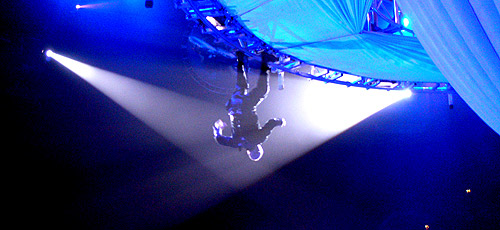 Peter Performing Downside up,,,,Upside down
Peter gabriel with great light show,,,,,truly awesome.
other band members include the artists below
Melanie Gabriel (vocals) Richard Evans (lead guitar and flute)
rachel Z (keyboards)
Tony Levin ( bass ) uncle tony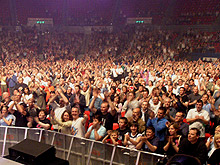 Fans shot
sorry at the moment i do not have a picture of the percussion man but he needs no intro as he is the one and only GED LYNCH...and
the one and only DAVID RHODES on guitar......pics to follow
THE CONCERT WE SAW AT HALLAM FM ARENA WAS TRULY AWESOME,,,,,LONG LIVE PETER GABRIEL AND YES,,,,(WE ARE STILL GROWING UP IN 2004)
SUE AND ROB TOGETHER IN ENJOYMENT OF THIS TRUE LEGEND.
STILL GROWING UP 2004
LIVERPOOL 30/6/2004...
AFTER SETTING OFF AT 10.30 AM TO GET TO SUMMERPOPS, WE ARRIVE IN LIVERPOOL ABOUT1.30PM, SPEND MUCH OF OUR DAY ROUND THE DOCKLANDS TAKING IN THE SIGHTS,, THE BEATLES TAVERN,THE LIVER BIRDS AND VARIOUS OTHER TOURIST ATTRACTIONS WHICH MADE UP OUR DAY,,, THEN AT NIGHT,,,THE DAY REALLY BEGAN..
IN A TENT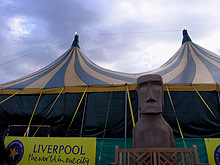 THIS WAS THE VENUE FOR THE MOST SPECTACULAR CONCERT I HAVE SEEN FOR MANY YEARS...THE AUDIENCE LOVED IT AND SO DID I, MY HUSBAND ROB , SON WILLIAM AND DAUGHTER DONNA, I LOOKED AT ROB DURING A PERFORMANCE OF SAN JACINTO AND HE LOOKED LIKE HE WAS HAVEING A RELIGIOUS EXPERIENCE, I HAVE NEVER SEEN HIM SO FULL OF EMOTION AS HE WAS AT THAT TIME. BOTH ME ROB AND SON WILLIAM EXPERIENCED THE PETER GABRIEL STARE WHICH I CANNOT DESCRIBE AND ROB HELD FACE TO FACE WITH HIM FOR 10 TO 20 SECONDS SINGING DIRECTLY AT EACH OTHER. WE HAD PRIME VIEWING AND THE SHOW WAS TRULY AWESOME. SOMEWHERE IN THE PICTURE BELOW,ME AND ROB PLUS WILLIAM ARE VISIBLE AS WE SAT 5 ROWS BACK JUST TO THE RIGHT OF PETER IN THIS SCENE.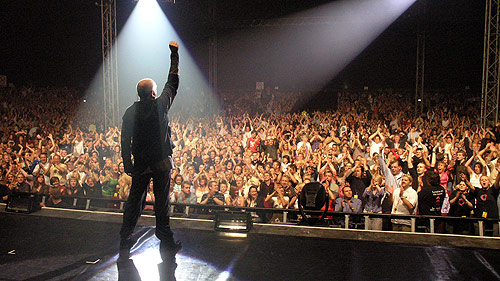 WHAT A SHOW.....GAMES WITHOUT FRONTIERS,,,,BIKO,,,SOLSBURY HILL,,, AND MY HUSBANDS FAVOURITE,,, SAN JACINTO......SADLY HE DID NOT DO SKY BLUE WHICH I PERSONALLY LOVE SO MUCH
ITS SHOWTIME!!!!!!!