The MSU Cube Sat Program
ABSTRACT
The Electronic Engineer Faculty of Buenos Aires University in currently cooperating with Universidad Tecnologica Nacional and the Argentine amateur satellite community in a full scale development of a new cubesat initiative . Know as the MSU-1 (micro satelite universitario), program, the project's goal is to produce student engineered satellite capable.
ObjetivEs OF THE MISSION
Test two passive control techniques: gravity-gradient and aerodynamic.
Amateur Digipeater communication at 2m band .
Send telemetry to the ground station upon request.
Verify the reliability of the subsystems.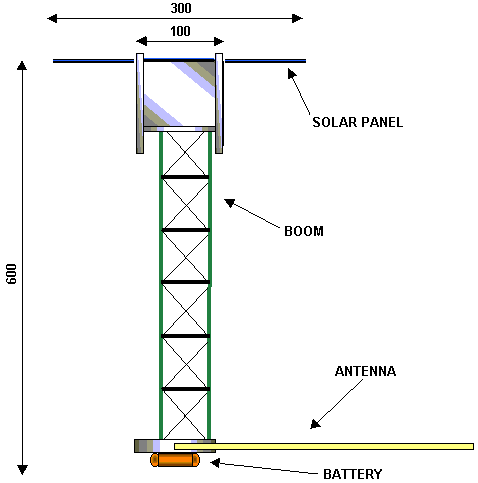 Figure 1 –

MSU-01 Orbit Configuration (boom, solar panels and antennas deployed)

STRUCTURE
Provide mechanical support and mounting for all other spacecraft subsystems, equipment hardware and accessories.
Avoid coupling of the spacecraft vibration modes with those of the launch vehicle, as well as to provide resistance to its static and dynamic launching environment
Provide sufficient dynamic impedance to avoid exceeding the equipment specified vibration levels.
Provide the mechanical means for solar panels restrain release, deployment and lock and antenna arrays.
Provide the satellite mechanical interface with the launch vehicle.
Provide support for the static and dynamic balance adjustable masses of the integrated spacecraft.
CONFIGURATION
10 cm side cube (launch configuration) and total mass of 1 Kg.
Standard aluminum alloy materials and corresponding well known manufacturing processes.Components : 4 lateral panels, a top platform and the boom platform.
ON BOARD CONTROL SUBSYSTEM
Terminal node controller (TNC)
Receives and transmits information
Protocol: packet radio AX25.
Hardware: Microcontroller PIC16FC84 and a modem.
Transmission rate of 1200 baud for packets up to 32 bytes each.
Telemetry
Developed at independent board.
5 analog inputs and 8 digital outputs.
Variables sampled:
Temperature sensing (-30ºC to 80ºC)
Current ( 0 to 500mA ),
Battery voltage ( 3V to 12V)
Transmission power
Deploy and Command Unit
Deploy the BOOM
Deploy the solar panels
Deploy the antenna
Process commands from earth
COMUNICATION SUBSYSTEM
AFSK Transmitter
Digital discrete on board transmitter working in the radio amateur 2m band (145.81MHZ).
Constructed with discrete components to increase reliability and reduce power consumption.
Input signal: binary baseband signal (2 tones of 1200 and 2400Hz).
Power delivery in ON mode is approximately 150mW
Power consumption On Mode: 400mW
Power consumption Sleep Mode: <10mW
On/off-input signal disables the power stage of the transmitter.
Power supply from 6Volts DC.
Transmission rate of the information: 1200 BPS
Fig.3 Transmitter module
FSK Transmitter module is divided as:
Low power Colppits oscillator, mixer and frequency multiplier amplifier stages.
Power Stage Class C amplifier.
Antennas System
Two monopoles of metallic strip of (/4, one for the transmitter and another for the receiver.
Receiver
Constructed with CI at frequency of 145.990 MHz.
Power Subsystem
7 AAA batteries of Ni-Cd.
Five Solar Panels.
Back to Return