TX8G QSL
Front and back of the TX8G QSL-card. On the front you can find one of Franck FK8HC's pictures from New Caledonia.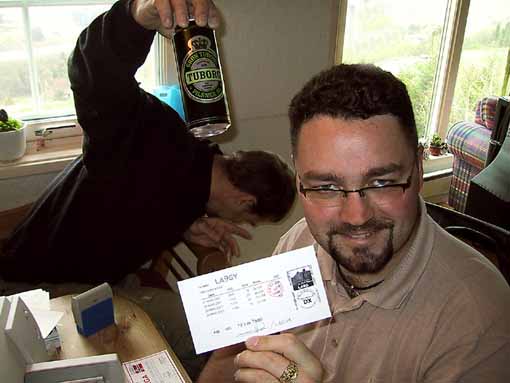 Johnny LA5IIA (from the TX8G-operation) printing the QSL-card to QSL-manager LA9GY. Behind LA9IY Bjørn.
All QSL-cards received direct to manager LA9GY and to LA8G's P.O.Box, were replied to the HAM's waithing for their TX8G-cards.
This work were done Mai 18th, 19th and 20th 2001.Johnny had a few days leave from the armed forces, so he visited Norway to issue the TX8G-QSL to manager LA9GY. The first QSL-card from the printer, was to LA9VX, Johnnys father. Then PA0CLN, DJ2BW, JI3MJK, FK8FI,JA8RY, KA7SOL, 7M2PSC....HL2CFY....OK2PO.....JA3MVI/1....and many, many more.....
Do you want to QSL direct. Read about the stamps.