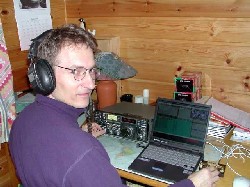 Running ARRL DX Contest on CW from my contest QTH
Hamradio - my live's hobby
My name is Lech Slawomir Tomczak, I am originally Polish, but I have lived permanently in Norway since 1984. I am 39 years old.
I am a radio amateur with callsigns LA7MFA (since 1986) and SP5LGT (since 1979). My american license KK6HC (since 1990) has now expired.
I have only been on single major DXpedition - "Double Trouble" to Kanton and Tokelau in 1999, and operated CW station of T31T and ZK3CW. The same year I operated for a couple of days as KH8/KK6HC finally activating my american callsign. In November 2001 I spent entire month on Mauritius with my family operating in the evenings as 3B8/LA7MFA. In June 2003 I have operated briefly from Lipsi Island (EU-001) as SV5/LA7MFA. I have also several times used my special call SO5MFA from my hometown Ostroleka in Poland.
I am member of NRRL, LA DX GROUP, High Speed Club (#966).
QSL via: Lech Tomczak, Froeyas vei 61, 3472 Boedalen, Norway or via NRRL bureau.
My current e-mail address is: lima alpha seven mike fox alpha @ charlie 2 india dot net. Do not use QSL.NET address, it is not reliable.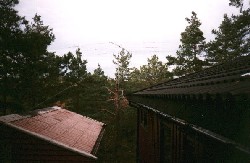 A3 Yagi 8 metres above the ground at my mother in law - my contest QTH.

Today I am usually running low power into Butternut HF9VX placed in my garden. I can not have any yagi antennas due to restricted space and close proximity to my neighbours. The radio is 15 years old IC751A from ICOM. Still going strong after all these years!

My contest QTH is at my mother in-law. I have a 3 element tribander Yagi A3 from Curshcraft there, approximately 8 meters above the ground mounted on top old, rotten tree. The other antennas are only erected for contests, and include vertical for 40 meters and Inverted Vee for 80 meters. I use linear amplifier SB200 from Heathkit, which gives approximately 400 Watts output. Recently I have also used IC2KL from Icom. I work almost CW only!
LA7MFA QSL card with my daughter Natalia.

Beside DXing and Contesting I like to operate QRQ CW, and chat with my friends in the evenings on 40m. I also like to practice CW on my computer using RUFZ.

The other thing I do is web design. I have designed and was for two years a webmaster of LA DX GROUP web site and for DX peditions: Double Trouble and VP6BR.

In my private life I work as an ASIC (Application Specific Integrated Circuit) designer for a telecommunication company near Oslo. We design digital radio equipment.

My other main hobby is film. Have you ever tried to make film DXCC? I guess most of western HAMs make film contacts with very few countires. My favorite film countries are: F, JA, I, DL, SP, EA, EP, UA, BY and BV. Please visit www.filmref.com to learn more about high quality art film.

My latest QSL has a picture of my little daughter Natalia, born on 24th of November 2000, just a day before my favorite contest CQWW. She is also the reason I am not as active on the bands as before, and prefer to stay at home instead of going on DXpeditions. But she loves to play with my radio and computer, and the shack is her favorite room, so maybe one day we will go on a DXpeditions together.

See you on the bands!

73 de Lech, LA7MFA