Making Miniature Transmitters for ROCA

The New "Walking Foxhunt"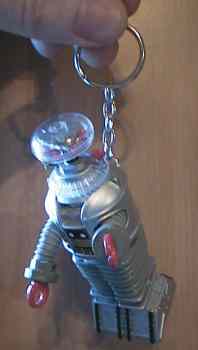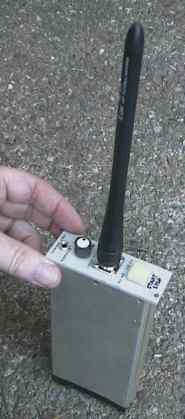 Many Beacon Transmitters, No Morse Code. ROCA transmitters identify over the air with audio using voice chips, thus they can be readily differentiated from each other without the need to know Morse Code. The finish line has a transmitter operating continuously on another frequency with announcements about the event.
Voice chips and modules are inexpensive and can be found locally. They make the perfect addition to "fox transmitters" used in transmitter hunts. Distinctive voice and sound effects make it easy for participants to tell the difference between transmitters while they are listening to many of them simultaneously. Below are some examples and ideas from some of the ROG transmitters we have made. ROCA transmitters need to be small and easy to make from off-the-shelf components.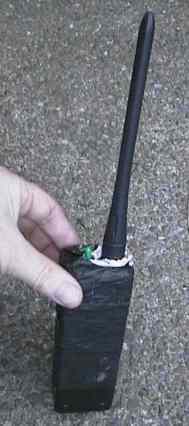 Micro ROCA transmitter. Uses 9volt battery, PicCon controller, Ramsey transmitter kit, and a toy pre-recorded voice module. Runs 24 hours or more on a battery. Has DTMF programming input for timing and CW ID. Enclosure is a plastic Radio Shack box with aluminum foil shielding and gaffers tape covering. BNC antenna jack, On/Off/Contoller-only switch, mini and micro-mini jacks for using the unit as a controller to interface with a standard HT through standard speaker-mic connection.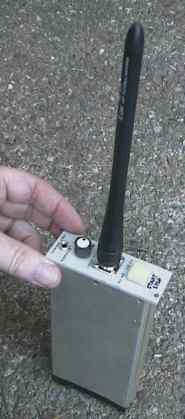 Miniature ROCA transmitter. Runs 3 days on 4AA batteries. Ramsey transmitter kit, PicCon controller, record/playback 20second voice module. DTMF programmable. Start/Stop button, On/Off switch. Aluminum enclosure is a computer-surplus instrumentation module.



A traditional fox transmitter in a surplus ammo box. A 2meter HT walkie talkie is used as the transmitter section, with PicCon controller, and voice record/playback module. It is remotely programmable on/off and timing over the air while in operation. Uses 12volt 4ampere-hour gel cell battery. Note added locking screw-eye ring on left side for padlock and bicycle chain connection... this helps prevent theft. It is strongly advised to use an official-looking warning label to help discourage tampering, and it identifies the unit as an Amateur Radio transmitter if found by concerned individuals or law enforcement personnel. Ammo boxes have been used by fox builders for many years because they are cheap, shielded, waterproof, and durable. This box cost $6 at a scrap metal dealer.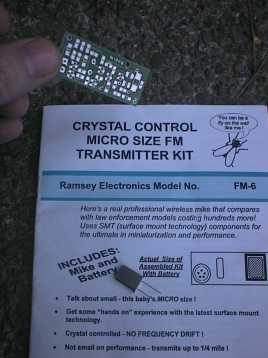 The basic low power micro-size transmitter kit. 10 milliwatts. Ramsey Electronics produces this tiny surface mount jewel as a "crystal controlled wireless microphone". It comes with a crystal for 146.535MHz, but can easily be slid up or down in frequency 50kHz or more by adding or subtracting capacitors accross the crystal.


The PicCon Transmitter Controller. A great little programmable fox controller that sends CW identification and provides timing and delays. The board has a transistor that can be used to key the transmitter and voice chip trigger. This is a kit that is easily assembled and programs using DTMF touch tones from a standard HT.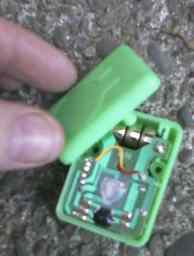 A pre-recorded voice module from a stuffed toy. This one was taken from inside a stuffed Taco Bell chihuahua doll. It only says "Here lizard, lizard, lizard". Cost: $3 from a Taco Bell restaurant promotion. Cut the doll fabric open to get to the module.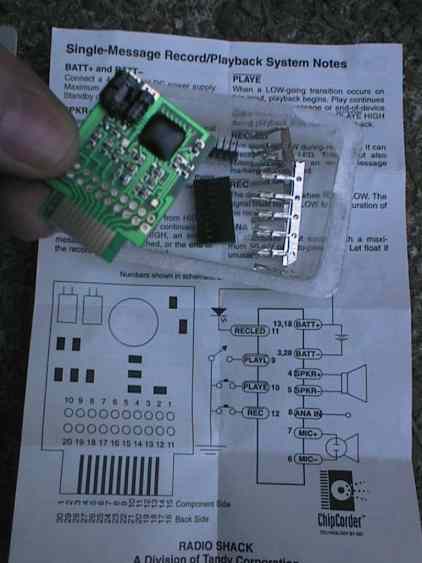 Record/Playback module. Just add programming jumpers and interface it with the transmitter audio, a microphone, and triggering transistor from the controller. 15 or 20 seconds of audio. Radio Shack $8.



Novelty toy with pre-recorded voice module. It plays the sound of knocking and " Excuse me. Excuse me, EXCUSE ME! LET ME OUT OF HERE!". Ramsey sells these also. We found it on sale at the local drug store for $5.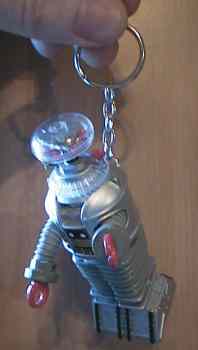 Toy robot key chain with pre-recorded voice module. This one has 3 different random sayings. "Danger, Will Robinson!", "That does not compute.", and "Warning, warning!". Cost $3 at the grocery store. This was such a neat little toy... it was a shame to have to take the voice module out.


Talking childrens book with pre-recorded sound effects and voice module. 3 sayings/effects, with 3 different pushbuttons. Very rough audio quality, but distinctive sound effects. Cost $1 at grocery store.
We hope that this points out the possibilities and ideas for making novel transmitters for use at Radio Orienteering and T-Hunt events. We will be adding more details about how to build the transmitters and interface voice modules using a simple 556 timer controller later, so please visit us again.
73---Bonnie KQ6XA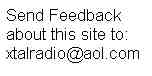 | | |
| --- | --- |
| copyright CRYSTAL RADIO 1998 | |
Back to site index