Update on Status of
The Leo Meyerson Radio Collection
---
January 19, 2011 - The Collection No Longer Exists - Update from Jack Belrose, VE2CV
Leo Meyerson, WØGFQ, will be 100 years young on 7 March 2011. To celebrate, with Leo, this important occasion, a special Meeting of the of the Quarter Century Wireless Association, Chapter 154, Leo Meyerson, Greater Palm Springs, CA, will be held at his California home in Rancho Mirage, CA. A part of this ceremony will be a presentation, by me, a Member of the Radio Club of America Board of Directors, of the RCA Centenarian Award. To date only 2-members of The Club have received this Award.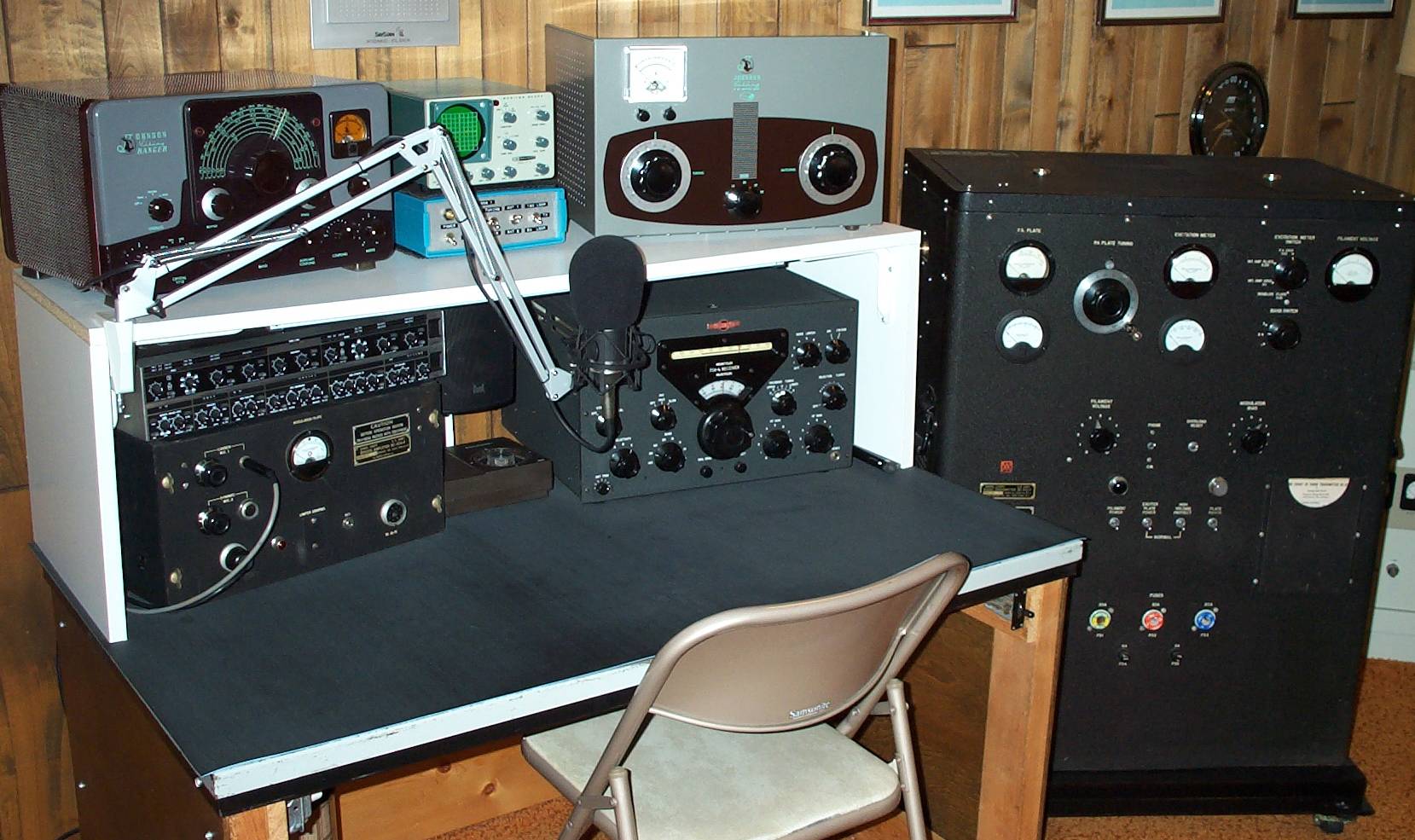 I am also writing an article, Happy 100th Birthday Leo, intended to be published in the Spring issue of The Proceedings of the Radio Club of America, on Leo, a famous industry pioneer, WØGFQ's contributions to amateur radio, and more generally HF communications. I have therefore been trying to find out about the present status of his Radio Collection.
During the past 10-years the interests and priorities, and available space for displays and storage, of the Western Heritage Museum, Omaha, NE, has changed. In fact the name of the museum has changed. It is now The Durham Museum, Omaha, NE.
As a result the "collection" has been sold (as one does nowadays on e-Bay), by a charitable association, and by volunteers (local radio Clubs, the one that I know about is The Tangier Amateur Radio Club, NØBLE), and the "collection" is no longer a "collection", it does not exist. This is very (repeat very) unfortunate, since there are Museums where the collection could have been located, for example the Antique Wireless Association Museum (I am a Member of that Association).
Whatever what is done is done. My initial posting on this WEB Site, now rewritten, resulted in an e-mail received from a radio amateur, which included a photograph of his amateur radio station, that includes a WW2 high power HF amplifier, a Hallicrafters BC-610F, developed for the Military. This was perhaps the last remaining major item purchased (in 2004) from the "collection". It is not a WRL Globe King 500B, but judged from today's transmitters it is a Boat Anchor (http://www.ominous-valve.com/ba-mfrs.html).
Hopefully others who have acquired a part of the collection will remember where what they acquired came from. This is the best I can do to remember Leo's Radio Collection.
John S. (Jack) Belrose, VE2CV, VE3CVV, VY9CRC

---
September 11, 1998 - Metropolitan Community College Plans Display
WB5HZH will be meeting this week with the President of Metropolitan Community College regarding establishing a display and operational station at the College using equipment from the Leo Meyerson Radio Collection. HAM HUM, October 1998
---
June 2, 1998 - Western Heritage Museum Not Disposing of Collection
WB5HZH has met with the director of the Western Heritage Museum. The museum has no plans to dispose of the collection as was being reported last month. The museum does not have the room to place the collection on display en masse, but will use several items in a 1950's period exhibit which will include a replica of a store front of World Radio Labs. There has been some interest by the President of Metropolitan Community College to borrow portions of the collection for a permanent exhibit including the possibility of setting up an operational station. WB5HZH will follow up with the college on their plans. HAM HUM, July 1998
---
April 28, 1998 - Leo Meyerson Asks Help to Preserve Radio Collection
Leo Meyerson, W0GFQ, founder of World Radio Laboratories, is requesting the assistance of hams from Ak-Sar-Ben and other radio clubs interested in the preservation of the Leo Meyerson Radio Collection-an amateur radio resource of great historical and educational value to the community. The future of the collection at the Western Heritage Museum is currently in jeopardy.

In a letter dated April 28, 1998, Leo Meyerson wrote me saying:

"...I am facing a dilemma concerning the Museum. We have a new Director-Randall Hayes, a nice fellow but one who apparently does not appreciate the amateur exhibit. It does not have a high priority in his thinking.

"It would be timely if you and a group would contact him and explain how important our exhibit is to the community and the contributions made in the past to make possible what we all enjoy today. His phone number is 444-5071. Hope I am not asking too much and would like to meet you soon.

"It would be a great help to me if a committee of interested hams from Ak-Sar-Ben and other clubs could contact Randall and offer to assist him as his knowledge of amateur radio is limited. I of course could help but just celebrated my 87th birthday and won't always be around. I spent many years accumulating the collection and many amateurs around the country have helped. So the museum has a responsibility to the donors. The former Director was very pro-amateur and we need new direction from the present one. 73, Leo."

The Leo Meyerson Radio Collection is now in storage at the Western Heritage Museum in Omaha, Nebraska. This collection traces the development of amateur radio from the Lee DeForest audion tube to the growth of World Radio as a major supplier of both commercial and amateur radio components.

This collection is a combination of Mr. Meyerson's collections and items donated by hundreds of dedicated individuals. It represents the beginning of a collection that was to be incorporated into a major communications exhibit with Western Heritage Museum as the designated repository.

The museum has a collection of over 200 radios, including the 1906 Lee DeForest Vacuum Tube, Spark Transmitter, Crosley Pup, early transmitting tubes, Globe Scout, Galaxy Amateur and Commercial Single Side Band Transceivers, and many other articles of interest including early receivers such as Breting, Hammarlund, Hallicrafters, Howard, RME and National. Also included in the collection are over 1,700 items that have been placed in the museum's study collection for use by researchers. Over 5,000 receiving and transmitting tubes are also on hand. The exhibit had a working HAM station on both S.S.B. and A.M. as well as other hands-on activities for the public to enjoy.

On April 22, 1998, Terence E. Keane, Senior Curator of the Western Heritage Museum wrote:

"Three years ago [1995] the museum's Board of Trustees officially suspended all collecting and promotional efforts associated with the ham radio collection. Subsequent notices or printed materials about the collection that may have appeared were circulated without the museum's prior knowledge or approval. Other than a few radios to be included in a small exhibit on World Radio, all of the equipment is to remain in storage until its ultimate disposition is determined."

For those interested in more information on the Leo Meyerson Radio Collection and on Leo Meyerson, WØGFQ, the founder of World Radio Laboratories, it is posted on the World Wide Web at: http://www.qsl.net/kp4md/museum.htm and http://www.qsl.net/kp4md/w0gfq.htm.

Contact information for the Museum is:

Western Heritage Museum
801 South 10th Street
Omaha, NE 68108-3299
Phone (402) 444-5071 FAX (402) 444-5397

73, Carol, KP4MD/W6
E-mail: kp4md(at)qsl.net