Logs, Pictures and Sounds
DATE

TIME (z)

CALLSIGN

MEDIA

FREQ

HIS RST

MY RST

STATE- WAS#

COUNTRY- DXCC#

I#

QSL

Schedule/ Random

4-Feb-0

1

0220

EA8FF

EME

432.050

439

549

Spain

59

Random

4-Feb-0

1

0310

W1ZX

EME

432.050

O

O

MD-18

60

Schedule

4-Feb-0

1

0505

NC1I

EME

432.009

569

569

MA

Random

4-Feb-0

1

0606

VK4AFL

EME

432.010

559

559

Austrailia

Random

4-Feb-0

1

0630

JH4JLV

EME

432.010

449

449

Japan

61

R

Random

5-Feb-0

1

0034

SM3AKW

EME

432.015

559

559

Sweden

Random

5-Feb-0

1

0050

OZ60L

EME

432.015

439

539

Denmark

62

Random

5-Feb-0

1

0118

UA3PTW

EME

432.015

O

O

Russia

63

Random

5-Feb-0

1

0210

NC1I

EME

432.015

579

579

MA

Random

5-Feb-0

1

0235

N9AB

EME

432.015

559

449

IL

Random

7-Feb-0

1

0210

NC1I

EME

432.010

559

569

MA

Random

7-Feb-0

1

0445

N9AB

EME

432.010

559

449

IL

Random

8-Feb-0

1

0505

DL8OBU

EME

432.028

449

449

Germany

64

R

Schedule

8-Feb-0

1

0410

K4EME

EME

432.028

449

449

VA-19

65

Schedule

10-Feb-0

1

1745

UA9FAD

EME

432.040

O

O

Russia

66

Schedule
That's more like it. A few comments on the above: Includes the biggest signal reports I have ever given or received on EME (NC1I), and I have a wav file excerpt of the QSO below. I have been trying to work OZ6OL, DL8OBU, K4EME, and UA9FAD since mid-1999! The problem was frequently one-way propagation due to Faraday, no longer a problem with my polarity rotation capability. W1ZX has a huge signal here, with his big dish, but when we worked this time, I was wandering all over the place trying to find the moon with my lousy positioning system, so we were lucky to complete with O/O. We will do much better next time!

Here is the old drive shaft that gives me the headaches: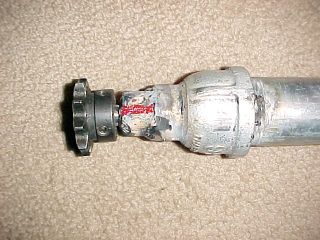 The sprocket is on loosely, therefore the crooked look. The shaft consists of, from left to right:
10 Tooth 1/2" bore #40 chain sprocket
1/2" bolt with threads cut off
3/4" black pipe
3/4" to 1 1/2" pipe reducer
1 1/2 inch pipe
Never meant to be permanent.
Here is a picture of the dish viewed from the house, through my old 12 X 16 432 array, and a bunch of trees.
The trees are not a problem during normal operation, since they are at about 180 degrees, where the moon is at the peak elevation. You can see here that my coax length increased over 100 feet from old antenna to new antenna.
I just threw this in. This is a 100 ft. (30M) antenna located about 100 miles north of me. I am seriously considering trying to get permission to put this thing on 144MHz EME for a future contest. 30 dBi gain!
WAV Files:
The first one is a couple of my own echoes: Echo5.wav
This one is an excerpt of a QSO with NC1I: NC1I.wav
73
AL7OB