The Azimuth Drive System:
This is the azimuth drive system consisting of the following elements:
1. Emmerson 25:1 right angle gear reduction unit (Free, thanks to Dennis Sherwood, Minneapolis, and transportation to Alaska by Arn Koppy). Approx weight 100 lbs.
2. Welded angle iron frame assembled to allow adjustment of drive position. This frame allows attachment of the AZ drive system to the 4X8" steel tower top, and perfect alignment with the main gear (Homebrew, AL7OB).
3. 240 VAC, 25 RPM gearmotor ($25 - AxMan Surplus).
4. Adapter plate for mounting the motor to the Emmerson gearbox (AL7OB fabrication). This includes a shaft coupler to connect the 5/8" motor shaft to the gearbox 1 3/16" input shaft.
This is the drive unit just after fabrication, showing all 4 elements. Weight - about 150 lbs.: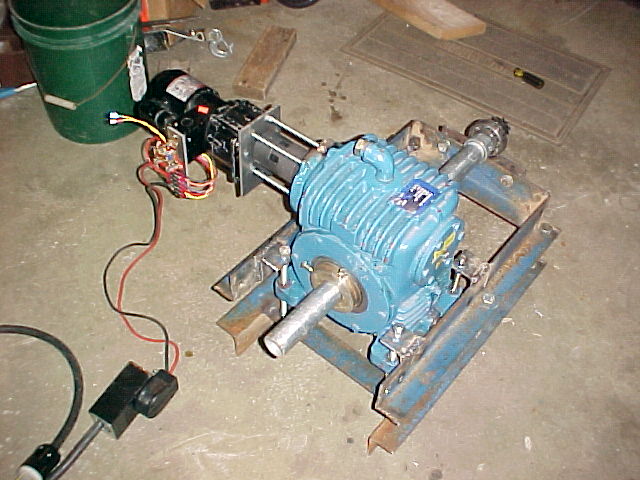 Another view prior to installing the top bearing:
Another view: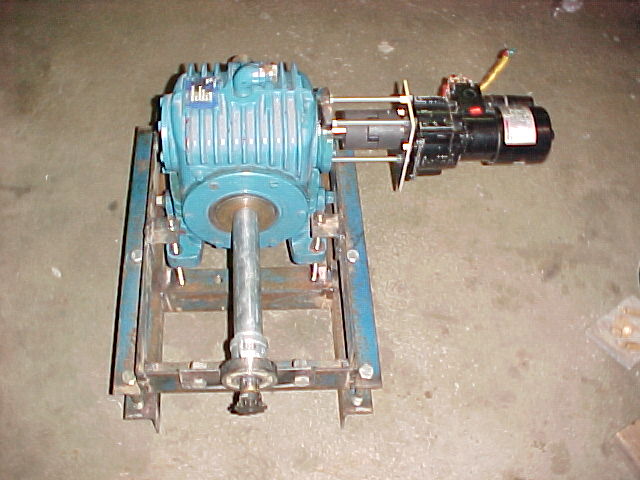 This is the drive after mounting on the tower. The rigid conduit drive shaft is visible.
Also note the elegant protective motor shroud provided by the local grocer.
The drive system still uses chain and sprocket drive. Eventually I plan to obtain a pinion that mates upwith the gear on the outer part of the crane bearing. I will use a solid drive shaft once a pinion is obtained.
Additional pictures of various scenes:
The base of the tower is glare ice making it very difficult to work on things. Thanks to the amazingly unusual warm temperatures this winter.
Sun lighting up the dish surface puts me in the dark below:
Here is a side view of the dish when set to zero elevation.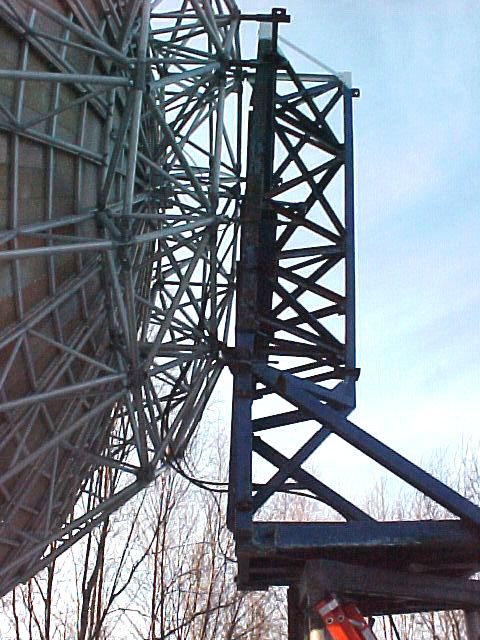 This is the wiring diagram for the 240 volt AC motor power:
And finally, a drawing of the pinion that I am in search of. I have found a company that will custom fabricate one for $350, a deal I will probably have to pursue. I also need a somewhat unusual shaft diameter of 1 11/16" (1.6875").
Please send any comments to Mike [email protected]
The END.