144 MHZ EME EXPEDITION TO SOUTH DAKOTA (Nov. 1999)
Gary Schelske, WDÆBIA and Mike Melum, AL7OB
4 x 11 Element Wilson LPA KR-500 and CD44 Rotors
Mike operating the IC-202 K2RIW Amp, Pwr Supply, Brick Driver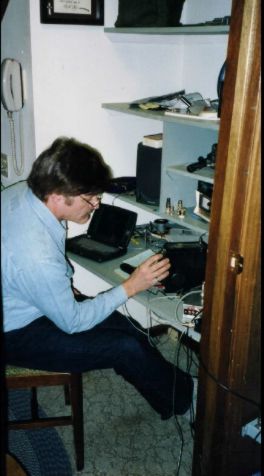 The equipment consisted of the following:
Inside
Outside
Icom IC-202 Transceiver (2ea. TX and RX)

Ramsey PA-10 30 watt brick

K2RIW Amplifier and power supply

Power meter, Control Box, Laptop, 599zx, etc.

4 ea. Wilson log periodic 11 element antennas

KR-500 Elevation Rotor

CD-44 Azimuth Rotor

Relay/ Preamp Enclosure
System Diagram: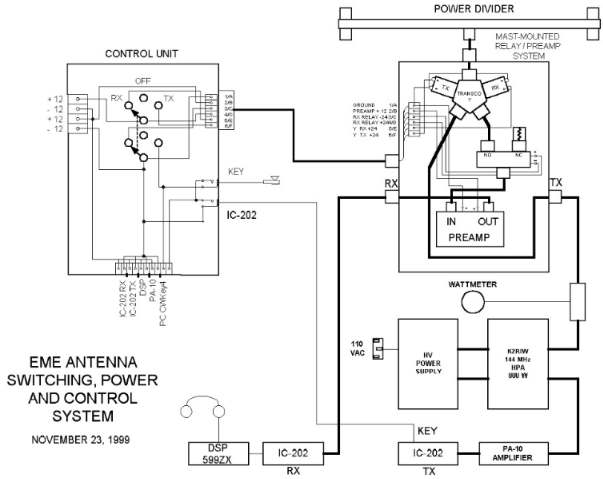 The relay/preamp box (mounted at antenna)
Results:
Log of WD
ÆBIA and AL7OB
Time (UTC) Callsign Frequency Report Location
27 Nov 0545 F3VS 144.031 O France
27 Nov 0627 W5UN 144.028 O Texas
27 Nov 0806 SM5FRH 144.025 O Sweden
27 Nov 0812 KB8RQ 144.049 549/529 Ohio
27 Nov 0855 K5GW 144.013 O Texas
The WDÆBIA 144 MHz EME station is now QRT. It was fun while it lasted.