The Static
The Official Publication of the
Straits Area Amateur Radio Club
November 2006

November Meeting
Our next meeting is Tuesday November 21. At this meeting we will be helping everyone get a FCC Registration Number (FRN). Once you have registered with the FCC and have your FRN you will be able to make modifications to your license and renew your license online.

We will also be discussing our Christmas party and electing our new officers for 2006. Be sure to be here and make your vote count.

Are there a few faces you haven't seen in a while? Why not give them a call and ask them if they need a ride to the meeting.
SAARC Meetings 2006
November 21 - December 19*
*Christmas Party

SAARC VEC Exam Dates
Our next regularly scheduled test session is December 2. However, Jack Felton is has finished his Technician class and we will be scheduling an additional test session for his students. The test session will either be this Saturday or Tuesday November 21 just before the club meeting.

We will soon be scheduling for our 2007 test sessions. If you know of any date we should or shouldn't hold a sesssion please let us know. We try not to conflict with other ham events like the Traverse City Swap and Dayton so let us know of anything going on.

SAARC Area Nets
MONDAY 08:00 pm EST The Bill DeMay Memorial Two Meter Social Net
146.680 MHZ - Net Control - Rotating

TUESDAY 09:00 pm EST The Michigan Link-Up Net
146.680 MHZ - Local Net Control - N8DNX

WEDNESDAY 08:00 pm EST The Chain - O - Lakes Net
147.280 MHZ w/Pl 103.5 - Net Control - Rotating

THURSDAY 01:00 GMT The RACES Net
146.680 MHZ - Net Control - Rotating

SATURDAY 08:30 pm EST The Dip Net
146.680 MHZ - Net Control - Cliff Rosebohm KC8NVI

Autopatch Etiquette
The autopatch is a great thing to have and can even save lives in an emergency. Just like everything in radio, there is a right way and a wrong way to use it. Here are a few helpful hints that will keep you and those listening in healthy and happy.


Don't forget that amateur radio is for pleasure and, although that pizza you are ordering will give you great pleasure while you are eating it, you can't make business calls on the autopatch.
Be sure to check that no one else is on the repeater before using the autopatch.
Announce your intention to use the autopatch. Something as simple as "KG8JK accessing autopatch" will work just fine to let others know that you are making a call.
Keep your calls short. If you need to talk longer than a minute, use a cell phone or pay phone so you don't tie up the repeater.
When you finish, let everyone know that you have completed your call. "KG8JK clear of the autopatch" is all you need to say. Just be sure to use your call instead of mine.

By the way, if you hear some Spanish on two meters, it is most likely me on the autopatch and not some incredible band opening.

Upcoming Contests
NAQCC Straight Key/Bug Sprint 0130Z-0330Z, Nov 16
YO International PSK31 Contest 1600Z-2200Z, Nov 17
LZ DX Contest 1200Z, Nov 18 to 1200Z, Nov 19
All Austrian 160-Meter Contest 1600Z, Nov 18 to 0700Z, Nov 19
ARRL Sweepstakes Contest, SSB 2100Z, Nov 18 to 0300Z, Nov 20
RSGB 2nd 1.8 MHz Contest, CW 2100Z, Nov 18 to 0100Z, Nov 19
NA Collegiate ARC Championship, SSB 2100Z, Nov 18 to 0300Z, Nov 20
EU PSK63 QSO Party 0000Z-2400Z, Nov 19
Run for the Bacon QRP Contest 0200Z-0400Z, Nov 20
CQ Worldwide DX Contest, CW 0000Z, Nov 25 to 2400Z, Nov 26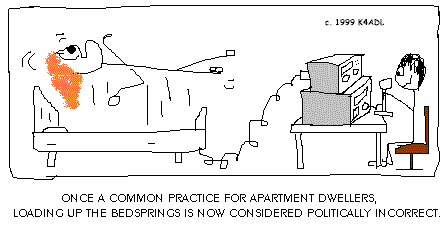 The SAARC Officers



73 KG8JK