KG6MVB



About Me...

I have wanted an Amateur radio license since I was around 8 or 9 years old (early 1970's). I built my first shortwave receiver then. It was an awful three transistor regen, but it was just so amazing to hear stations from all over the world. The DX bug had bitten, and there is no cure.

Of course the next step was a license, so I could talk, but I never got past the code! Finally, 29 years later, I found out that you no longer need Morse code for the Technician level license. I took a sample test (on qrz.com), and passed it cold. Now I have the bug back...but there is a problem. With a no code Tech license, I still can't use the HF bands, which is what has always been my fascination. While using 2 meters can be fun, it just doesn't have the mystery magic of nature's repeater - the ionosphere. When I signed up for the test I told the VE that I would take the Tech test, and if I passed, try the code and General.

Now I had a challenge. Learn the code! I tried a few programs, and eventually settled on G4FON's Koch trainer. After many late nights and much frustration, I got through the code. I took the element 1, 2 and 3 tests on August 11, 2002, and passed all the way to General.

Some of the highlights of my new hobby:
On October 18th, 2002 at 0215 UTC, I had a QSO with Valery Korzan, RZ3FK on the International Space Station. I did it with my Vertex VX-150 putting out 5 watts and a homemade 3-element "tape measure" yagi (which I built for transmitter hunting). I taught a night school class (which got out at 0200 that night). I told my students about the upcoming pass, which would have been visible, except it was too hazy. Two of them stuck around, and were rewarded with the successful contact. This was NOT a scheduled ARISS contact, just random. Oh, by the way - I take back what I said about two meters, it can be quite cool. I have also found transmitter hunting to be good clean cheap family fun.

On March 15th, 2003 I passed my Extra exam. If anyone out there is thinking about upgrading, go for it. I learned a lot while studying for the test.

In April 2004, I (finally) bought an Icom 718 HF rig (hey, this stuff is expensive, and I have a family to feed). I lived in a condominium complex, where the rules (cc&r) were not enforced very well. I proceeded to put up a full size (102') G5RV about 1 foot above the roofline. The building is three stories high, which put the antenna about 35 feet off the ground. The matching section was looped in a U shape in the A/C access area of the roof, and the coax was hidden behind a downspout. It was hard to see, even if you were looking directly at it.

This antenna ROCKED! It tuned up nicely (with a tuner of course) on 80, 40, 20, 15 and 10. I worked stations all over North America and Europe, most on 20 ssb, but some cw, psk, rtty and even sstv. All this while we are in a solar cycle decline. On July 10, 2004, I received a certified letter from the homeowner association's attorney that I must remove my antenna, any and all wires and equipment relating thereto from the association's property. On July 11th, I took it all down. Meanwhile, my neighbors were violating other cc&r rules, as if they did not exist. Sometimes life just isn't fair.

For about a month, I was off the air. I lived on the second floor of a three story building, so I had no attic, and also no direct ground below (a flagpole was not an option). The outside of the building was stucco over chicken wire, which made an indoor antenna out of the question (I tried). On August 11th, I ordered a Buddipole. I bought the basic model, and using a photo tripod, with some custom pvc pipe work, made my own mast. I converted my shack to a portable station. I was able to work from my patio, or take it all with me and go out into the rough! The best DX I worked from the Patio was Buenos Aries, Argentina on 17 Meters in SSB mode. This condo was located near Los Angeles, CA, USA - Grid square DM04sk. Often I would get on HF in the noon hour pacific time (18:00-19:00 UTC) from the parking lot at work. HF portable is turned out to be a lot more fun than I expected.

One final thought...to the H.O.A...You may have won the battle, but you didn't win the war.

In May 2005 I moved out of my antenna restricted condominium in California. I moved to Albuquerque, New Mexico, USA. The first QTH in Albuquerque was in Grid Square DM65pe, CQ zone 4 and ITU zone 7. This QTH still had HOA restrictions. I tried attic antennas; however, they didn't work very well at contacting other hams. They do work well if you want to contact your appliances. With some effort and creative engineering, I was able to get stealth antennas up above the roof at the second QTH. The second QTH was in Grid Square DM65oe, CQ zone 4 and ITU zone 7. I had dipoles for 40 and 20 meters and a vent pipe antenna for 2 meters and 70 cm. Getting the HF antennas out in the open was a big improvement over the attic and my appliances stopped talking. The vent pipe antenna did a very good job on 2m and 70cm.

I moved to a new QTH in December 2015. The new QTH is in Grid Square DM65pe, CQ zone 4 and ITU zone 7. This house has antenna restrictions; however, stealth antennas are just another challenge for me. I installed a weather station on top of a pole at the peak of the roof (yes it works - click the link). The pole is PVC and contains a vertical antenna for the 2m/70cm bands inside. Although antennas are not allowed, there is nothing in the rules stating that I can not put up a weather station. The new QTH has a view of the city and excellent VHF/UHF simplex coverage. For HF I have a horizontal V dipole running from the apex of the roof (where the VHF antenna...I mean weather station is located) down to poles in the corners of the yard. These poles also support outdoor hanging string lights for the backyard. The lights take the attention away from the antenna as their wire is much thicker and closer to the edges of the yard. I was concerned about interaction with the antenna as it is another wire in close proximity but so far none has been noticed. Again, I am hiding my antenna in plain sight. Despite the close proximity to RF, the weather station has not experienced any problems.

My opinion of the IC-718 - This is a great radio. Don't let the low price fool you. Watch for sales, and try to get it with the free dsp.

If you are ever visiting Albuquerque, I created a list of active repeaters in .csv format. It is not a complete list, just the ones that have at least semi-regular activity. If you have programming software you should be able to edit the .csv file and import to your software for easy radio progamming. If your browser just opens the file on the screen, right click on the link and do a "Save As"

KG6MVB_ABQ_Repeaters.csv

QSL Instructions:
QSL via the bureau (DX), or direct (USA). My information is correct on Qrz, Buck and all the rest of the callsign servers I could find. I also enjoy eQSLs via eQSL.cc.

I eQSL all my HF contacts and I enter them into LOTW. I normally do this right after I log them (as soon as the QSO is done). With most electronic log book programs it is very easy and just a few mouse clicks once setup.

I know the ARRL does not accept eQSL for awards (sorry). I think this is a shame! eQSL has good yet simple methods to authenticate their users, plus you can get the "cards" right away with a printer. LOTW can be very complicated to set up and after all the trouble, you still don't get the simple pleasure of a "card" that you can show off! I print all my eQSLs and display them along with the regular cards. My QSL collection is usually the first thing noticed by visitors to my shack, even the "fake" eQSL ones. I bet many potential LOTW users have become lost with the ARRL's multi-step authentication procedure. I understand and agree that security and integrity are important, but LOTW is overkill! Also, you can not make corrections. I found an entry in my log where I transposed two letters. The wrong entry was already uploaded to LOTW, and there is no way to get it out of there! I suppose with the high security involved in LOTW, it must only be used by hams who never make mistakes.

Up until 2008 I sent out normal (paper) cards for all non-local HF contacts. With increasing postage and the effort required, I only send paper qsl cards on request. I am trying to simplify my ham radio experience as too much "paperwork" takes the fun out of it. I like working stations and I'd rather spend my free time working them than filling out cards.

Here are some projects I have done. Click on the name to open:

Tuner simulator for Icom.
Rig to Computer interface.
E-DC-5B power cord modification (for Vertex/Yeasu VX-150)
My mobile installation. Ham radio doesn't have to be ugly!

More projects, these ones I haven't documented (yet):

Tape Measure 2 meter T-Hunt Beam. Mine is slightly modified.
An unusual power source - Discarded Polaroid film cassettes.


If you are in New Mexico, give me a call on the Mega-Link system. This is an open repeater system to all hams and covers the state very well. I think all repeaters should be this way. Closed and private repeater systems go against the spirit of Amateur Radio, and I will not use or support them. If you are in Albuquerque, give 146.52 simplex a try. I also monitor the W5CSY (145.33- 100PL/444.00+ 100PL) repeater system.

73 de KG6MVB
Tom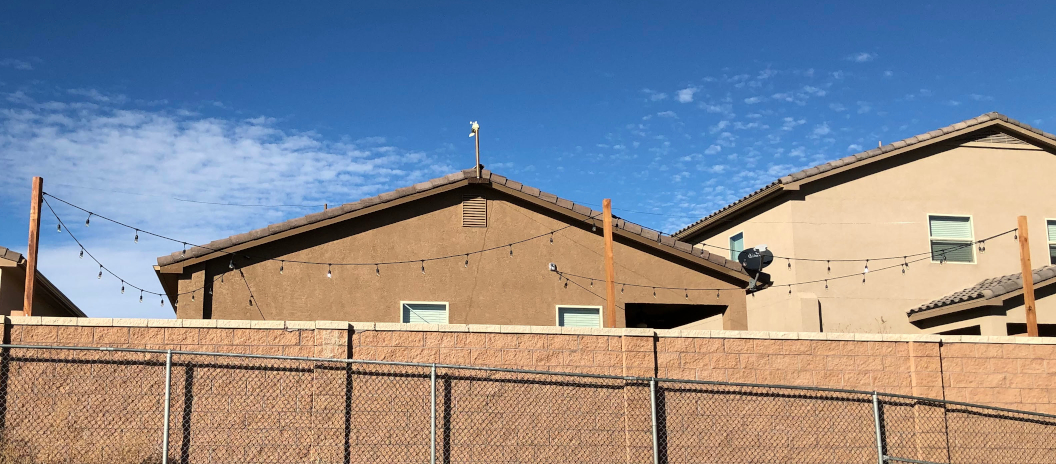 This is the Antenna farm at the current QTH (hiding in plain sight). This is the view from behind the property. The only item visible from the front of the house is the "weather station".



My Buddipole on the balcony of my old antenna restricted Condo in California, October 2004.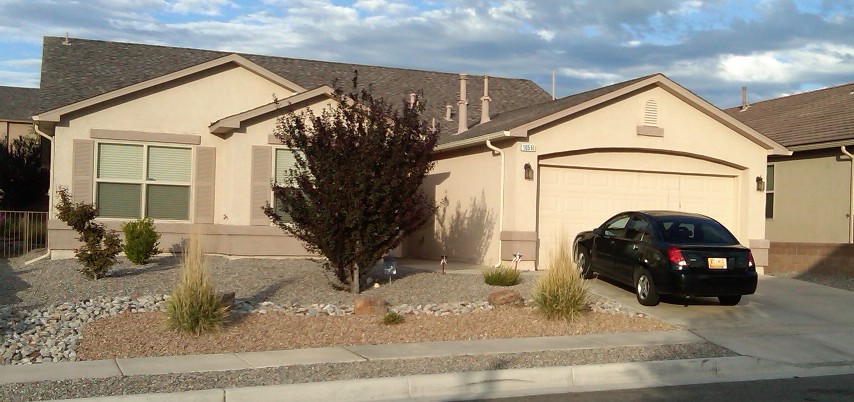 This was the second Albuquerque QTH. There was a 40m horizontal dipole, a 20m horizontal dipole, and a 2m/70cm vertical antenna on the roof. The vent pipe antenna is the only item that could be seen from the street.



This me and my Grandson in my shack at the second Albuquerque QTH. While he has no callsign yet, he is very interested in Grandpa's radios.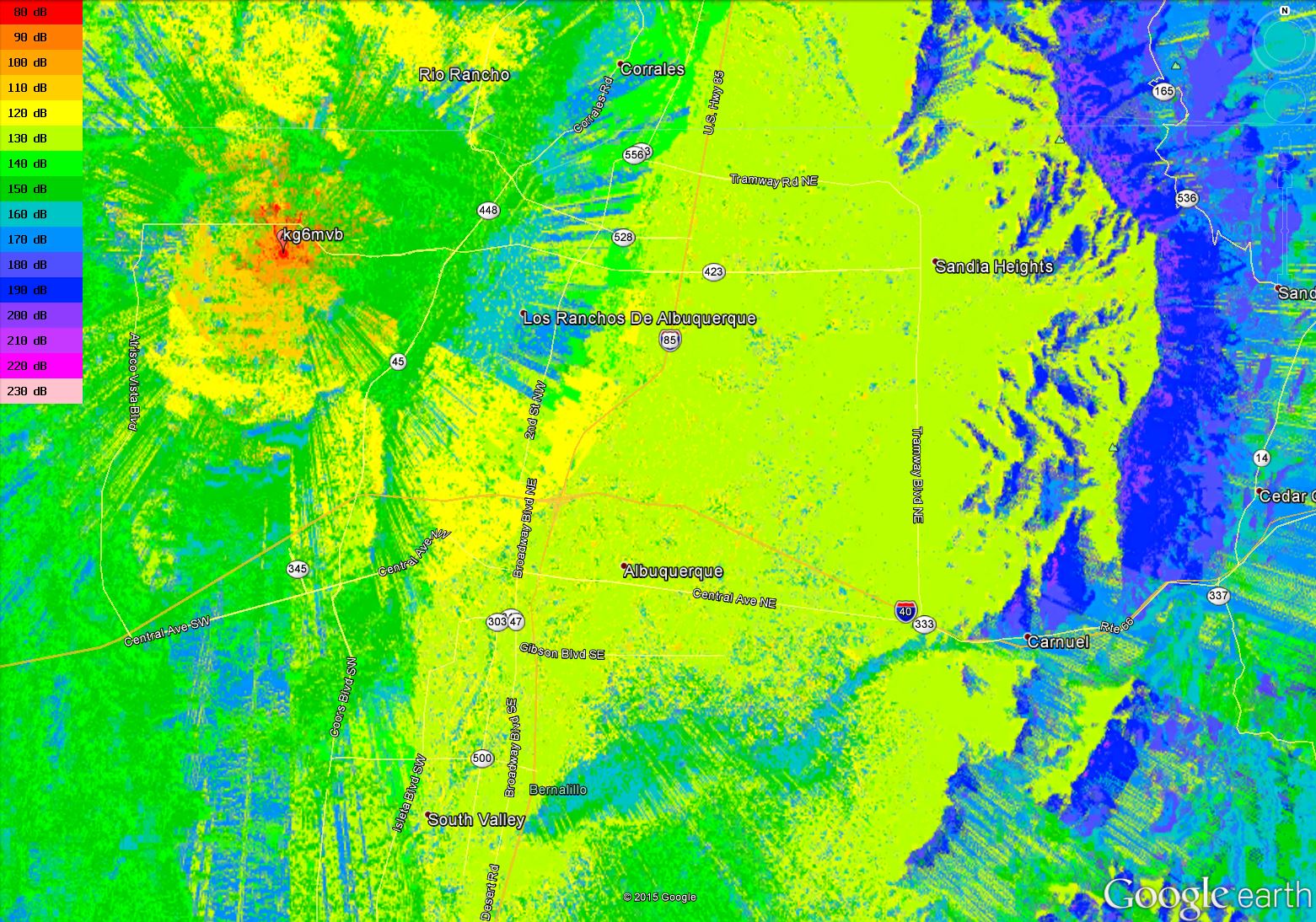 This is the calculated path loss on 2 meter VHF FM from my roof of my new QTH to a receiving antenna five feet off the ground. Calculations were done using SPLAT! and Google Earth. Click on the image to download the .kml and associated files as a zip file. Unzip the contents of the zip file into a folder and open the kml file with Google Earth.



This is the calculated line of sight coverage on 2 meter VHF FM from the roof of my new QTH to a receiving antenna five feet off the ground. Calculations were done using SPLAT! and Google Earth. Click on the image to download the .kml and associated files as a zip file. Unzip the contents of the zip file into a folder and open the kml file with Google Earth.

If you would like to send me email, send it to my callsign at yahoo dot com.

This page was updated on August 15, 2020.