EVENTS AND SHOWS
July & August 2001
---
The Matador
Police Car appeared at the 6th Annual Cops For Tots Benefit at the Los Angeles Police Academy on Sunday, August 26, 2001. A day well spent in the afternoon sun, benefiting children seeking bone marrow transplants. Unfortunately the car did not win any awards, but maybe next year!
---
August 11, 2001
The restored Matador made an appearance in the 3rd Annual "Main Street USA" Car Show in El Segundo, CA.
---
July 1, 2001
1973 AMC - LAPD Matador's 1st Public Showing
"Safe and Sound Sunday"
Staples Center, Los Angeles California
In Coordination with the Los Angeles Police Department Public Affairs Unit
Police Department staff and Metro SWAT Bureau, FBI, DEA, CHP
& the El Segundo Police & Fire Departments...
LAPD Police Chief - Bernard Parks, David Burns (City of El Segundo Fire Emergency Services), and
"Adam-12" Producer Tom Williams discuss the restoration project.
Chief Parks said the restored Matador LAPD car looked a lot better than the Matadors he drove many years ago...
Pictures © Copyright 2001, All Rights Reserved - David Burns
The 1973 AMC Matador made its first public appearance Sunday, July 1, 2001 at the Los Angeles Staples Center in coordination with the Los Angeles Police Department Public Affairs Bureau and L.A. Sparks for "Safe and Sound Sunday." The Chief of Police for the Los Angeles Police Department - Chief Bernard Parks (pictured above), even dropped by to chat with me, and then requested to have his picture taken with the newly restored 1973 AMC LAPD Matador. The LAPD Public Affairs Unit took many photos - look for more information on the LAPD website. The visit will also be covered by the LAPD Public Affairs Bureau on the LAPD website. Mr. Tom Williams (Adam-12 Producer, 1973-1975) even stopped by to chat and take some pictures. I could never have completed such a technically correct restoration without the valuable assistance of Mr. Williams and many current and retired LAPD Officers. Many provided pictures from their personal photo albums and shared their experiences to assist with this project.
More photos of the event...
| | | |
| --- | --- | --- |
| | | |
| "Adam-12" fan Michael F. Blake behind the wheel | Tom Williams points out some of the details of the show car compared to the restored car... | ...and points out the show cars had a white boundary at the roof line to distinguish it from other vehicles. |
| | | |
| | Tom Williams and David Burns standing with the restored AMC LAPD Matador Unit. | Tom Williams - back in the saddle again. |
This was a wonderful and unique occasion for this site and its owner. The staff, other professionals and retirees of the LAPD, and many others embrace the work of this site, including numerous other hobbyists. Even Michael F. Blake, a frequent visitor to the chat group and Home Page dropped by and had some pictures taken. Many other folks dropped by to say hello, and offer words of encouragement as we continue our battle with an entity that apparently has no regard for the many fans of Adam-12 and the LAPD who share a common fondness for law enforcement, and a culture many of us grew up with. This site and chat rooms provide that common link that no other site is currently providing for Jack Webb, LAPD, and Adam-12 fans.
The Adam-12 Home Page will continue to serve in the values and mission it first established in 1995. This sites serves a unique community of fans, hobbyists, and collectors who are eager to reminisce about their fondness of the an old television show, the culture of law enforcement in the 60's and 70's, the LAPD, and any information about the show - the equipment, vehicles, actors, technical aspects of the production. Their is a huge thirst for knowledge, information, and discussion related to all of these topics. We are happy to provide a forum where this can occur.
The "Old" and "New" backed the L.A. Skyline...

2000 LAPD Ford Crown Victoria and

1973 AMC Matador

LAPD gave the restored Matador a place

of honor in the front ranks next to Metro SWAT

This is the City, Los Angeles California...2001 meets 1973!
---
JULY 4TH 2001
WESTCHESTER PARADE AND LAPD PACIFIC DIVISION
Parade Rest, in line to lead the Pacific Division Commander, Captain Bill Williams.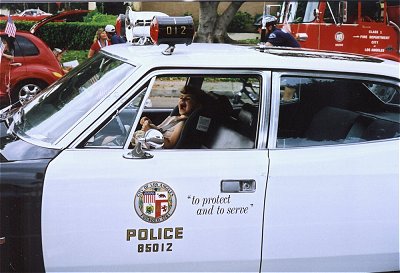 My daughter, Megan Burns (3) is having one of those "rare" moments in her "cool" car...and having the time of her life. Having met many wonderful new friends, and police officers from the Pacific Division who made her feel welcome. Now this is how to spend a weekend with dad...we're outta her, code 3!!!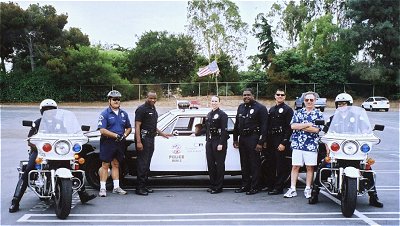 LAPD PACIFIC DIVISION PICTURED (L-R):
The Motor Units, Sgt. Glodery, Officer Goodman, Officer Eskridge, Captain Bill Williams, Officer Harrell, and LAPD Captain with the newly restored AMC Matador
LAPD PACIFIC DIVISION PICTURED (L-R):
The Motor Units, Sgt. Glodery, David Burns, Captain Bill Williams & LAPD Captain
with the newly restored AMC Matador
San Diego Police Historical Society - 1998
pictured: Actor Martin Milner, and David Burns (1998 Show)
---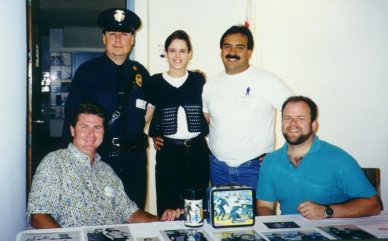 L-R / From Back; (Displaying Their Adam-12 Memorabilia Collections)
Steve Willard (SDPD), Amy Morgan, Alan Alvarez (SDPD), Mike Russo and me, David Burns.
Mike Russo owns the 1968 Plymouth Belvedere pictured (above) from the show.
---
---
This page last updated: October 31, 2001
All Rights Reserved. © 1995-2001 David Burns