Contemporary North Pole Expeditions
1970's to 1980's
From my late collection; some of these covers were previously featured in issues Ice Cap News (publication of the American Society of Polar Philatelists) in the mid 1980's. The first three covers have links to approximate full-size versions.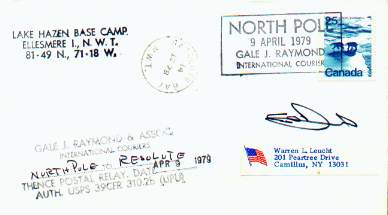 Click on image for larger version
Wheeler North Pole Expedition 1979
Raymond was ASPP member #2, and was serving as Postmaster for the expedition, having received special authorization to do so. The citation given in his handstamp for 39 CFR 310.2b (UPU) no longer pulls anything up on Google, but Title 39 of the US Code (which correlates to CFR) has a Section 601 which relates to carriage of letters out of the mail, and of the restrictions thereon.

Raymond's carriage of these souvenir covers appears to have fallen under that section, which has probably been revised somewhat since 1979. He has clearly postmarked the cover with date and location, "North Pole", which is one of the requirements under the current section 39 USC 601 (a). He referred to this rubber stamp as a "safehand" marking. I wrote Dr. Raymond at least a couple of times in the early 1980's, but as with the elusive Capt. Murch spoken of elsewhere on this site, I never received a response, making me reiterate my 2001 Polar Philately mailing list comments about only the elite chosen being able to access the inner circles of polar philately. I hate to think that such is the case, but after courteous letters and prepaid response envelopes, you begin to wonder why all your correspondence goes "astray," and you never get a response. I used to always read "philatelic courtesy dictates that a SASE be enclosed, etc.", --well you also apparently have to do the Masonic handshake or something, because a lot of folks like Dr. Raymond, (and I hesitate to seem to speak despairingly of the departed) will flat out not talk to you, including correspondence, unless you are personally known to them, or somebody vouches for you. Very clannish behavior if you ask me... rest assured that this polar philatelist will talk to you if you write. I am not a respecter of persons.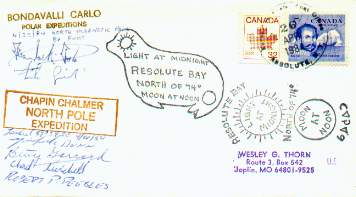 Click on image for larger version
Bondavalli Carlo Polar Expeditions/Chapin Chalmer North Pole Expedition 1984
This particular cover may be unique. In twenty-five years plus of collecting, I have not encountered any other examples of this dual documentation. This envelope actually documents two separate polar expeditions on one envelope!! Splendid, and have always wondered and wished for more information. Perhaps someone has some additional information about Messrs. Carlo and Chalmer? NOTE: Someone sent me an email quite some time ago, but I cannot locate it. If you sent information to me about this expedition, please resend to me. Thanks.

---


Click on image for a larger version

A cover from Arctic Odysseys, Special InteresTours of Medina, Washington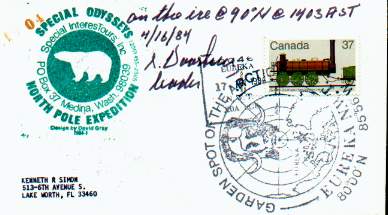 Private Polar Expeditions...American Free Enterprise at work- from 1984. Signature is from Skip Voorhees, Leader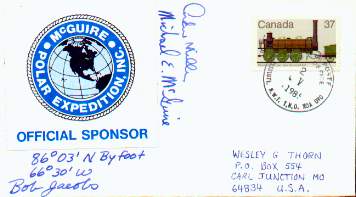 McGuire Polar Expedition 1985, with signatures of three participants; Michael McGuire, Andrew Miller and Bob Jacobs. Very thoughtful of them to slap on the sticker! Great cover. According to an article in the March 7, 1985 issue of Montreal Gazette, there were four Americans comprising the team, and they stepped out on the ice on March 6th commencing at Ward Hunt Island in the Northwest Territories to begin a 450 km trek to the pole. Mike McGuire, a free-lance draftsman from Nebraska, was listed as the expedition leader. A point of interest to this expedition was that a leader of a prior North Pole adventure, Ralph Plaisted, was a support team member for this expedition.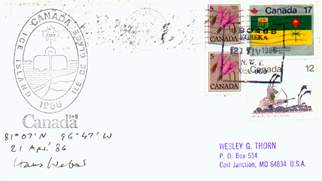 Click on image for a full-size version
Cover from the 1986 Weber Polar Expedition to the Canadian CESAR station, with signature of veteran Arctic Explorer Dr. Hans Weber with the Canadian Ice Island cachet; his brother Richard Weber, a famous explorer in his own right, was also a part of this expedition, as I recall based on articles of the time. Dr. Weber was the Chief Scientist for the Canadian Expedition to Study the Alpha Ridge and was always a friend to the polar philatelist.
---
At The Top of The World
This was one of my favorite polar covers...I left it in full size so you could see its simple beauty... clean postmark, no overcancels, contrasting stamps... Bold autos from Will Steger, Anne Bancroft (first woman at the North Pole-to arrive on foot, that is) and Paul Schurke, May 1, 1986.
Back to My Main Polar Philately Page
QSL.net/KG0YH page last updated 05 August 2009 1732Z