Covers posted from Little America, Antarctica
Little America (also the name of a town in Wyoming) was the name of an American base in McMurdo Sound, Antarctica that was originally founded by Admiral Byrd in his earlier polar expeditions of the 1930's. The base is now defunct with the base sinking into the ocean in the early 1960's, after the ice it was built upon calved away. While open, several different postmarks were in use, with the hand cancels being much more uncommon, but still readily available. My scans begin with this almost perfect postmark from 1958; had some other examples that got sold with my entire collection.
1956 Machine Cancel without Cachet; these are probably among the most common of the Little America postmarks, and this date seems to be a common denominator as well-May 1st, 1956. Even a beginning polar collector should be able to pick some of these up at a stamp show somewhere in the $1.00 box!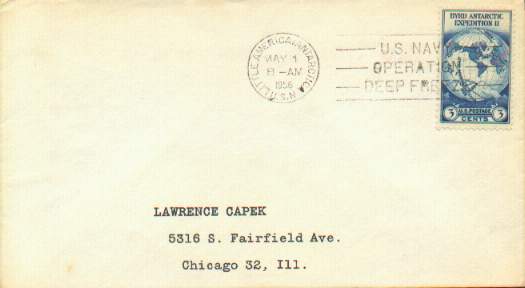 Back to My Main Polar Philately Page
QSL.net/KGØYH page last updated 11 August 2009 0146Z
The URL for this page is http://www.qsl.net/kg0yh/little.htm