An authentic Modern-Day Dog Team Cover
This is a cover I sent on a lark to someone whom I had read about in Alaska magazine, and it paid off quite well. The residue at the lower right is from an address label. By the time this came back over a year after I sent it, I had already been transferred to my next assignment station, but was still glad to get it, with obnoxious USPS label and all... had a nice enclosed note from the Ketscher's, Tam and David. Nice folks!

The postmark is from Bettles Field, Alaska and the cover was onboard the sled 7 full days, per the notation, having gone from Gates of the Arctic to Amaktuuk Pass (I think that is the correct spelling...) and then by mail. Tam added the two polar-related stamps, which I thought was a very nice touch!! I would venture to say there are very few genuine modern-day dog team covers, outside of the Iditarod sets, which I also have a few of...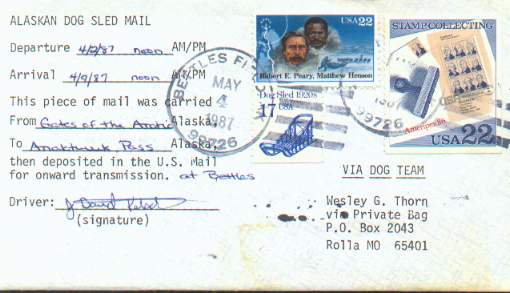 Go to my Classic Dog Team Covers from the 1940's page
Back to My Main Polar Philately Page
QSL.net/KGØYH Page last updated 08 August 2009 1953Z