Welcome to the KF8GR Linux Ham Awards Web page
There are many pages these days that promote Linux and Amateur Radio, and there a quite a few that deserve special attention. I have started the KF8GR Linux Ham Award to reward and promote these sites, (and hopefully generate more hits on their web pages). If you are interested in being considered for this award, please e-mail me with the site link, and I will give it a look. And maybe I can get a graphics type to make a better award.png file, you just never can tell.
I award these sites because until now there was no Linux awards and a Linux Ham Radio Award was out of the question. The time has come to recognize outstanding programmers and site administrators that allowed the Linux Ham Radio Community to grow and thrive. My humblest thanks to every one of you.
---
Rules to receive a KF8GR Linux Ham Award
To be considered for the KF8GR Linux Ham Award your site needs to have at least one of the following:
You must have supported Linux for Hams when most people thought we were crazy to think it could be done.
You must have at least one page dedicated to Linux Ham Radio or Promoting at least one Linux Ham Application.
You must have developed or promoted a Linux Ham application that eased the suffering of Linux Hams.
Other sites that promoted Unix Ham type programming that were portable to Linux will be given consideration.
If you have a site or page that you think deserves consideration that does not meet the above criteria, send me an e-mail with the URL and the reason that you think your site/page should be considered.
---
Award Winners on or before Apr 19, 2004
Award #1 goes to Tim Dickerson for the N9NU.NET site and particularly the Mandrake Linux and Hams page. Well done!
Award #2 goes to the Xastir Group for their outstanding application Xastir, and their extreme dedication. Long Overdue!
Award #3 goes to Hamsoft (aka Linux Ham Australia) for being the first 'watering hole' for thirsty Linux Hams. Outstanding!
Award #4 goes to Joop Stakenborg for his web page AND Linux Ham Applications! Fine work Joop!
Award #5 goes to Tomi Manninen for his gMFSK and other fine software contributions to Linux. Go Tomi!
Award #6 goes to Johan Maes for QSSTV, and his other work. Johan helped prove Linux could have good ham radio programs. Credit is overdue!

I would like to take a moment to give a special thank you to these award winners. They have been a guiding light to me, and many others. Those of us who have no programming ability can only do what we can to support Linux Ham development. If you can find the time, contact a Linux Ham site, and offer to type up documentation, or any other thing that will help them spend more time working on wonderful projects and technical help, etc. to allow Linux to grow, and especially Linux Ham Radio.
---
Winners may choose which award they want to display (more coming soon)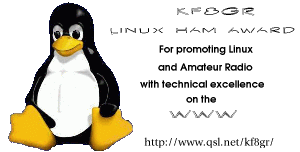 ---




This page last updated by KF8GR on May 13, 2005