R L U . T e c h
S e r i a l K e y v 1 . 4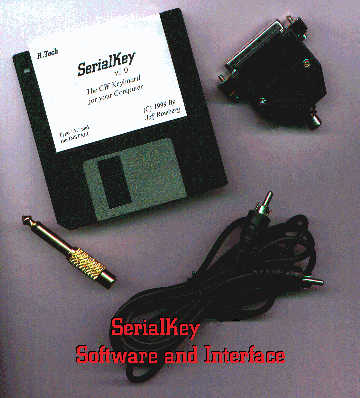 The CW Keyboard for your Computer
By Jeff Rowberg
KF6RLU
SerialKey is a DOS program that uses a serial port on your computer to effortlessly send Morse code with your Ham radio without losing your CW receiving skills. Installation and hook-up are extremely simple, as well as program use.
SerialKey will run in a DOS box from Windows! (However, timing can get messed up if another program is running in addition to SerialKey.)


SerialKey v1.2 (Screenshot)
Features:
4 through 99 WPM continuously adjustable
Easy Farnsworth operation
Adjustable weighting (1.5:1 through 9:1)
Contact logging
Log printing
Ten 50-character memories
Background transmitting*
TUNE function (key up the rig)
PC Sidetone
UTC clock
Inverse**
Manual sending***
*Background transmitting means that you don't have to wait for one character to finish being sent before typing the next one. You can type a very long string (such as a CQ call) while the program sends in the background.
**The Inverse function allows for "inside-out" CW. If your serial polarity is reversed from the standard (+14V low, -14V hi), inverse can easily reverse the MARK and SPACE units without any complicated soldering.
***SerialKey allows the user to send manually by holding down the one one CTRL key. When the user taps on a SHIFT key, SerialKey becomes a straight key.

SerialKey has been tested on:
A Pentium 75
A Pentium 120
An AMD K6-2 300
A 386 20MHz laptop
A 386 40MHz desktop
SerialKey requires a computer with a math coprocessor for the Calibrate function in SETUP. It is possible to run SerialKey on a computer without a math coprocessor, though; you just need to edit the configuration file manually (a program like DOS Edit works fine).


SerialKey has been tested with:
An Icom 706-MKII
A Kenwood TS-430S
A TenTec 1340
---
SerialKey is availableof charge. You can download version 1.4 here:
SKEY14.EXE - 94K Self-extracting DOS PKZIP file



For other information, questions, comments, etc.,
CLICK HERE to email me.
73,
KF6RLU
Jeff
---