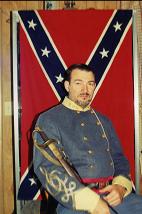 Welcome, my name is Floyd Petri and my QTH is Chester, Texas population 285. Get on Hwy 287 between Woodville and Corrigan and just follow the pipe that brings in the Sunshine. Go to the end of it and take one big leap (don't blink or you will miss it) and you will be in Chester. No Restaurants or Grocery Stores so eat before you come so you won't be hungry. All I have to feed you is MREs.

My interests are collecting Military Relics and Ham Radio. I have Confederate General William Henry Fitzhugh "Rooney" Lee's Colonel's Frock Coat, Confederate General John Creed Moore's .36 cal Colt Navy Revolver, a real Confederate Cannon, a British 2 Man Tank called a Ferret, a US M151A1 Military Jeep and some boatanchor's of which my favorites are the WWII BC-669 Transceiver and the BC-348 Receiver. I also have a complete SCR-274-N Radio Station for a B-17 Bomber, a complete uniform for an SS Concentration Camp Guard and Russian Marshal of the Soviet Union uniforms among my many things in my collection.

I only hold a Technician Ham License KF5YDH as I waited until I was 70 years old and Retired to have the time to get it, but I have 35 years of radio experience in the Civil Air Patrol in Search & Rescue and conducting nets. I am a Retired Civil Air Patrol Group Commander 35 years, a Retired Chief of Police 30 + years in law enforcement, a Retired Special Agent for USACIDC assigned to the Texas Army National Guard and Retired from the US Army 20 years which includes 4 ½ years in SAC loading nukes on B-52s and conventionals for Arc Light for Viet Nam and 4 ½ years in TAC Security Police for Air Base Ground Defense Strike Team. I have guarded 2 Presidents (Bush Sr. & Regan), 2 Secretaries of Defense, 2 Chairman of the Joint Chiefs, 2 Space Shuttles and many Generals. I was a Counter Sniper once for President Regan. I am a member of both the Tyler County Amateur Radio Association and the Lakes Area Amateur Radio Club and a member of Tyler County ARES. I have my own Repeater on 2 Meters.


My station consists of:
Icom 706MkIIG
Icom R-7000
GE MASTR II VHF Repeater

Station power supply:
MFJ-4245MW

Portable rigs:
Kenwood TK-7360H
Baofeng UV-5R

Antennas:
SKYRAKER Discone Multi-Frequency High Gain Radio Antenna 7 db gain rated at 650 watts transmit for Icom 706 MkIIG
VHF Amateur-Business-Fire Rescue-Marine Base Station Antenna for Repeater
Discone Multi-Frequency Receiver Antenna for Icom R-7000