KF4WW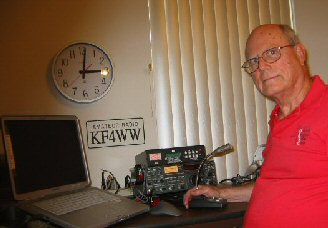 The old operator and the old IC-751A seem to be working OK


PERSONAL INFORMATION:

Herbert P. Ford (Herb)
102 Vista Avenue
Eustis, Florida 32726
Phone: 352-383-2013

email:
University of Florida BEE 50
Florida State University MS 66
Registered Professional Engineer (Retired)
I built my first radio in 1941 using a type 30 tube and experimented with and built many devices all through high school...including a 4 ft. high Tesla coil which the high school science department used. I went from high school directly into the active Naval reserve and trained as a radio/radar technician. The war ended before I finished my training so I elected to be discharged and entered college at the University of Florida.
I passed the test for a commercial First Class Radiotelephone license which allowed me to work as a part time broadcast station engineer while attending college. After graduation I went to work for the Philco Corporation in Philadelphia in their military/industrial division where I designed their first all solid state vidicon tv camera in 1956...using all germanium transistors since silicon devices hadn't been developed then.
The remainder of my professional career was spent with several companies both commercial and military involving circuit and system design of both analog and digital systems.
I have been an active ham for over twenty years and I just love this hobby. I received my first Ham license (KA4SNX) in 1980 and became an Extra (lite) in 2000. My favorite modes are all of the digital modes currently operated through the computer soundcard. I can't praise the software geniuses enough for all the work they have done with soundcard technology. It has created a whole new era of dx operation, since these modes can be operated at relatively low power and with minimal wire antenna systems. Now I operate those HF modes almost exclusively.
I have been an active member of a local ARES group since mid 1980's and train regularly with them. I have also been a member of the Orlando Amateur Radio Club (OARC) ever since I became an amateur operator and have participated in over ten Field Day events.



Attention Visitors:
QSL.NET is funded by some fine sponsors,
please help support QSL.NET by
viewing a few sponsor pages that might interest you.
73 and Thanks,
Al K3TKJ, webmaster.



You are visitor number
since 03/03/02