FEATURES

• Upload and Download the Radios Channels including trunk bank frequencies and ID's.
• Complete Computer control of the Pro-2052.
• Display Alpha Tags, and Bank Names, including Trunk ID's from the Computer.
• Edit Frequencies, and Data, then upload to the Radio.
• Keep a database of Trunk Id's with Alpha Tags.
• Instant Channel GOTO.
• Tune the Radio to particular frequency from the Computer.
• Bank control.
• Search for frequencies, in over 20 different bands.
• Manual searches.
• All search frequencies are logged.
• Search for Trunk Id's with logging, and database search.
• Name all 20 banks to reflect frequncies , ie: Police etc., and trunk status.
Screenshot of Frequency Panel.
This Panel is for editing and updating frequencies, alphatags, and other data to be uploaded to the Radio.
You can change frequencies, trunking type, then update the Radio. The Rado display shows channel, fequency,
active banks, and operates just like the Radio. Download and Upload the Radios memory, tune to a frequency
or goto a channel directly. You can double click on a channel in the grid and instantly goto that channel.

---
Search Screen
Screenshot of Search Panel.
The search features have been updated. You can search for new frequencies by service
or limit range. Trunk ID searches can scan Your ID Database for known and unknown
ID's. Save Your frequecy, and ID searches to Text Files. You can also lock out birdies and
unwanted frequencies and ID's
---
Trunk ID Screen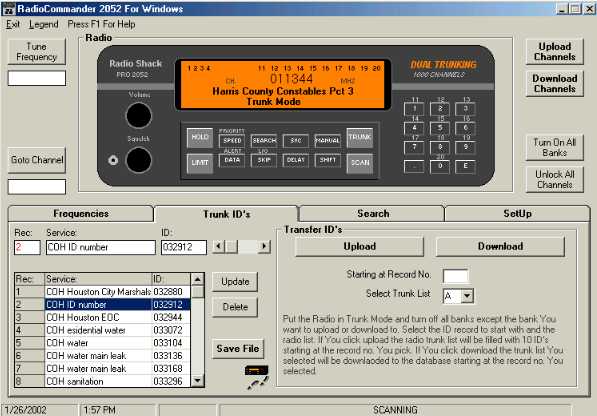 Keep a database of up to 1000 Trunk ID's and descriptions.
Click on a database field to bring that record into the editor, or use the slider bar.
Afte editing a record click on the update button to add the data.
Transferring ID's is done by setting the Radio in Trunk Mode then turning off all banks except the one You want to upload or download to
Click the manual button, then select the record no. to start with and the scan list (A....E). You can upload or download one scan list at a time.
---
UPDATE!!
Radio Commander has been updated. Several Bugs have been fixed and several new features have been added.
The search function has been fixed as well as having several new search ranges added.
AUTOMODE has been added that lets You scan conventional and trunked simultaneously. The Radio changes modes every 1 minute.
Be sure to dowload the patch file below unzip it and copy the files to RadioCommander directory. Windows will ask if You wnt to overwrite
the Files. Click Yes and the Program will be updated. Your data files will not be harmed.
---
Please read the included Radiocom Textfile in the C:\Programfiles\Radiocom\ directory before You start.
I will be working on a program to import, and export frequency files to and from comma delimited files.
Since this seems to be what everybody wants. It will be free.
RadioCommander 2052 is shareware for Your personall use. Please feel free to download it. The price is $14.95.
If You use the software please use the Paypal link to register it.
This is done on the honor system because I know most radio enthusiast and hams are good people,
so if You find the software useful please register it. Thank You
I am a fellow hobbiest not a programmer so I want eveybody to try a fully functioning copy....not buy something
and be disapointed with it when it arrives at Your door. This software is very simple and is priced accordingly.
---

I am Paypal verified. Please click on the link to go to PayPal and make payment to email address: [email protected] Thank You.
Click here to go to the PayPal Website
---
There are no guaranties that this software will work on Your computer.
There are also no guaranties that this software will not crash Your system, or cause loss of data. Use at Your own risk.
Thanks for trying RadioCommander 2052 for Windows 9x. 73's kd5lmy.
RadioCommander 2052 for Windows 9x. is (c) 2002 kd5lmy software and is the sole propery of kd5lmy software.
---
Download RadioCommander 2052 For Windows9x.
Download the Patch File.
---