Virtual Reality Has Come to DX



by
Joe Nemecek, K0JN
Being in the computer field, I have developed an appreciation for programs that are well written. It's as much an art as it is a science. Like a painting or a motion picture, a good software program will give you the feeling that you are experiencing something really special.
I ran across this last July when I downloaded a program off the web called Cyber DX-CW by B&B Cyber Software (http//bbcyber.com) of Lafayette, Colorado. The program runs under Windows 95 and requires a 486-66 or faster PC with an installed sound card. The demo, using the call WZ0XYZ, is available without charge. Just download, install it in the same drive as your Windows/System file and click on the Cyber DX-CW icon on the Desktop. You'll be greeted with a voice, "Welcome to Cyber DX."
A screen allows you to set both transmit and receive CW speed and tone. After setting the values to your preference, you click "Continue" and up comes your radio on the screen - and what a radio it is! The picture below will show you, better than I can describe in words, what your operating system looks like: HF radio spectral display, Wide/Narrow band mode, a selection of IF Filter bandwidth, a log display of your last QSO, band selection, pitch adjustment and a DX Packet Cluster Announcement readout. Just set your mouse pointer to a signal line and click. You are ready to work DX-and I mean real virtual DX.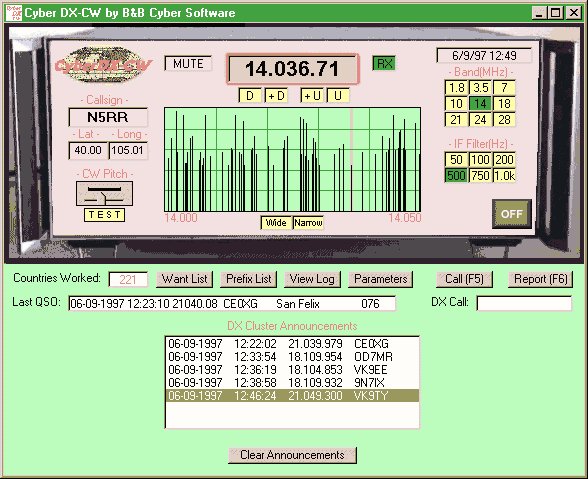 The signals come complete with band noise (higher on the lower bands, of course), QRM, pileup, stations sending "CALL?", and a policeman or two just to keep everyone straightened out. Cyber DX gives you a top quality virtual station, but, don't think you're going to bury everyone else in the pileups. Operating skill is real important in working the DX stations, particularly the truly rare ones. And, if you or the pileups get too unruly, the DX station goes QRT and no one gets him. The longer a station is on a given frequency, the worse the pileups usually get. The probability of you hearing a given station is dependent upon:
Time of day (estimated propagation)
Noise level (band related)
QRM from other simulated stations
Band in use and frequency (estimated propagation)
Number of "real world" amateurs in the particular country
Your latitude and longitude (estimated propagation to other station)
The probability of a DX station hearing you is dependent upon:
Number of stations calling other than you (pileups can get worse the longer the station is on a given frequency)
Timing of your call (as in the real world, you will have to time your call to minimize interference)
Use of tail-ending. Tail-ending is allowed, but only within the accepted practice of waiting until the current station gives his signal report.
CW speed is dependent on where in the band you are tuned, with higher speed stations in the lower portion of the band.
All stations on the ARRL's DXCC list have a chance of being on the air. I actually heard a P5, but couldn't work him before the pileup got too unruly and he went QRT-I'll get him next time.
Through CyberDX-CW I have found myself lost in the excitement and frustration of trying to "work a new one," just like I experienced in the 37 years it took to climb to the top of the Honor Roll. Also, as I "worked" a particular country again in cyberspace, I caught myself reminiscing the events around when I really worked the station for the first time. It has brought back a lot of memories.
The designer of the program is Bill Beggs, N5RR. Thanks, Bill, for a great program.
If you would like to see a demonstration of the program and learn more about it, including a great price special Bill has made available to Kansas City DX Club members, come to the September club meeting. If you can't wait, visit the Cyber Software web-site, download the program and information and run it yourself. It will not only improve your DX operating skills, but will give you many hours of enjoyment during poor band conditions.
See you at the meeting in September.........Return to Kansas City DX Club Home Page