ECHOLINK NODE # 17794 (24/7)
TO THE N3EVW/R SYSTEM 6M&70CM

King Soloman Lodge#584
Dunmore,Pa.
N3EVW KC3MN K3NET N3EVW
The Gang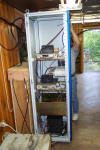 N3EVW/Repeater
System
Scranton, Pa. USA.
Lackawanna Co.
448.825 - 443.825 PL 136.5
53.430 - 52.430 Pl 82.5

INTERNET LINK
TO THE N3EVW/R's
NODE #17794
ECHOLINK
Up 24 / 7

PACKET STATION


SSTV SYSTEM
KC3MN's location:41.3712 deg. Latitude, -75.7349 deg. Longitude
Grid Square: FN21di
County: Lackawanna
Hours +/- GMT: -5


What I Do For A
Living
Taking the First Steps
Find out when and where there is ATV activity is in your area. Most ATV groups have a 2-meter frequency that they use for talking with each other while one station transmits on TV. In this area we use 144.34 MHz FM simplex. Other frequencies used are 144.90 and 146.43. Get on and ask where the stations are located and tell them what you're doing. They'll be happy to help you out; points beams in your direction, run tests and give you more information. If there's a station or repeater close by, a cable ready TV and simple antenna is all you may need to receive a signal. ATV signals use the same format that commercial TV transmissions do.

To use a cable ready TV for ATV reception you'll need to connect an antenna to the input where the cable is normally connected. Cable channels (not UHF TV channels) 57 to 60 fall in the 70-cm Amateur band. Their relationship to the ATV frequencies in this band are shown by the chart below:

| | | |
| --- | --- | --- |
| CATV Channel | CATV Frequency | Closest ATV Frequency |
| 57 | 421.25 MHz | 421.25 MHz |
| 58 | 427.25 MHz | 426.25 MHz |
| 59 | 433.25 MHz | 434.00 MHz |
| 60 | 439.25 MHz | 439.25 MHz |
Cable channels 58 and 59 do not correspond exactly with their respective ATV frequencies but a little fine-tuning should do the trick. Of course, an ATV downconverter such as those made by Hamtronics or P.C. Electronics with a preamplifier is the better way to go. These units convert the 70-cm band to a standard TV channel between 2 and 4.
The Antenna
The antenna and feedline are probably the two most important things in your ATV station. You should use good, low loss feedline like Belden 9913 as a minimum. The lower loss the better. The antenna should have good gain and VSWR characteristics across the entire band. Some antennas may have good gain but are too narrow for ATV work. Remember that you will be dealing with a TV signal that is a minimum of 6 MHz. If you're using a repeater, you may be transmitting at one end of the band and listening at the other. Antennas made by KLM or of the K1FO design work well here.


ATV stations generally use horizontal polarization to gain some additional cross polarization isolation with the FM and packet stations that also use this part of the band. There are exceptions to this rule so check which polarization is used in your area

DAILY K1MAN TRANSMITTING (BULLETIN) SCHEDULE: 14.275 MHz. USB
and 3.975 LSB at 1:00 AM to 2:30 AM; 3:30 AM to 5:00 AM; 6:30AM to 8:00
AM; 4:00 PM to 5:30 PM; and also 8:00 PM to 9:30 PM. 7.224 MHz. LSB
at 3:30 AM to 5:00 AM. High fidelity amplitude modulation on 3.890 MHz.
at 6:30 PM to 8:00 PM. (All times are Eastern - add 5 Hrs. for UTC)


WB2REM & G4CDY's I-LINK BOARD Rev. B
Internet Radio Linking Database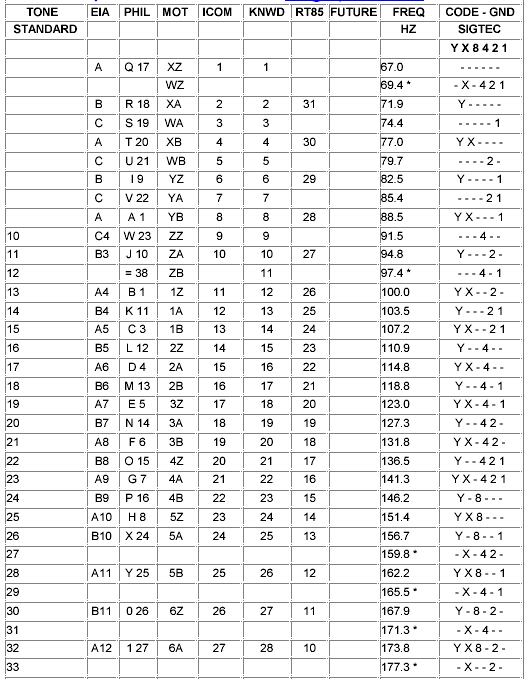 Famous Hams

7L2NJY Dr Mamoru Mohri, Japanese astronaut
9K2CS Prince Yousuf Al-Sabah
9N1MM Father Marshall Moran, missionary (SK)
A41AA Qaboos Bin Said Al-Said, Sultan of Oman
EA0JC Juan Carlos, King of Spain
FO5GJ Marlon Brando aka Martin Brandeaux, actor
G2DQU Lord Rix (formerly Sir Brian), former actor and charity head
G3TZH Tony Dolby, brother of "the" Dolby
G3YLA Jim Bacon OBE, weatherman
GB1MIR Helen Sharman, astronaut
HS1A Bhumiphol Adulayadej, King of Thailand
I0FCG Francesco Cossiga, former President of Italy
JA5FHB Japanese Minister for Transport and Communications
JY1 King Hussein of Jordan
JY1NH Offspring?
JY2 Queen of above
K0HWY Tex Beneke, band leader
K1OKI Mickey Schulhof, head of Sony US
K2HEP John Sculley, CEO of Apple (lapsed)
K2ORS Jean Shepard, author
K4LIB Arthur Godfrey, TV performer (SK)
K6DUE Roy Neal, television reporter
K7TA Clifford Stoll, author & scientist
K7UGA Senator (US) Barry Goldwater
KB2GSD Walter Cronkite, newsman
KB6LQR Jeana Yeager, Voyager '86 pilot
KB6LQS Dick Rutan, Voyager '86 pilot
KB6OLJ Paul J Cohen, mathematician
KC4OCA Gordon Barnes, weatherman
KD6BUP James Treybig Jr, son of W6JKV?
KD6OY Garry Shandling, comedian
KG7JF Jeff Duntemann, author
LU1SM Carlos Saul Menem, President of Argentina
N4KET David French, CNN newsman
N4RH Ralph Haller, FCC PRB chief
N5YYV Kathy Sullivan, Chief Scientist NOAA (former astronaut)
N6FUP Stu Cook[s], baseball player
N6GGM Laura, XYL of N6FUP
N6KGB Stewart Granger (born James Stewart), actor
NK7U Joe Rudi, baseball player
ON1AFD Count Dirk Frimouth, Belgian astronaut
S21A Head of Bangladeshi PTT
SU1VN/P Prince Talal of Saudi Arabia
SV2ASP/A Monk Apollo
U2MIR/UV3AMMusa Manarov, cosmonaut
UA1LO Yuri Gagarin, cosmonaut (SK)
VK2BL Graham Connelly, radio announcer
VK2DIK Dick Smith, entrepreneur & millionaire
VK2IG Dave Grey, Deputy Commissioner
VK2KB Sir Allan Fairhall, politician
VK2YOW Bob Hughes, radio announcer
VR6TC Tom Christian, great**n-grandson of Fletcher Christian
VU2RG Rajiv Gandhi, Prime Minister of India (SK)
VU2SON Sonia Gandhi, XYL of VU2RG
W0ORE Tony England, astronaut
W2TQ Joel Miller, IEEE lawyer
W3ACE Armin Meyer, US Ambassador to Japan
W4ZG Worth Gruelle, started Raggedy Ann and Andy
W5LFL Owen Garriot, astronaut
W6EZV General Curtis LeMay (SK)
W6FZZ Samuel F.B. Morse III
W6JKV James Treybig, CEO of Tandem
W6QHS President of California Microware
W6QYI Cardinal Roger Mahony
W6ZH Herbert Hoover Jr (son of ARRL Pres, grandson of US Pres)
W8JK John Kraus (astronomer?)
WA2MKI Larry Ferrari, organ player
WA4CZD Chet Atkins, GUITAR PLAYER
WA4SIR Ron Parise, astronaut
WA7WYV Andy Griffith, actor
WB4KCG Ronnie Milsap, singer
WB6ACU Joe Walsh, singer
WB6RER Andy Devine, actor (SK)
WD4SKT Donnie Osmond (Entertainer)
F0OMB Marlon Brondo (Actor)
WHY RADIO AMATEURS ARE CALLED HAMS
The word HAM as applied to 1908 was the station call of the first amateur wireless
stations operated by some amateurs of the Harvard Radio Club. They were Albert S.
Hyman, Bob Almy and Poogie Murray. At first they called their station
Hyman-Almy-Murray. Tapping out such a long name in code soon became tiresome
and called for a revision. They changed it to Hy-Al-Mu, using the first two letters of
each of their names.
Early in 1909 some confusion resulted between signals from amateur wireless station
HYALMU and a Mexican ship named HYALMO. They then decided to use only the first
letter of each name and the station call became HAM.
In those early pioneer days of unregulated radio, amateur operators picked their own
frequency and call letters. Then, as now, some amateurs had better signals than
commercial stations. The resulting interference came to the attention of
congressional committees in Washington and Congress gave much time to proposed
legislation designed to critically limit amateur radio activity.
In 1911, Albert Hyman chose the controversial Wireless Regulation Bill as the topic for
his thesis at Harvard. His instructor insisted that a copy be sent to Senator David I.
Walsh, a member of one of the committees hearing the bill. The senator was so
impressed with the thesis that he asked Hyman to appear before the committee.
Albert Hyman took the stand and described how the little station was built and almost
cried when he told the crowded committee room that if the bill went through they
would have to close down the station because they could not afford the license fees
and all the other requirements which the bill imposed on amateur stations.
Congressional debate began on the Wireless Regulation Bill and little station HAM
became the symbol for all the little amateur stations in the country crying to be saved
from the menace and greed of the big commercial stations who didn't want them
around. The bill finally got to the floor of congress and every speaker talked about..
poor little station HAM.
That's how it all started. You will find the whole story in the Congressional Record.
Nation-wide publicity associated station HAM with amateur radio operators. From that
day to this and probably till the end of time in radio, an amateur is a HAM.

Sunday FREEMASONS Net
9PM EST
On Eqso
SERVER:::Server.eQSO.net
Port:::10024
Room::: FREEMASONS