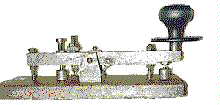 You have reached
The KC1TX Web-site
You are visitor number
since 05/30/97
Who I am

First licensed as G3FMP in 1949. Came to the US in 1964, and dropped
out of ham radio in 1968. Returned in 1988 as KA1UOD. Got my Extra
license the next year. Find me on 80, 40, 20, 15, 10 and 2M FM.

HF Rig: Kenwood TS530S. HF Antennas: G5RV and ZL Special for 20M.

73 es bcnu.........Bill