Shortwave QSL Cards Of The Past
Back when I got into shortwave listening in 1981, I was fascinated with all of the unique stations that were available. Today, many of those stations are gone, because of changes that have occured since that time such as new countries forming, some merging with other countries, cost of running them, and many other reasons. Here are a few of those now defunct stations.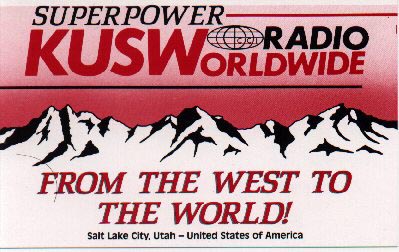 KUSW, Salt Lake City, Utah, USA. One of many shortwave stations to hit the airwaves during the 1980s after WRNO Worldwide was able to break the FCC's freeze on private shortwave broadcasting from the United States. This station aired pop music with a commercial format, sounding similar to many FM rockers. Unfortunately, like many U.S. commercial shortwave stations, it was not financially successful, and was purchased in 1991 by the Christian broadcasting group Trinity Broadcasting Network, and became KTBN, rebroadcasting audio from their TV service.
Radio RSA, South Africa Regardless of one's political viewpoints, Radio RSA always offered a good signal and some interesting programs about that country and what was happening on the African continent. Due to reduced funding, Radio RSA had to cut back much of its external service. It is still active on shortwave, broadcasting only to the African continent as Channel Africa.
Radio Station Peace and Progress, Moscow, U.S.S.R. This station was, so it claimed, operated by many Soviet public organizations, and gave the views of the Soviet people. Many of these broadcasts often took a harder line than Radio Moscow. When communism started disappearing, this station, along with many other Eastern European hardliners, ceased operation. Today, the Russian transmitters which carried this station, Radio Moscow, and others, are now carrying many foreign broacasters, like VOA, BBC, AWR, etc., some of the very stations Communist governments spent decades jamming!
Radio Berlin International, Berlin, German Democratic Republic Does anyone remember when there were two Germanies? From the end of WWII until 1990, there was an East and West Germany. Deutsche Welle broadcast from the West, while Radio Berlin International brodcast from the Communist East. After the Berlin Wall came down, the two nations united into one nation, and this of course, spelled the end of Radio Berlin International. Some QSL cards issued on that day in October indicate "Last Day QSL." I wish I had one of those in my collection.