WS1EC Team Participates in Exercise
Windham, ME

by Tim Watson, KB1HNZ
WINDHAM, ME - On Saturday, January 28th, WS1EC team members participated in an Emergency Communications Exercise which was organized by Knox County. The scenario for the exercise was a statewide blizzard, and goals included the exchange of ICS-213 messages via Winlink.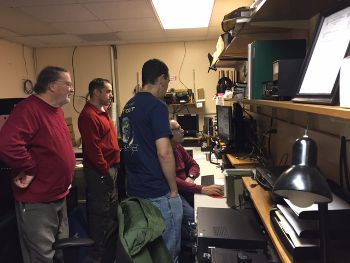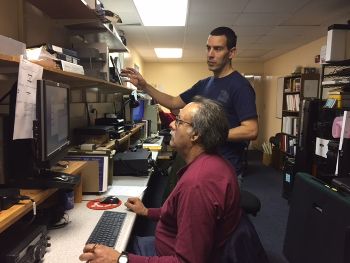 Above left: Frank Allen W1FRA, Mike MacDonald KR1MAC, Ryan Michaelson KB1YTR, are gathered around Charlie Shepard W1CPS, as he composes a message in FlMsg. Above right: Ryan Michaelson KB1YTR teaches Charlie W1CPS how to transmit a message via Winlink.

Several of the participants met earlier in the morning for breakfast at Q St Diner, in South Portland, prior to meeting at the CCEMA Bunker, in Windham. Unlike the SET, this was a much smaller exercise, involving only a handful of EmComm teams, and the objectives were simply to exchange messages via Winlink, and also to attempt to connect to a Packet node in Knox County on UHF. For our club, it was a good training exercise and also exposed some more people to the software programs used to compose, transmit, and receive digital messages.
---
WS1SM Number 1 in Maine for 2016 Field Day!


Scarborough, ME
by Tim Watson, KB1HNZ





SCARBOROUGH, ME - The 2016 Field Day results are in, and WS1SM finished 1st place in Maine! In only our 6th year competing, this is a huge accomplishment! Thanks to everyone who put in such an amazing effort. WS1SM tallied 1,921 QSOs, and 7,530 points, operating in the 3A category.



Operating conditions:



For 2016, stations were separated into three main areas, including the "CW Trailer," courtesy of Rick K1OT, with accompanying tower and 40m monobander, a large operating tent with nearby Spiderbeam tribander - for SSB, and the Cumberland County EMA trailer, which we used mostly for digital activities. Additionaly, Charlie W1CPS, operated a "free" VHF station, primarily on 6 meters for most of the 24 hours.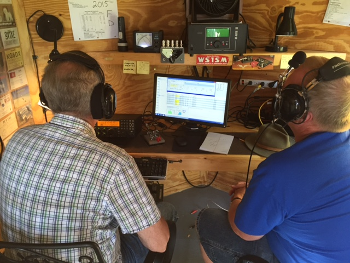 Above left: Rick Fickett K1OT and Rory McEwen operate in the CW trailer. Above right: Ryan Michaelson KB1YTR and Sean Binette W1GFD operate HF digital while Mike MacDonald KR1MAC looks on.


Some of the highlights included entertaining guests from various agencies, as well as meeting visiting hams. Annette KC1AMQ and others helped keep us fed thoughout Field Day. Frank K5HS put together an educational piece on how to craft a radiogram message and taught a class on it, which also helped us gather messages to send over the air. Ryan KB1YTR and Sean W1GFD worked the digital modes, and played a big part in relaying messages, especially during Sunday morning. Rick K1OT, Dana K1RQ, and Joe K1JB maintained a continuous presence on CW, while Stefania K1GJY maintained a presence on SSB.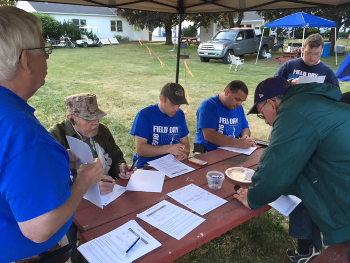 Above left: Several club members, including Frank Allen W1FRA, Steve McGrath AA1HF and his wife, Peter Warren KC1DFO, Nancy Krizan K5NCK, and Dakota Dumont KB1YYC, gather around the picnic table for some food. Above right: Frank teaches a course on composing radiograms during the educational activity.


Frank K5HS, Peter KC1DFO, and Fred W4FWW, worked on making a satellite QSO, while first time Field Day operators, Adam N3AWM, and Corey KC1FKH, got time on the air. Altogether, Field Day 2016 was a huge success. Everyone who participated enjoyed the experience and felt a tremendous sense of accomplishment when it was over.


---
WS1SM Lighthouse Activations


From Nubble to West Quoddy
by Tim Watson, KB1HNZ

SACO, ME - What better thing to do during the summer, than participate in your favorite hobby, while also exploring Maine's iconic lighthouses? Since our first activation of Pemaquid Point, in the summer of 2011, that's exactly what we've done.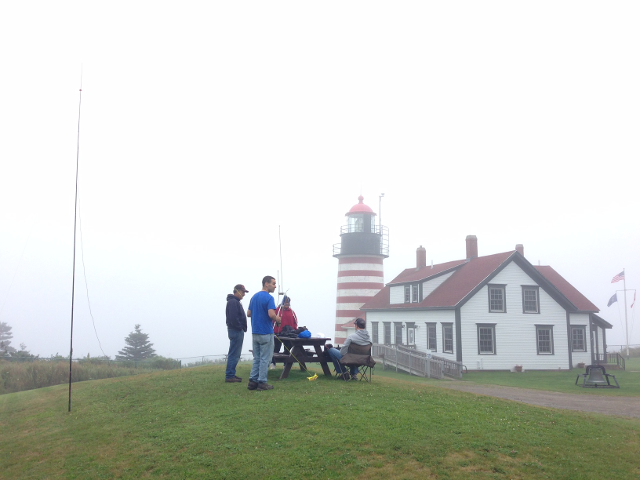 From left to right: Charlie W1CPS, Ryan KB1YTR, Cindy W1CJS, and Thom W1WMG, operate from West Quoddy.


WS1SM was the first to activate several lighthouses, including Pemaquid Point, for International Lighthouse and Lightship Weekend (ILLW), which is an annual on-air activity that sees over 400 lighthouses world wide participate. To qualify as a ham radio activation during ILLW, the radio operators have to be on site, within direct view of the lighthouse. This involves getting permission from the owner of the lighthouse, often months in advance, and in some cases arranging for special transportation. Our second ILLW activation took us to Wood Island, just off the coast of Biddeford Pool, which is only accessible by boat. Another lighthouse that required transportation by water was our Islands on the Air expedition to Seguin Island, in 2014.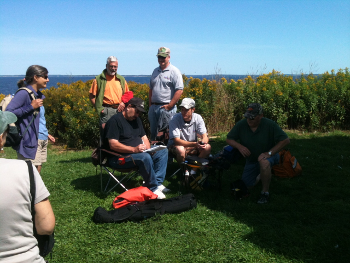 Above left: Tim KB1HNZ, Ryan KB1YTR, Dakota KB1YYC, Dave KB1FGF, Annette KC1AMQ, Bert KB1ZLV, Steve AA1HF, and Frank K5HS, pose in front of Pemaquid Point Lighthouse. Above right: (Seated from left to right) are Sam N1WIG, Tim KB1HNZ, and Dave KB1FGF, operate from Wood Island Lighthouse.


In 2013, we returned to Pemaquid - a lighthouse Frank W1FRA, and his wife, love to visit because the restaurant nearby makes "the best blueberry pancakes around."

One of the most memorable ham radio adventures of recent years was the trip to West Quoddy Lighthouse (Lubec, ME), and Head Harbor Lighthouse (Campobello Island, NB) for ILLW in August of 2014. Charlie W1CPS, Cindy W1CJS, and Ryan KB1YTR, stayed at a nearby campground, describing it as the "quietest campground in the world." The weather was perfect over the two days, and we made over 300 QSOs combined. One of the coolest contacts during Saturday, was with Swallowtail Lighthouse on nearby Grand Manan Island. The ham I was talking to was describing a helicopter coming in for landing at about the same time we were watching one land on an island across the water. It didn't take long to realize we were seeing the same one! Not being from the area, we had no idea how close we were to Grand Manan.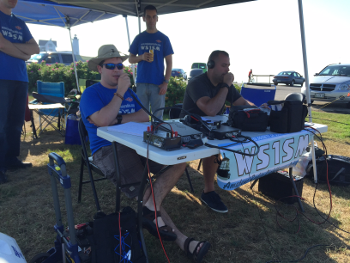 Above left: One of the portable stations used at West Quoddy. Above right: (from left to right) are Thom W1WMG, Dakota KB1YYC, Ryan KB1YTR, and Jason W1SFS, operating from Nubble Lighthouse.


In 2015 we activated Cape Neddick Lighthouse, in York, Maine. The "Nubble," as its called, is one of the most photographed lighthouse in the world, and one of the busiest. During the day there was a steady stream of visitors, who stopped by to ask questions about what we were doing, or about ham radio. Afterwards, several of us went out to the Bull 'n Claw for dinner, and talked about an Official Observer who threatened to send Dakota a pink slip for spotting WS1SM on the cluster - apparently you can't spot someone you hear in the Extra part of the band if you're a General. We still laugh about it to this day.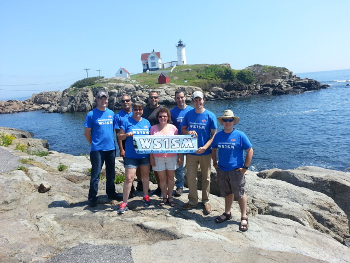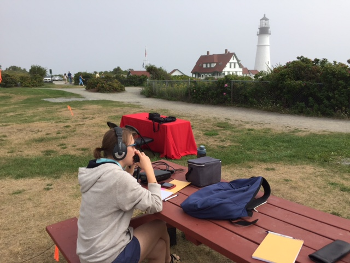 Above left: (from left to right) are Thom W1WMG, Charlie W1CPS, Cindy W1CJS, Jason W1SFS, Annette KC1AMQ, Ryan KB1YTR, Tim KB1HNZ, and Dakota KB1YYC, at Nubble Lighthouse, in York, ME. Above right: Stefania K1GJY, operates from Portland Head Light.


Last year we did a two-day activation of Portland Head Light. This was a fun ILLW because it was so close to home, which allowed participants to come and go throughout the weekend. We were also able to bring a lot more gear, and we had a lot of club members, and other area hams, stop by to take a turn at operating.

For this year, we've discussed a few different lighthouses, but we haven't quite decided on one yet. I'm sure no matter which one we choose, we'll have a lot of fun.


---

The Early Days of Communications
TARS Printed Circuit
By Phil Ashler, N4IPH


TALLAHASSEE, FL - Have you ever thought of what the early days of communication were like (before cellphones, HD TV, satellite and cable television?) Many members of our club have lived through the changes and probably could spend hours telling you about the "good ole days." If you wanted to talk to someone on the telephone you had to first pick up the receiver and turn the crank on the side of the large wooden box on the wall. In a short period of time a voice came over the receiver saying "This is Central… How may I help you?" You may have replied, "Could you please connect me with Sally Smith on Elm Street." The operator would sometimes say, "Sally Smith isn't home, she is at her daughter's house for the weekend… do you want me to try and ring her up?" How many of us as children listened in on conversations on the party line? How many of us remember watching black and white TV shows on Friday night and trying to tune in the station better by adjusting the "rabbit ears" antenna. Things have changed a lot over the years in the world of communications.

One of my favorite shows on TV is the series Mysteries at the Museum which is currently on the Travel Channel Thursday evenings and on Netflix I can watch several hours of their very interesting segments detailing some of the items and stories found in museums around the world. Last Thursday evening they had a segment on the "Hot Line" and "Red Phone" between Washington and Moscow during the 1963 Cuban Missile Crisis. Many of us can remember the movie "Dr. Strangelove," when the conversation between Washington and Moscow on the "Red Phone" became one of the highlights of the movie. Surprisingly, there was never a "Red Phone," but in reality the direct line of communication was a set of teletype machines linked by a long cable! In the Mysteries of the Museum segment, the Vintage Radio and Communications Museum of Connecticut has a display showing the type of "Hot Line" using the teletype setup that was probably used during this period of time. I couldn't find that particular exhibit on their website but did notice that there is an interesting YouTube video on the history of the Victor Talking Machine Company. If you view this video there are a number of other suggested videos linked dealing with other "Early Stereo Systems." In addition to the exhibits they have an active Amateur Radio Station, W1VCM, with a number of vintage radios on display.
One of the links on the museum's webpage shows a rough timeline of early communication systems beginning with the telegraph, telephone, recording devices and motion pictures in the 1800's. As we move into the 1900's we see the development of wireless (radio,) vacuum tubes, crystal radios and the Tesla coil. Many of us that were in the Boy Scouts in the 1950's are familiar with the crystal radio, winding a coil on a toilet paper tube and using a "cat's whisker" to tune in local AM stations. If you have a young child or grandchild, this is a great project to help them become interested in your Amateur Radio hobby. There are many websites that have directions/videos on building a simple crystal from scratch or from one of the many inexpensive kits.
In the 1920's and 30's we see the development of battery-powered radios, large radios as furniture, car radios, radio/phonograph combinations and the teletype. How many of us remember the news broadcast in the 1950's, 60's and 70's leading in with the sound of the teletype machine in the background? I can remember seeing pictures taken in the 1940's of families sitting around an old console radio in a living room listening to soap operas and other weekly shows.
Moving into the late 1960's and 70's we see transistors replacing vacuum tubes in most of our radios and TVs and the establishment of FM radio as the preferred entertainment band. Businesses started to communicate by two-way radio, AM at first then FM later on. With FM we were able to hear concerts and music in stereo, all without the static and poor audio quality that was found in the AM band. Transistor radios were portable which meant we could carry our music, news, stock reports and latest ads with us no matter where we went. Just remember to have extra batteries on hand.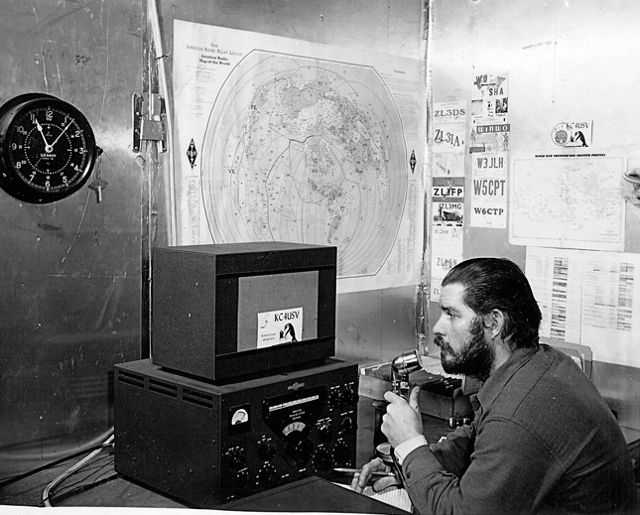 As I was researching information for this article, I came across a very good one in the January 2000 edition of QST Magazine written by Jim Maxwell, W6CF. The ARRL has the article available in PDF format on their website if you would like to read about the "First 100 Years of Ham Radio." Jim covers the history of Amateur Radio, advances in electrical theory and what we know today as radio over the years and breaks down the information by decades starting with Clinton B. Desoto's book "200 Meters and Down" published in 1936. We have all used the terms Hertz, Ohm, Ampere, Henry and Faraday in our hobby, but do you know who these people really were? Jim gives a brief history of work done by James Clark Maxwell developing his theory of electromagnetism and follows the advances of radio through the 20th century. Beginning with the Guglielmo Marconi transmission across a distance of 2 miles in 1896 during a demonstration in England, Jim takes us through a journey into the 20th century highlighting the advances in communication, licensing structure and the Amateur Radio hobby.
Many Amateurs today are probably not familiar with the contributions of early radio operators during the first and second World Wars and the hardships they dealt with. There were several times when Amateurs were not allowed to operate (or even possess equipment in) their stations due to wartime government regulations. The ARRL has been a voice and advocate for our hobby since 1914 and has continued to represent Amateurs through the years. How many newly licensed Amateurs know anything about "The Old Man" in the early days of the ARRL?
It is very important to the future of our hobby for the Amateurs of today to be aware of the contributions of the past. There are numerous articles and videos online on the history of our hobby which are all just a simple Google or YouTube search away! One of the best videos available on YouTube is the Ken Burns documentary "Empire of the Air – The Men Who Made Radio." There have been many more advances even since Jim's article was written in 2000. What will the next 100 years bring the world in the methods of communication? How will our hobby play a part?
---

WSSM Members Support SKYWARN During February Storm
National Weather Service, Gray, ME
by Tim Watson, KB1HNZ

GRAY, ME - Amateur radio volunteers were drawn from several area ham clubs including the Wireless Society of Southern Maine, Androscoggin Amateur Radio Club, Androscoggin ARES and York ARES, during the winter storm of February 12-13th. First time participants who activated the WX1GYX station in Gray, included Dakota Dumont KB1YYC, Stefania Watson K1GJY, David Baizley, and Paul Leonard KE6PIJ.



After a mild winter in 2016, which was followed by a less active thunderstorm season than usual, it was good to see that so many SKYWARN radio operators were excited to help out, by either sending in reports, or braving the snowy conditions, to man the station at the NWS office.

Activities began just before 4pm, when Dakota KB1YYC, and David Baizley, started net operations, focusing on Cumberland, York and Rockingham counties, as the storm was well to the South at the time. By 5pm, they were joined by Tim KB1HNZ and Stefania K1GJY, who made call-ups on DMR and HF. They were relieved by Dave WE1U, and Paul KE6PIJ, who operated during the overnight, until being relieved by Jason W1WDW, in the morning.

Many nets throughout New Hampshire and Maine contributed to the activation by collecting reports and forwarding them to NWS, either by radio, email, or phone.

Hendricus Lulofs, Meteorologist in Charge at NWS Gray, says: "I wanted to follow up with our amateur radio operators to thank you for the fantastic help you provided during our recent storm. I received lots of positive feedback from my staff regarding the operators that came out during the storm! There were some new faces that helped out and we welcome you to GYX SKYWARN." Wayne Santos, SEC for New Hampshire, also commended our effort, saying "Great effort! As we go forward, I'd like to rebuild the relationship between your operation and NH ARES."

Thanks to everyone who helped make this possible. Keep up the good work!


---

Dana Cobb K1RQ, SK
1945 - 2016
by Tim Watson, KB1HNZ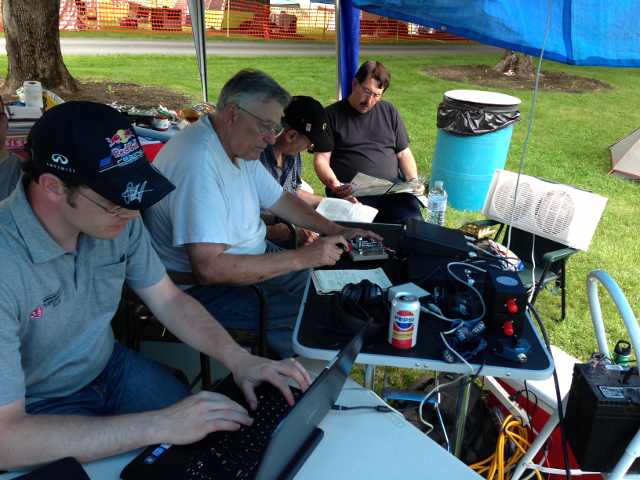 Above: Dana K1RQ (white t-shirt), operates during Field Day at Wassamki Springs Campground, in Scarborough, 2013.


SCARBOROUGH, ME - Dana Cobb, who was born May 28, 1945, in Portland, passed away November 18th, at Manatee Memorial Hospital, in Ellenton, FL.

Many of us in the club will remember Dana's talent of telling stories during meetings and the seeming ease with which he operated CW. He's also been one of the biggest contributors to our Field Day efforts, almost since the beginning. News of his passing hit us all very hard, and we will miss him.

An amateur radio operator since his early teens, Dana, (whose original call sign was K1RQF), joined the Maine Air National Guard in 1965, attending Basic Training in Biloxi, Miss. Because of his ham radio background, he was assigned to Lakeland Air Force Base, in Texas, for schooling in military communications. While serving in the reserves, Dana married his high school sweetheart, Theresa Sawyer, in 1967, and took a job with AT&T in a radio relay communication station in Peru, Mass., shortly before their wedding. They moved to Hindsdale, Mass., where he spent 17 years inside plant. Dana and Theresa had two children, Susan and Stephanie, and they stayed in the Berkshires until he transferred to outside plant, in Chesterfield, Mass.

In 1987, an opportunity arose for him to move back to Maine, after 21 years. He transferred to Manchester, NH and lived in East Raymond, Maine. In his new role, he was in charge of the new fiberoptic cable from Manchester to Portland, which he patrolled until his retirement from "Ma Bell" in 1999. Dana drove one million miles, accident free, while driving for the phone company, and never had his fiber optic cable dug up. After 34 years with AT&T, he retired in 1999 after his first heart attack and moved to Florida.

Dana's hobbies were many, but ham radio was his first. He enjoyed contesting for several radio groups over the years, working many international phone and CW contests. He was a founder of the North East Contest Club, which merged with Murphy's Marauders to become the Yankee Clipper Contest Club. In fact, it was Dana's connection with the phone company, setting up conference calls between members in 1977, that the YCCC can owe its existance. Dana's other hobbies included hunting, boating, camping, and Civil War reenactment.

Dana and his wife also loved to travel, visiting 48 of 50 states with their travel trailer, always going back to Maine as soon as possible. Through all their travels, Maine was always home to them.

Dana leaves behind his wife of 49 years, two children, and two grand children. He was laid to rest in Raymond, with his parents.



Read more about Dana's contributions to the Yankee Clipper Contest Club on the

YCCC History page.
Click here

to read the obituary, originally published on November 23, 2016, in the Portland Press Herald.




---

DX News
March 5 - May 27
by Tim Watson, KB1HNZ

The Holiday and Winter DX season was extremely active, with expeditions to the Azores (CU9AB), Ascension (ZD8SC), Bangladesh (S21ZBA), Bahrain (A91SD), the Maldives (8Q7AZ), Mauritius (3B8HC), and Palau (T88AQ), in December and January, and more recently, the VP6EU expedition to Pitcairn throughout the month of February, and the TX5T dxpedition to Austral Island, in late February and early March. As the Spring season approaches, we look forward to contest activations that will be QRV for the Russian DX Contest, which takes place March 18-19, and CQWW WPX SSB, which takes place March 25-26.

For more information about upcoming announced DXpeditions, click here for the latest

425 DX News

, by Mauro Pregliasco I1JQJ.



Upcoming DXpeditions:




03/05 - 03/24
03/06 - 03/13
03/07 - 03/13
03/08 - 03/20
03/08 - 03/24
03/11 - 03/18
03/14 - 04/04
03/14 - 04/12
03/15 - 03/18
03/15 - 03/31
03/17 - 03/19
03/18 - 03/21
03/19 - 04/01
03/19 - 04/03
03/21 - 03/27
03/25 - 04/22
04/02 - 04/06
04/06 - 04/12
04/14 - 04/16
04/15 - 04/22
04/25 - 05/06
04/29 - 05/16
05/13 - 05/27


H40FN
C5PA7X
8P9IF
9N7EI
H40MS
C6AKA
T2AQ
5H3MB
VP2V
9N7XW
MJ5Z
EG9TOR
V47JR
V633KS
S21KW
3D2AG/p
CE0Y
P29VXG
H91IT
GT4BRS
A25UK
ZF2AB
HR9

Temotu
Gambia
Barbados
Nepal
Temotu
Bahamas
Tuvalu
Tanzania
British Virgin Islands
Nepal
Jersey
Ceuta & Melilla
St. Kitts & Nevis
Micronesia
Bangladesh
Rotuma
Easter Island
Papua New Guinea
Panama
Isle of Man
Botswana
Cayman Island
Honduras

By DK9FN, from Nendo I (OC-100); HF
By PA7X; 20m; 100w; end-fed; afternoons
By G3PJT; mainly CW; holiday style operation
By EI2II and others; 80-10m; SSB, CW, Digital
By DL2GAC, from Nendo I (OC-100); HF; QSL via DARC buro or direct
By K6UDA, from San Salvador (NA-001); 40-20m, perhaps 10m
By SP5EAQ and others, from OC-015; 80-10m; CW, SSB, RTTY; QSL direct
By IK2GZU, from Ilembula; 80-10m; CW, SSB, RTTY; spare time operation
By N2IEN as VP2V/N2IEN from Tortola (NA-023); HF; focus on RTTY
By SP6AXW; HF; QSL also OK via SP6AXW
By M0CFW; for Russian DX Contest; QRV before and after using MJ0CFW
By EA4PN, and others; CW; will use ED9T during King of Spain Contest
By W2APF from Nevis (NA-104); 80-6m; CW, SSB; 100w; holiday style
By JA6REX, from Chuuk I (OC-011); 160-10m; CW, SSB, RTTY; 1KW
By YL3CW and others; 160-10m; CW, SSB, RTTY
By 3D2AG; 160-6m, including 60m
By WM1J as CE0Y/WM1J; 40-15m; CW
By JA1XGI from Rapopo (OC-008); 6.5m vertical; focus on Europe
By HP1RIS and others, from Taboga I (NA-072); 40-10m; SSB, CW
By GW0ANA and others; 160m, and 60m; CW, SSB, JT65
By 11 op team; 160-10m; CW, SSB, RTTY
By KZ3AB, from NA-016; HF
By AD8J from NA-057; 160-15m; mainly CW, some SSB; 100w, dipole

---
QSL Corner

This month we'll take a look at a pair of QSLs from expeditions to Pitcairn Island (VP6J and VP6AH), as well as Laos (XW1IC), and a classic QSL card from ABC, in honor of the final shortwave broadcast of Radio Australia on January 31st, 2017. The QSL, featuring the famous Sydney Opera House, is for reception of a shortwave broadcast in 1978.
If you received an interesting QSL lately that you'd like to show off, please send a digital image to
[email protected]
, and we'll highlight it in an upcoming issue!




VP6J

-

for multiple QSOs with KB1HNZ:

30m CW, on 28 August 2016, at 0929 UTC.
17m SSB, on 28 August 2016, at 2329 UTC.
10m CW, on 30 August 2016, at 0058 UTC.
20m CW, on 2 September 2016, at 0916 UTC.
17m CW, on 3 September 2016, at 0037 UTC.






XW1IC

- for a QSO with KB1HNZ:



20m SSB, on 30 May 2016, at 1423 UTC

XW1IC was operated by an international team, including: HS0AC, XZ0A, XW1HS, 9M0SEA, 9M4JB, XU7POS, XW1A, PS2T, W1AW, K7RC, W7RN, W1CU, XU1A, XZ1Z, XZ1J, and others.




VP6AH - for multiple QSOs with KB1HNZ:

12m SSB, on 7 September 2016, at 2333 UTC
20m SSB, on 9 September 2016, at 0233 UTC
15m SSB, on 18 September 2016, at 0009 UTC
10m SSB, on 27 September 2016, at 2216 UTC


Equipment used on the DXpedition: Icom IC7300 /100w & a Windom antenna.




Radio Australia - for shortwave reception of the Shepparton transmitting station, at 0651 UTC, on April 18, 1978, on 21680 kHz.

Always a strong signal on the shortwave bands, especially in the mornings here in the U.S., Radio Australia made their final transmission on January 31st, 2017. They will surely be missed.