Summer / Fall 2016 Volume 6, Issue 2
<< back
EMA - SKYWARN Comm Tests
Windham, ME

by Tim Watson, KB1HNZ
WINDHAM, ME - During August, the WS1EC and WX1GYX teams came together for a pair of communications exercises designed to familiarize volunteers with the equipment at each station and introduce them to some of the recent station upgrades, including DMR transceivers and digital mode capability. The tests were held two weeks apart, on August 4th and 18th.
Ryan Michaelson KB1YTR, makes identifying labels for some of the newly installed equipment at NWS Gray
Among the objectives chosen was to establish two way communications on 2m FM Simplex, DMR Simplex, digital modes on HF, and to exchange emails via Winlink. In the second exercise, a two-way contact via PSK - this time on VHF was added to the list. The exercises went extremely well, and also brought to light some areas for attention, including producing a channel list for the DMR radio at each location, and a checklist with basic settings for FLDigi.
---
2016 Field Day from Wassamki Springs


Scarborough, ME
by Tim Watson, KB1HNZ


SCARBOROUGH, ME - In late June, the WS1SM team participated in their sixth annual Field Day from Wassamki Springs Campground, in Scarborough. With over 30 participants and guests, including visitors from the state house, Cumberland County EMA, and local public service representatives, the activities were many. On the air, we operated as 3A (which is a club station, on battery power, using 3 transmitters), keeping a continuous presence on the bands on CW and SSB, with some digital thrown in the mix.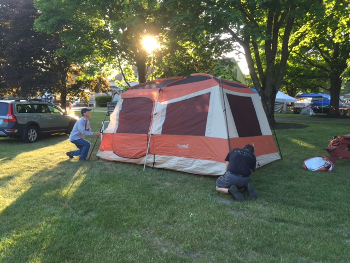 Above left: Peter Warren KC1DFO and Rory McEwen KB1PLY help setup the Spiderbeam. Above right: Peter Warren KC1DFO and Charlie Shepard W1CPS setup the operating tent.



Unlike last year, the weather turned out to be perfect, with clear skies and temperatures in the mid 80s on both Saturday and Sunday. The stations were separated into three main areas, including K1OT's trailer, with accompanying tower and 40m monobander - mostly for CW, a large operating tent with nearby Spiderbeam tribander - for SSB, and the Cumberland County EMA trailer, which we used mostly for digital activities. Additionaly, Charlie W1CPS, operated a "free" VHF station, primarily on 6 meters for most of the 24 hours.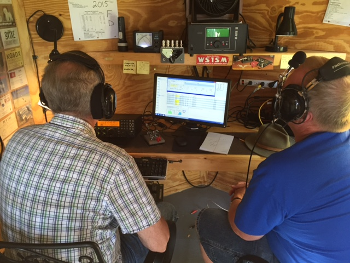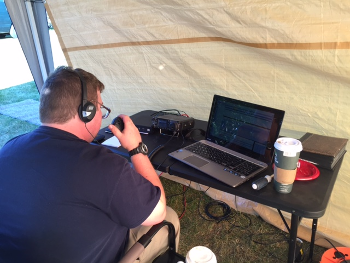 Above left: Rick Fickett K1OT and Rory McEwen operate in the CW trailer. Above right: Sebastian Ames KC1BMY operates 6 meters.



Some of the highlights included entertaining guests from various agencies, as well as meeting visiting hams. Annette KC1AMQ and others helped keep us fed thoughout Field Day. Frank K5HS put together an educational piece on how to craft a radiogram message and taught a class on it, which also helped us gather messages to send over the air. Ryan KB1YTR and Sean W1GFD worked the digital modes, and played a big part in relaying messages, especially during Sunday morning. Rick K1OT, Dana K1RQ, and Joe K1JB maintained a continuous presence on CW, while Stefania K1GJY maintained a presence on SSB.


Above left: Several club members, including Frank Allen W1FRA, Steve McGrath AA1HF and his wife, Peter Warren KC1DFO, Nancy Krizan K5NCK, and Dakota Dumont KB1YYC, gather around the picnic table for some food. Above right: Ryan Michaelson KB1YTR and Sean Binette W1GFD operate HF digital while Mike MacDonald KR1MAC looks on.



Frank K5HS, Peter KC1DFO, and Fred W4FWW, worked on making a satellite QSO, while first time Field Day operators, Adam N3AWM, and Corey KC1FKH, got time on the air. Altogether, Field Day 2016 was a huge success. Everyone who participated enjoyed the experience and felt a tremendous sense of accomplishment when it was over.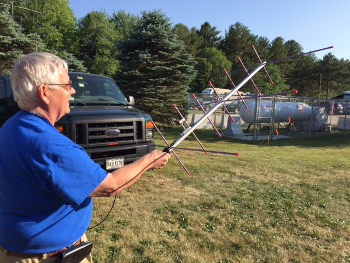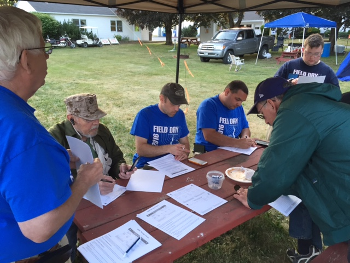 Above left: Frank Krizan K5HS attempts to brake through a pileup via satellite. Above right: Frank teaches a course on composing radiograms during the educational activity.

---



WSSM Members Support Beach to Beacon Medical Team Communications


Cape Elizabeth, ME
by Frank Krizan K5HS

CAPE ELIZABETH, ME - Almost 7,000 runners participated in the annual Beach to Beacon run in Cape Elizabeth on Saturday, August 6th. Runners came from throughout New England and the world for this 10K event that is supported by more than 600 volunteers. The B2B begins in the vicinity of Crescent Beach, winds its way through tree-lined streets, into Fort Williams Park, and ultimately ends on the grounds of Portland Head Light.


Fred W4FWW (pictured right), was assigned to a medical person, initially on the finish stretch, and later as a Sweep Team in the vendor and family gathering area. This was Fred's first Ham Radio public service event. Fred was also a prize winner at the Volunteer Appreciation Party.



A major group of volunteers are doctors, medical technicians, nurses, and medical assistants. Their focus is prioviding medical care for injuries and other medical issues. Cell phone coverage is spotty in Fort Williams, so Amateur Radio is brought into use to support the various medical tents and field personnel. Hams become the personal communicators for the medics, allowing them to concentrate on their specialties.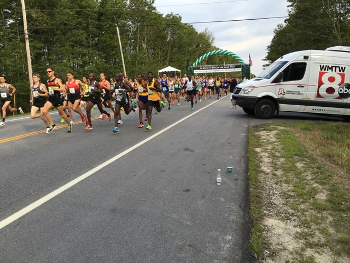 Above left (photo credit: Mike MacDonald): Volunteers were greeted by a beautiful sunrise at Portland Head Light. Above right: Frank K5HS was assigned to the Start Line. The early starters got off at 7am, with the primary runners leaving the Start Line at 8:12am. Communication at this distant location made use of the 146.730 repeater.



Amateur Radio volunteers were drawn from several ham clubs in the Southern Maine area, including the Wireless Society of Southern Maine, Portland Amateur Wireless Association, Androscoggin Amateur Radio Club, and others. Five members of the Wireless Society of Southern Maine participated, including Frank Krizan K5HS, Mike MacDonald KR1MAC, Fred Ward W4FWW, Peter Warren KC1DFO, and Dave Wood KB1FGF.

Mike KR1MAC, had the most aggressive assignment as "shadow" for the Medical Team Coordinator, Chris Toyanos. It's a good thing that Mike is an Iron Man participant, because Chris doesn't stand still! This was also Mike's first Ham Radio public service event. Peter KC1DFO, was also a first-timer for Ham Radio public service. Peter was assigned to the Medical Tent and handled quite a bit of traffic, communicating "bib" numbers to various locations. Dave KB1FGF, worked in the Family Information Tent and communicated with the Medical Tent and Message Tent. Dave was fortunate in that he got to sit down for the entire event, in the shade.

Everyone who participated expressed enjoyment in helping with the Beach to Beacon run. Several suggestions for next year's event are being made to the Medical Team. The B2B officials expressed a sincere thank you to our Ham Radio volunteers. Many other radio systems were utilized at the run and it was obvious to all that amateur radio was the most reliable and versitile of all. Four unique 'circuits' were used for various functions at the run.

If you didn't participate this year, we hope you will answer the call in 2017 to help with Beach to Beacon communications. These types of events help us to hone our communications readiness and traffic handling skills.


---
Summer Highlights


NEARFest, K1T Special Event, RSGB IOTA Contest, and more!
by Tim Watson, KB1HNZ

SACO, ME - It's been a busy summer for all of us, sometimes involving ham radio activities and sometimes other things. Here's what some of our WSSM members have been up to lately:


Top left:

Just recently, Rick K1OT had a crane operator visit his QTH to install a new antenna atop one of his towers. The new antenna incorporates a 5-element 144 MHz yagi and a 4-element 50 MHz yagi on the same boom!



Top right:

While taking a break at the Spring NEARFest, in Deerfield, NH, Annette KC1AMQ, was called up as one of the door prize winners! Here she is with Bert, showing off her new balun.



Middle left:

Stefania K1GJY operated from the K1TTT Superstation during this year's RSGB Islands on the Air (IOTA) Contest in late July.



Middle right

: Thom W1WMG and family have been busy this summer traveling to dog shows with their new puppy Moxie. Moxie is shown here with Ann-Marie Watson after winning the 2016 Bichon Frise Specialty in West Springfield, on July 9th.



Bottom center

: Stefania K1GJY and husband Tim KB1HNZ, visited Dave Robbins, K1TTT's Open House on July 4th weekend and operated special event station K1T during their visit. Before leaving, Stefania won a prize - a new 2 meter HT, donated by Dave!


---

WS1SM Team Activates Portland Head Light for ILLW
August 20-21, 2016
by Tim Watson, KB1HNZ





During the weekend of August 20-21st, the WS1SM team activated Portland Head Light for International Lighthouse and Lightship Weekend (ILLW). 2016 marked the sixth year that WSSM has participated in the event, which sees more than 500 lighthouses activated world wide.

Portland Head Light is an historic landmark, having been commissioned by George Washington in 1787. It was first illuminated on January 10, 1791 using Whale Oil Lamps. Surrounded by rocky ledges that extend to the sea, the lighthouse is located within the picturesque Fort Williams Park, in Cape Elizabeth.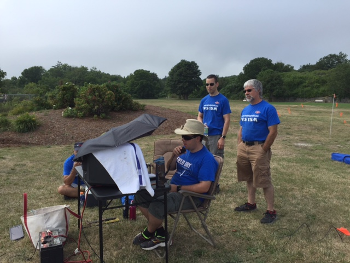 Above left: Ryan KB1YTR, Charlie W1CPS, and Bert KB1ZLV help setup a wire dipole and supports. Above right: Dakota KB1YYC operates while Ryan and Bert look on.


On Saturday the 20th, we setup on the lawn just to the right side of the lighthouse, eventually including three HF stations, operating exclusively on battery power. The first was comprised of a Yaesu FT857d and a 40m inverted-V antenna. The second used an Icom IC7000 and a windom for 20m and 17m, and the third station was truly a station in a box, including a Yaesu FT897, tuner, battery, and external speaker, and made use of a portable loop antenna.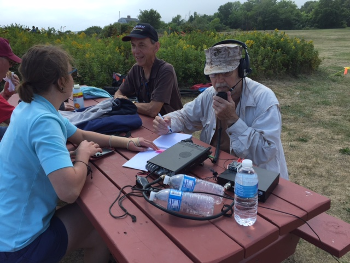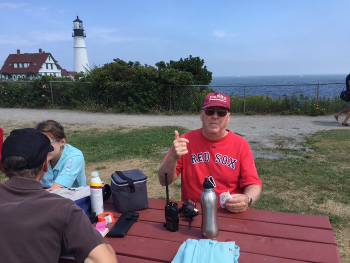 Above left: CJ W1CJC operates while Dave KB1FGF, Stefania K1GJY, and Peter KC1DFO look on. Above right: Dave gives a thumbs up.


The day started out foggy and mostly cloudy, and that lasted until about 2pm, when the sun finally broke through. Most of the operators weren't prepared for the sun, as they intended to use EZ-ups for shade, but park officials gave us last minute notice that they wouldn't allow them. Therefore, for Sunday, we moved operations closer to tree line to take advantage of the shade.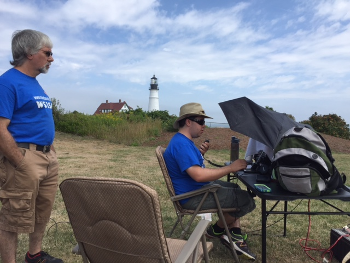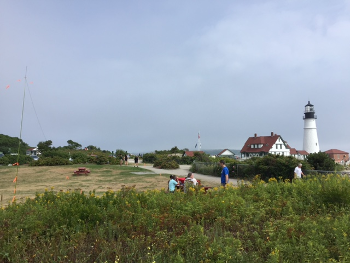 Above left: Dakota KB1YYC operates 20m while Bert KB1ZLV looks on. Above right: WSSM ILLW setup with Portland Head Light in the background.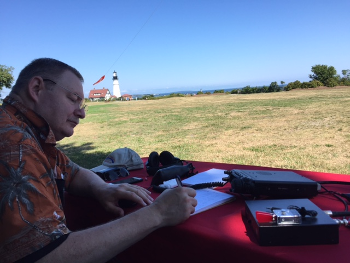 Above left: Stefania K1GJY has a run going Saturday on 40 meters. Above right: Jim KB1SDK operates 40m on Sunday.


We saw the most activity on 40 meters, as propagation on the higher bands was not very good. This improved, however, on Sunday as we doubled the amount of QSOs on those bands over the prior day. We had fun chasing other lighthouses, and had QSOs with many over the two days, including lighthouses in Scotland, Austria, Greece, the Great Lakes, and more. We also enjoyed having QSOs with the various chasers who were collecting lighthouses over the weekend - many who were happy to work Portland Head Light for the first time.


---
WSSM Team Activates Acadia for NPOTA
Acadia National Park, NP01
by Tim Watson, KB1HNZ



ACADIA NATIONAL PARK, ME - On Saturday, September 10th, WSSM members, including Stefania Watson K1GJY, and myself, activated Acadia National Park celebrating the 100th anniversary of the park's founding and the ARRL's National Parks on the Air (NPOTA) program, which runs all year in honor of the 100th anniversary of the National Parks Service.

The idea of the National Parks is credited to artist George Catlin. In 1832, he traveled extensively through the Northern Great Plains, and became concerned about the destruction of the Indian Civilization, wilderness, and wildlife in those areas, as settlements continued to expand westward across the continent. At the same time, popular writers of the period, including James Fenimore Cooper, Henry David Thoreau, and Walt Whitman, romanticised about the wilderness, helping bring awareness to the need for preserving it.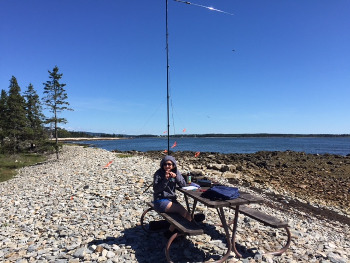 Above left: Stefania K1GJY operates 20m from the Natural Seawall. Above right: The Buddipole in the air.


The first preservation acts came about in the 1860's when California lawmakers, including Senator John Connes, sought to protect the Yosemite Valley and Mariposa Big Tree Grove, transferring them to the state, so they may be "used and preserved for the benefit of mankind." The act was signed into law by Abraham Lincoln in 1864. Soon, other sites such as the Yellowstone territory and Mackinac Island on Lake Huron were similarly protected. It wasn't until 1916, however, that the National Parks System was established, and it was at this time that it was also expanded to include National Monument sites - the first of which was Devils Tower, chosen by Theodore Roosevelt.


U.S. stamps featuring Acadia National Park over the years


Acadia National Park (originally known as Sieur de Monts National Monument), was the first to be established east of the Missisippi, in July 1916. Our expedition to the park was a double celebration of the 100th anniversary of its founding and the National Parks System itself. Acadia encompasses more than 47,000 acres in three main areas, including a large portion of Mount Desert Island, Schoodic Penninsula, and Isle Au Haut. Baker Island and Bar Island also contain National Park Land. The park is known for its diverse mixture of rocky coastlines, granite mountains, lakes, ponds, moss, evergreen, crashing waves, and wildlife.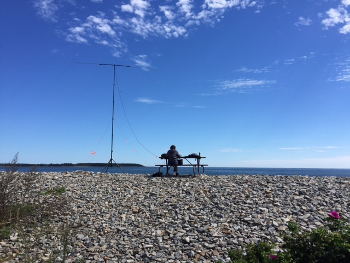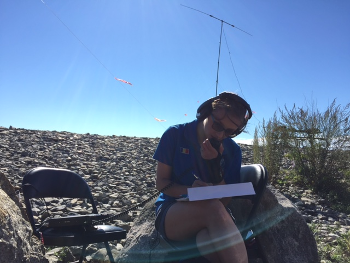 Above left: Stefania still operating 20m, on the waters edge. Above left: Stefania operates 40m SSB from a different location.


For ham radio purposes, Acadia qualifies as not only a National Parks on the Air (NPOTA) site, but also has a World Wide Flora and Fauna (WWFF) designator. Cadillac Mountain, by itself, qualifies for Summits on the Air (SOTA), and Bass Harbor Head Light has an Amateur Radio Lighthouse Society (ARLHS) identifier.


Views of Bass Harbor Head Light, from up close and down on the rocks below.


During our visit, we explored many areas, including the rocky cliffs and coastal trails near Bass Harbor Head Light, the natural seawall, where we operated for most of the day, and the 1530 ft. summit of Cadillac Mountain, with its panoramic views of the Porcupine islands, Islesford, Southwest Harbor, Blue Hill, and more.

We operated mostly HF on the 40, 20, and 17m bands, but finished the day on 2m simplex from the summit of Cadillac, as well as some of the drive to and from the mountain, along the Summit and Park Loop Roads. The weather was sunny with a cool afternoon sea breeze that increased in intensity as the day went on, causing us to better secure the guy wires on the Buddipole at one point. The transceivers used were a Yaesu FT857d, and Icom IC706MKIIG, both running on battery power.


---

DX News
September 1 - November 25
by Tim Watson, KB1HNZ

There's been a lot happening in the world of DX since our last issue, and its been a lot of fun chasing the new ones over the Spring and Summer. Active in recent months were the Cocos Keeling expedition, VK9CK, which was on the air in late March, an Italian expedition to Corsica, using call sign TK9C, in late April, and around the same period was the now famous VK0EK expedition to Heard Island. Juan de Nova Island (AF-012) was activated by a French team of operators in late March and early April, and more recently, Macao has been on the air with call signs XX9TGM (in late June), and XX9TYT (in late August). Norfolk Island was activated by an Australian team, using the call sign VK9NT, in late May, and the Seychelles were activated by a UAE team, with the call sign S79V in mid July.

For more information about upcoming announced DXpeditions, click here for the latest

425 DX News

, by Mauro Pregliasco I1JQJ.


09/01 - 09/30
09/03 - 09/21
09/03 - 11/25
09/08 - 09/17
09/08 - 09/19
09/08 - 09/17
09/10 - 09/17
09/10 - 09/17
09/10 - 09/22
09/12 - 09/29
09/12 - 09/29
09/14 - 09/21
09/15 - 09/29
09/18 - 09/30
09/19 - 09/30
09/20 - 09/25
09/20 - 09/27
09/20 - 09/27
09/24 - 10/08
10/01 - 10/02
10/04 - 10/17
10/08 - 10/23
10/19 - 10/26
10/20 - 10/28
10/26 - 11/09
11/02 - 11/08

J28PI
A31YM
VP6AH
A5A
E51Q
CR3W
OJ0JR
5W0BOB
TO5FP
ZD8RG
V47JA
GD4SKA
D44TUJ
D66D
XW4XR
T42CH
VK9LN
5W0JQH
S79KB
VK9L
H40GC
S9YY
9G5AM
3W2R
ZL7G
T88AB

Djibouti
Tonga
Pitcairn Island
Bhutan
South Cook Island
Madeira
Market Reef
Samoa
St. Pierre & Miquelon
Ascension Island
St. Kitts & Nevis
Isle of Man
Cape Verde
Comoros
Laos
Cuba
Lord Howe Island
Samoa
Seychelles
Lord Howe Island
Temotu Island
Sao Tome & Principe
Ghana
Vietnam
Chatham Island
Palau

By F1TMY; Inv L for 160m; Spiderbeam; G5RV; op to continue for 3-5 yrs
By VA7YM from multiple islands; 40-10m SSB, RTTY, PSK; 100w
By DL2AH; 40-10m; SSB + digital; 100w; Windom or triple leg
By JH1AJT and others; 80-10m; CW, SSB, RTTY, 2 1-kw stations
By JF2MBF & JA2FJP; 160-10m; CW, SSB, RTTY
By DL2CC; QRV for WAE SSB Contest
By OH3JR; HF; QSL via OH3JR
By VK2BOB; 40-20m; SSB; Buddistick; holiday style operation
By F4HEC, and others; from Ille Aux Marins (NA-032); 80-10m
By N4RG, from AF-003; 80-10m; CW, SSB
By W5JON, from Calypso Bay, St. Kitts: 160-6m, including 60m; SSB
By GW4SKA; HF; mainly RTTY, some PSK
By DK8FA; from Boa Vista I (AF-086); mainly 20 & 17m; mainly digital
By OK1FPS and others, from AF-007; 160-10m; CW, SSB, RTTY
By AA4XR, from Vientiane; 80-10m; CW, RTTY, JT65
By HA3JB, from NA-015; 160-10m; CW, SSB, RTTY
By NI1L, from OC-004; 40-10m; mainly CW, some RTTY or PSK
By JA0JHQ, from Fonoti; 160-30m; CW, some SSB
By DL2SBY, from Praslin and Mahe Is (AF-024); 40-10m; CW, SSB, RTTY
By W1RSD as VK9L/W1RSD; QRV for the Oceania DX Contest, SSB
By LZ1CG, from Nendo I (OC-100); 160-10m; CW, SSB, RTTY
By DL1RPL and others; 160-10m; also EME on 2m & 432 MHz
By S54W and others, from Langma; 80-10m (possibly 160); CW, SSB
By EA1ACP and others, from the Mekong Delta; 160-6m; all modes
By G3BJ and others; 160-10m, mainly CW, RTTY, some SSB
By JR1UBR, from Koror I; 40-6m; 1kw; QSL via JARL buro or direct

---
5 GHz - 10 GHz Lunar Transponder Mission
AMSAT North America
Press Release
AMSAT-NA plans 5 GHz - 10 GHz transponders on a spacecraft expected to launch in September 2018 into lunar orbit.
Heimdallr is a 3-axis stabilized 6U CubeSat with a mass of approximately 8kg. It will have a Cold Gas Thruster for inertia dump and a star tracker for navigation. Deployable, gimbled solar panels will produce up to 100 watts of DC power. Electric propulsion will be used to achieve lunar orbit.
There will be a combination of omni and directional patch antennas on one side of the spacecraft.
The first part of the mission is to provide Telemetry, Tracking, and Command (TT&C) to obtain lunar orbit. The second part is to perform the data downlink experiment, while the final part is to provide a two way regenerative repeater and analog repeater in lunar orbit for the lifetime of the satellite.
Proposing these downlinks: Omni transponder: 10.451 GHz +/- 0.5 MHz, Directional transponder: 10.4575 GHz +/- 3.5 MHz, Analog transponder: 10.4665 GHz +/- 2.0 MHz.
For the first part of the mission TT&C usuing 300 bps BPSK 1/2 rate viterbi, ranging 1.5 Mbps BPSK DSSS. For the second part of the mission, 4.5 Mbps QPSK 1/2 rate DVB-S2. For the final part of the mission, 25 kbps BPSK 1/5 rate DVB-S2.
Proposing these uplinks: Omni transponder: 5.651 GHz +/- 0.5 MHz, Directional transponder: 5.6575 GHz +/- 3.5 MHz, Analog transponder: 5.665 GHz +/- 2.0 MHz.
A link budget is available here. It is anticipated that a 1 or 2 meter dish will be required using the AMSAT designed ground station equipment.
Source: IARU Satellite Frequency Coordination Status Report
---
QSL Corner

The QSLs below feature cards from a pair of popular DXpeditions from earlier this year, including the FT4JA activation of Juan de Nova Island (AF-012), and the TX7EU Dxpedition to Marquesas Is. (OC-027). Also shown is a QSL from WSSM club member E41WT, and one submitted by Frank K5HS for his W1AW/1 QSOs made during the ARRL Centennial.
If you received an interesting QSL lately that you'd like to show off, please send a digital image to
[email protected]
, and we'll highlight it in an upcoming issue!



FT4JA

-

for multiple QSOs with KB1HNZ:

18 MHz SSB, on 31 March 2016, at 2102 UTC. 21 MHz SSB, on 5 April 2015, at 1751 UTC.
14 MHz SSB, also on 3 April 2016, at 0000 UTC.
7 MHz SSB, on 3 April 2016 at 2331 UTC.
24 MHz SSB, on 5 April 2016 at 1746 UTC.






E41WT

- for a QSO with KB1HNZ:



14 MHz SSB, on 12 May 2016 at 0051 UTC

Walaa E41WT and his wife, Mai E41MT are current members of the Wireless Society of Southern Maine.




W1AW/1 - for multiple QSOs with K5HS:

14 MHz SSB, on 3 Dec 2014 at 0003 UTC
21 MHz SSB, on 3 Dec 2014 at 0016 UTC
10 MHz SSB, on 3 Dec 2014 at 2002 UTC
12 MHz SSB, on 4 Dec 2014 at 1705 UTC
7 MHz SSB, on 6 Dec 2014 at 0340 UTC
3.7 MHz SSB, on 9 Dec 2014 at 0055 UTC

September operation (shown left) featured many club members as operators.


TX7EU - for multiple QSOs with K1GJY:

21 MHz SSB, on 3 March 2016 at 2151 UTC
14 MHz SSB, on 4 March 2016 at 0259 UTC
24 MHz SSB, on 4 March 2016 at 2059 UTC
28 MHz SSB, on 7 March 2016 at 2012 UTC
18 MHz SSB, on 9 March 2016 at 0342 UTC
---



FOR SALE

-

Drake TR4C

transceiver, completely restored and in like-new condition. Features include VFO, lighted dial, and 300 watts output. $500 or best offer. Call Thom, W1WMG, at (207) 839-0402 for more info.

If you have any items for sale, contact one of our members to have it listed here, or send an email to:

[email protected]

with a brief description and contact information.





The Flea at MIT

-

October 16, 2016. Location: Cambridge, MA

.

Type: Flea Market. Sponsors: Harvard Wireless Club, MIT UHF Repeater Asso. For more info,

click here

.


FARAFest -

November 5, 2016. Location

:

Bourne, MA. Type: ARRL Hamfest. Sponsor: Falmouth Amateur Radio Association. For more information,

click here

.




Long Island Hamfest

& Electronics Fair

- October 30, 2016. Location: Hicksville, NY. Sponsor: Long Island Mobile Amateur Radio Club. For more

click here

.




If you have any items for trade, contact one of our members to have it listed here. Send an email to:

[email protected]

with a brief description and contact information.




If you offer any ham radio related services, for example, if you repair meters or radios, build your own transmitters, make QSL cards to order, or rebuild microphones, you may list these services here.





I

f there are any items you may be looking for, use this space to get the word out. Just send an email to

[email protected]

, or mention it at an upcoming meeting.
All advertisements are listed for FREE. Advertising shall pertain to products and services which are related to amateur radio. No advertisement may use more than 40 words. Please send a description of items for sale, wants, or services to Thom Watson at

[email protected]

, or bring it to an upcoming meeting of the Wireless Society of Southern Maine. All ads will be printed one time, unless renewed.
Page 2