Spring 2015 Volume 5, Issue 1
<< back
WSSM Members Teach Ham Radio Course at NWS
Gray, ME

by Tim Watson, KB1HNZ
GRAY, ME - Between late January and early February,

Wireless Society of Southern Maine

members taught a three-week Technician Class amateur radio course and hosted an exam session at the National Weather Service Forecast Office in Gray, ME.

The course covered all the topics necessary for passing the exam and also included live demonstrations of the various modes and equipment required, using the nearby WX1GYX station, which is setup on-site for SKYWARN activations.


One of the highlights of the class was the number NWS forecasters who took the course and earned their licenses. Pictured above (from left to right - on the top row) are Ron Vaughn KC1AOT, Mike Cempa KC1DFP, Tim Watson KB1HNZ, Ryan Michaelson KB1YTR, and Thom Watson W1WMG. On the bottom row are Nikki Becker KC1DFR, and Margaret Curtis KC1DFQ.

---



WSSM VE Team Welcomes New Hams at Weaponcraft


Saco, ME
by Tim Watson, KB1HNZ


SACO, ME - The WSSM VE Team, which included Charlie Shappard W1CPS, Thom Watson W1WMG, Tim Watson KB1HNZ, and Dave Wood KB1FGF, hosted a VE Session on March 15th at Weaponcraft, in Saco.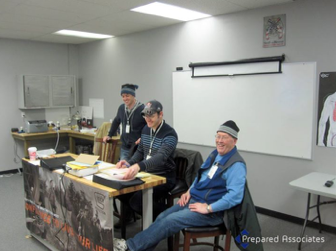 Photos courtesy of Stuart Thomas - Prepared Associates.


The session saw seven new hams earn their licenses, and one upgrade to General via a grandfathered license from pre-1987.

All the Technician class examinees were students in a course taught by Stuart Thomas KB1HQS in the weeks prior. Congratulations to everyone who earned or upgraded a license, and nice job teaching Stuart!


---



2015 Maine 2 Meter FM Simplex Challenge Results


www.simplexchallenge.com
by Thom Watson, W1WMG






This year's contest will be remembered for the blizzard that brought high winds and large snowfall totals to much of the state overnight and into the morning prior to the Simplex Challenge. One would expect this to deter the participants, but the hardy Mainers who take part annually would not be denied. A large number of mobile operators still ventured out, and a few of them covered some srious ground.

Click here to view the full story and results.



---
WS1SM Team to Operate ILLW from Nubble Lighthouse
August 16, 2015
by Tim Watson, KB1HNZ


YORK, ME - The WS1SM Team will operate during this year's International Lighthouse and Lightship Weekend (ILLW) from Cape Neddick Lighthouse in York, ME. Last year, the annual event saw more than 450 lighthouses activated worldwide.


The ILLW, now in its 18th year, was started in Scotland by members of the Ayr Amateur Radio Group. It evolved from the

Scottish Northern Lighthouses Award Weekend

into a popular international event, which now sees participation from over 85 countries.


'Nubble' Light, which was built in 1879, is one of only eight lighthouses in Maine to still have its original fresnel lens. Its one of the most photographed lighthouses in the country, and an image of it was even sent to space aboard the Voyager Spacecraft.

---
WSSM at the Maine State ARRL Convention
Lewiston, ME
by Tim Watson, KB1HNZ



On Saturday, March 28th, WSSM members made their way to Lewiston to take part in the Maine State ARRL Convention.

On Friday night, Charlie Shepard W1CPS, Thom Watson W1WMG, Tim Watson, KB1HNZ, Joe Blinick K1JB, and Rick Fickett K1OT recieved special buttons for operating as W1AW/1 during the ARRL Centennial celebration last year. Charlie also received one for Frank Krizan K5HS, who was not on hand because he resides in Texas during the winter months.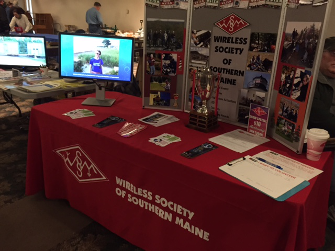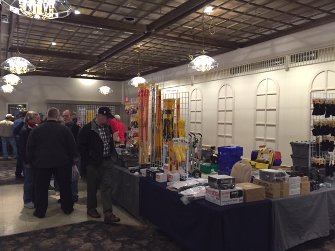 For the 4th consecutive year, the

Wireless Society of Southern Maine

set up a table display, complete with printed materials and a video presentation, as members were available to answer questions and talk about the hobby. About 350 spectators came out to take part in seminars, do some shopping, and meet other hams from around the state and New England.


---

Helping Dyslexic/ADHD License Candidates
Elmers, Mentors, VEs


by Frederick Benson, NC4FB


As VEs, license exam instructors, Elmers, and Mentors, we need to stay alert to license candidates with Dyslexia or ADHD (Attention Deficit Hyperactivity Disorder).

Candidates with pronounced Dyslexia/ADHD tend to repeatedly fail license exams even after weeks of study and attending a license exam class. The repeated exam failures lead to frustration causing candidates to give up and never get their licenses.

Over the past three years, I have helped a number of Dyslexic/ADHD candidates pass all their exams. The candidates have all been located out-of-state. The help was provided via the internet, email, and telephone calls. The important point is that someone has to recognize the problem and take steps to provide help. VE Team Leaders - if you notice that a candidate repeatedly fails exams, talk with the candidate in a relaxed environment and try to get a handle on what is causing the problem. The problem could be just lack of study, poor habits, or even uncorrected vision. However, the problem could be Dyslexia/ADHD and that will require a special approach to providing the needed help.

VE Team Tips:

1. If a candidate repeatedly fails a license exam after studying for it, check the missed answers on the answer sheet for a pattern such as one column to the left or one column to the right of the correct answer column. Many Dyslexic/ADHD candidates have trouble with spatial placement such as putting answers in the correct columns. The solution may be to read the questions and answer choices to the candidate, as would be done with a blind candidate, and have a VE record the candidates responses on the answer sheet.

2. Keep a near distance vision chart in your materials box. The chart is designed to be read at a distance of abou 16". A surprising number of candidates don't realize they need glasses or should have a different prescription for their glasses.

For more information, or to contact Fred Benson, click here.



---
DX News
March 5 - July 4
by Tim Watson, KB1HNZ

Recent weeks have brought some good DX, including 7QAA, 8Q7NT, K1N, E30FB, and currently ZL7E from Chatham Islands has been spotted. Be on the lookout for VQ9ET from Chagos during the next week, and a DXpedition to Spratly Island, scheduled for April 14-20, using call sign DX0P.

There are some big DXpeditions and fairly rare ones coming up in the next several months, but many are a good bit away in terms of time, so we won't go into detail as of yet. But we could see, between now and next winter, the likes of Chesterfield, Heard Island, Kerguelen, Aves Island, Palmyra, South Sandwich, and South Georgia, among others on the air. Exciting times to be DX'ing!

Check out the list below to see some of the upcoming DXpeditions, and Click here for the latest

425 DX News

, by Mauro Pregliasco I1JQJ.


03/05 - 06/05
03/25 - 04/02
03/25 - 04/04
03/28 - 04/05
04/01 - 04/14
04/03 - 04/10
04/03 - 04/15
04/09 - 04/21
04/13 - 04/19
04/13 - 04/22
04/14 - 04/20
04/16 - 04/24
04/17 - 04/20
04/30 - 05/06
05/02 - 05/11
05/08 - 05/11
05/15 - 05/25
05/20 - 06/25
06/03 - 06/10
06/05 - 06/18
06/28 - 07/04

PZ5LP
8Q7NT
C21EU
PJ7PL
VQ9ET
T88MZ
ZL7E
ZD8N
YJ0XG
J88PI
DX0P
D44TDK
5T2MM
A52LSS
JD1YBT
MT0IXD
E6ZS
XT2AW
9H3A
8Q7CQ
OJ0V

Surinam
Maldives
Nauru
Sint Maarten
Chagos
Palau
Chatham Island
Ascension Island
Vanuatu
St. Vincent
Spratly Island
Cape Verde
Mauritania
Bhutan
Ogasawara
Isle of Man
Niue
Burkina Faso
Malta
Maldives
Market Reef


By PA1LP from Nieuw Nickerie; 80-10m; SSB & digital


By DL1RNT from Embudu, South Male Atoll; 40-10m; CW, RTTY, PSK
By PA3EWP and others; 40-10m; CW, SSB, RTTY; QSL via DL2AWG
By WA1ZAM; holiday style; HF; mostly SSB
By DU7ET from Diego Garcia (AF-006); HF; may continue for 3 months
By AF1Y, from Koror; HF; holiday style operation
By ZL1ALZ & others; from Kaingaroa (OC-038); 40-10m; CW, SSB, RTTY
By G3ZVW; HF, CW, SSB, RTTY; 100w; holiday style operation
By JA1XGI, from Port Vila; 40-10m; mostly CW; QSL via JARL Buro or direct
By GW4DVB, from Palm I (NA-025); 40-6m; SSB; QSL via RSGB Buro or direct
By WA6LOS & others; 160-6m; 2 stations; QSL via WA6LOS
By HB9FDT, from Sal Island (AF-086); 20-10m; QSL via HB9FDT
By 5T0JL; QRV for CQMM DX Contest (April 18-19)
By JH3LSS; 80-6m; SSB, CW, & digital; 200w; QSL via JH3LSS, Buro or direct
By JP1IOF & others, from (AS-031); HF; QSL via JARL Buro or JP1IOF
By GM0OBX & others; 80-10m; SSB & digital; QSL via M0OXO
By JA2ZS & others; 160-6m; CW, SSB; RTTY, PSK31, JT65
By DF2WO, from Ouagadougou; HF; CW, SSB
By PB5X, from Gozo Island; (EU-023); mostly WARC bands; holiday style ops.
By G0VJG, from Meedhupparu Island; HF; some digital; 500w
By ON8VP & others; from (EU-053); 40-6m

---
QSL Corner

On page 1, we showed a card sent to us by Stefania Chiruta YO9GJY, for a 28 MHz SSB QSO on 12 December 2014. Below are cards for QSOs with 4K4K in Azerbaijan, the South African special event, ZS9MADIBA, and Wake Atoll, K9W.
If you received an interesting QSL yourself that you'd like to show off, please send a digital image to
[email protected]
and we'll be sure to publish it in an upcoming issue.



4K4K

-

14 MHz CW QSO with W1WMG on 15 June 2013 at 0222 UTC. (Baku, Azerbaijan).




ZS9MADIBA

- 14 MHz SSB QSO with KB1HNZ on 19 December 2013 at 1913 UTC - QSL celebrates the life of anti-apartheid revolutionary and South African President, Nelson Mandela.





K9W

- 21 MHz CW QSO with KB1HNZ on 11 November 2013 at 2144 UTC - K9W was the special call sign reserved for the Commemorative DXpedition to Wake Atoll between November

3-15, 2013.




HT5T

- 28 MHz SSB QSO with YO9GJY on 12 December 2014 at 1455 UTC - QSL celebrates 180 years since the birth of National hero, Emmanuel Mongalo Rubio.
---



FOR SALE

- Free to a good home: Motor Generator Set: 1.5 hp 115v single phase motor, dc generator, panel meters indicate 150 vdc and 50 amp, rheostat voltage control, Heavy - about 100 lbs. Call Ron Vaughn at (207) 452-2190.

If you have any items for sale, contact one of our members to have it listed here, or send an email to:

[email protected]

with a brief description and contact information.





Portland Hamfest

- April 18, 2015. Location: South Portland, ME. Type: ARRL Hamfest. Sponsored by the Portland Amateur Wireless Association.

Click here

for more info.

Framingham ARA's

Spring Flea Market -

April 12, 2015. Location: Framingham, MA. Type: ARRL Hamfest. Sponsored by the Framingham Amateur Radio Association.

Click here

for more info.



Eastern VHF-UHF-MW Conference -

April 17, 2015. Location: Manchester, CT. Type: ARRL Convention. Sponsor: North East Weak Signal Group.

Click here

for more info.



FLEA at MIT

- April 19, 2015. Location: Cambridge, MA. Type: Non-ARRL Hamfest. Sponsored by: MIT Radio Society & the MIT Electronics Research Society.

Click here

for more details.






If you have any items for trade, contact one of our members to have it listed here. Send an email to:

[email protected]

with a brief description and contact information.




If you offer any ham radio related services, for example, if you repair meters or radios, build your own transmitters, make QSL cards to order, or rebuild microphones, you may list these services here.





I

f there are any items you may be looking for, use this space to get the word out. Just send an email to

[email protected]

, or mention it at an upcoming meeting.
All advertisements are listed for FREE. Advertising shall pertain to products and services which are related to amateur radio. No advertisement may use more than 40 words. Please send a description of items for sale, wants, or services to Thom Watson at

[email protected]

, or bring it to an upcoming meeting of the Wireless Society of Southern Maine. All ads will be printed one time, unless renewed.
Page 2