Holiday Edition 2015 Volume 5, Issue 3
<< back
Field Day Results Are In!
2015 ARRL Field Day


by Tim Watson, KB1HNZ

NEWINGTON, CT - The 2015 ARRL Field Day results are in, and for the 2nd year in a row, the WS1SM team took the top spot in Maine!




Field Day this year was a lot of fun, and everyone worked hard to make it a success, despite the challenges Mother Nature threw at us. Thanks to everyone who took part, and thanks also to the Hillock family of

Wassamki Springs Campground

, in Scarborough, who have provided such an awesome site for the past 5 years!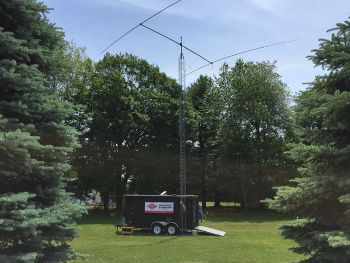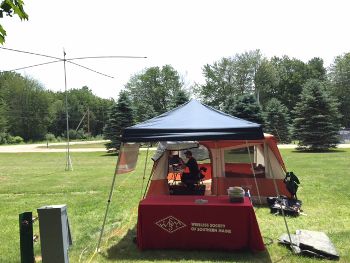 Is it too early to start thinking about next year?..
Click here
to download the complete results, as published in December's
QST
.
---



WSSM Partners with Cumberland County EMA


Windham, ME
by Tim Watson, KB1HNZ


WINDHAM, ME - In September, the

Wireless Society of Southern Maine

was approached by the directors of Cumberland County EMA to provide communications support, and we were quickly put to the test during the statewide Simulated Emergency Test, in October.

Members jumped into action and tackled the checklist of tasks and challenges, which included contacting the state EOC, exchanging messages, establishing communications between the EMA and various shelters, and more. We also exchanged digital messages, and maintained a constant flow of traffic between NWS Gray and the EMA via simplex throughout the event.

Participation in the SET was only the beginning, as club members, including Frank Allen W1FRA, Ryan Michaelson KB1YTR, CJ Carlsson KC1AMT, Rory McEwen KB1PLY, Rick Fickett K1OT, Thom Watson W1WMG, Ron Vaughn KC1AOT, and others, have been involved with setting up the HF station, which included raising an antenna, and also working on organizational tasks.


---

SKYWARN Recognition Day


NWS, Gray, ME
by Tim Watson, KB1HNZ

For the 2nd consecutive year, WSSM members visited the

National Weather Service Forecast Office

, in Gray, ME to take part in on-air activities for SKYWARN Recognition Day, as well as the annual SKYWARN Strategy Meeting.


Activities began on Friday evening at 7pm, until around midnight, with Stefania K1GJY operating HF and Tom N1KTA on Echolink. The next morning, Stefania picked up where she left off on HF, while Jason Cote WX4WTF, and his wife Ariel KC1CCB, were manning the VHF and Echolink stations.

At noon, the annual strategy meeting kicked off, with a presentation that began with a year in review, went over several improvements to the program and the WX1GYX station over the past year, and the 2nd half focussed on developing SKYWARN net control operators.

A copy of the presentation is available here.


Once the meeting was complete, several in attendence enjoyed some pizza and soft drinks, and soon the on-air activities were back to 100%. By the time the 24-hours passed we made over 320 QSOs! Thanks to everyone involved, and special thanks to everyone who participated during severe weather activations throughout the year.


---
WS1SM Team Activates Nubble Lighthouse for ILLW
August 16, 2015
by Tim Watson, KB1HNZ


YORK, ME - The WS1SM Team activated Cape Neddick "Nubble" Lighthouse for the 2015 International Lighthouse and Lightship Weekend (ILLW).


The annual event, now in its 18th year, was started in Scotland by members of the Ayr Amateur Radio Group. It evolved from the Scottish Northern Lighthouses Award Weekend into a popular international event, which now sees participation from over 85 countries.

The WS1SM team, which included Charlie W1CPS and Cindy Shepard W1CJS, Annette KC1AMQ, and Dakota Dumont KB1YYC, Jason Andrews W1SFS, Thom Watson W1WMG, Ryan Michaelson KB1YTR, and myself, setup in Sohier Park on the morning of August 16th, and operated two continuous stations on HF and one on VHF, making use of a 40m Ultra Light dipole, a BuddiPole, and a portable J-Pole.



We setup just as the fog was beginning to burn off, and soon the sun was shining and it turned out to be a beautiful day. The QSOs were coming steadily, as were the stream of vehicles and foot traffic, with people stopping by and asking questions about what we were doing and what our furthest contact was.



We were glad to be the first Maine QSO for several who answered our CQ calls, and we were informally competing against each other throughout the day to see who had the most QSOs, the most lighthouse QSOs, and whatever else we could think of.



We had over 200 QSOs at the end of the day, and after breaking down the antennas and EZ-Ups, several of us went out to the Bull & Claw for dinner on the way home.


Fun Fact: 'Nubble' Light, which was built in 1879, is one of only eight lighthouses in Maine to still have its original Fresnel lens. Its one of the most photographed lighthouses in the world, and an image of it was even sent to space aboard the Voyager Spacecraft.


---



Operating While Abroad


Baicoi, Romania
by Tim Watson, YO/KB1HNZ

In mid October, Stefania YO9GJY, and myself had the opportunity to operate from a contest station at Baicoi, Romania, as well as at her home QTH in Valea Calugareasca.


Baicoi is located just northwest of Ploiesti, which is the largest city in Prahova County. Situated in a building on the Mazarom site, which is the Romanian distributor for Mazak machine tools, the station offers an impressive setup, with multiple transceivers, including a Flex 3000 and Kenwood TS2000, an SPE Expert 2k-FA amp, and a Pro.Sis.Tel. Big Boy Rotator turning an Optibeam on a 150' tower. Special thanks to Adrian Totu YO3HOT, for letting us use his equipment.


We were told that just days before, the station was moved from the main building across the driveway to its current location, and there were signs of this as some wire cutters and other tools were left behind, but everything seemed to be finished and it was assembled neatly and in such a way that any operator could've sat down and got right on the air.


Outside was a vertical for the low bands (which we didn't use during our visit), and also the free-standing tower, supporting a gigantic Optibeam. I was told a crane was used during construction to put it in place.


During the rest of my stay in Romania, I also had a chance to operate at Stefania's home QTH, which is in Valea Calugareasca. She has an LZ 9-5 yagi on a 50' monopole (for 10, 12, 15, 17, and 20 meters), and a delta loop for the low bands. The rest of her station consists of a Yaesu FT-857d, an LDG auto tuner, and a Yaesu G-1000 DXA rotor for the yagi.


---

Antenna Raising Party
Dayton, ME
by Tim Watson


A few weeks ago, several members of the club visited the home of Pete KC1DFO, in Dayton, to help setup an HF antenna. Pete had done most of the preliminary work, including mounting brackets to the side of his barn and engineering a very clean entry point for the coax to be fed into the house.


Pete just recently got back into the hobby, after being away for many years. He attended one of our

Intro to Ham Radio

classes, and also took part in several club activities, before being bitten by the RF bug again.


Among those who came out to help were Dave KB1FGF, Frank W1FRA, Charlie W1CPS, Cindy W1CJS, Ron KC1AOT, Thom W1WMG, and myself. Everybody had a good time, and afterwards Pete and his wife treated us to pizza and some freshly picked sweet apples from the tree in their backyard.


---
Wavelength
Maine Maritime Museum
by Tim Watson, KB1HNZ

After an exploratory visit to the Maine Maritime Museum in early October, WSSM members went back to install a 40m dipole as part of a new exhibit called

Wavelength: The Story of Signals at Sea

.


From flags, bells and whistles to radio, radar, and GPS, maritime communications have had to go the distance, and the new exhibit explores the history of communications at sea, tracing it from its optic origins to electronic devices, including a display of an early Marconi-era steamship's radio room. According to the museum website, "Engine room telegraph and signal flag interactives will enhance the

Wavelength

experience, along with demonstrations of actual Morse code transmissions from the gallery using period equipment."


The antenna was installed in the skylight of the gallery, and just fit, stretching the length of the building. Among those who came to help out were Charlie W1CPS, Frank W1FRA, Stefania K1GJY, museum curator, Christopher Hall, and myself.

For more information on the exhibit, which runs through May 15th, click here.


---

DX News
December 12 - March 26
by Tim Watson, KB1HNZ

2015 brought us many memorable DXPeditions, including the K1N expedition to Navassa Island, which was named the

DXPedition of the Year

by the Southwest Ohio DX Association. In the summer, Rwanda was activated by LA9IAA, with the call sign 9X0AA and the Maldives were represented by the 8Q7DX expedition in August. In the fall, numerous DXPeditions took place, including 5J0B (San Andres Island), the much anticipated TX3X (Chesterfield Island) expedition, T88WI and T88WH, (Palau), and S79SP (Seychelles), among others. The list below shows some of the upcoming DXPeditions through the winter months, and a few that extend into early Spring.

For more information about upcoming announced DXpeditions, and click here for the latest

425 DX News

, by Mauro Pregliasco I1JQJ.


12/12 - 12/17
12/14 - 12/31
12/15 - 01/05
12/16 - 12/23
12/20 - 01/15
12/22 - 12/29
12/22 - 12/30
12/27 - 01/13
12/31 - 01/05
01/01 - 01/07
01/02 - 01/10
01/04 - 01/07
01/05 - 01/31
01/06 - 01/14
01/07 - 01/11
01/17 - 02/27
02/01 - 02/11
02/18 - 02/24
02/18 - 03-04
02/25 - 03/25
03/14 - 03/26

TO2EE
E51WET
8P9JB
VK2IAY/9
3D2AG/P
T88RY
A25GR
YJ4AO
ZF2LL
5W0UO
YJ0AFU
7P8VR
6W7SK
V25GB
ZL9A
VP8STI
VP8SGI
A35T
3XY1T
S9BK
VK9CK

St. Barthelemy
South Cook Island
Barbados
Lord Howe Island
Rotuma
Palau
Botswana
Vanuatu
Cayman Is
Samoa
Vanuatu
Lesotho
Senegal
Antigua
NZ Sub-Arctic Island
South Sandwich Is
South Georgia Is
Tonga
Guinea
Sao Tome & Principe
Cocos Keeling


By K2VHN, from NA-146; 40-10m; CW, SSB
By SM6WET, from Aitutaki OC-083; 160-6m; CW, SSB, RTTY, JT65
By J69AZ; HF; QSL via Ancletus Ernest, P.O. Box 3056, La Clery, St. Lucia
By VK2IAY; 20-10; SSB, QSL via buro or direct
By 3D2AG; 80-6m; CW, SSB, RTTY, PSK31
By I2DMI; 80-10m; RTTY
By M0XUU; 40-17m; CW, SSB
By DL7VOA, from Port Vila, Efate Is OC-035; HF; CW, SSB
By WW4LL from Grand Cayman Is; SSB, RTTY; QRV for RTTY RU
By G4BUO; HF; CW; vertical over salt water
By VK4AFU, from Port Vila; 160-6m; CW, SSB, JT65; QSL via NA5U
By DD0VR; 40-10m; CW, SSB; QRP
By F6BLP, from Saly Portudal; 160-6m; CW, SSB, RTTY; QSL via F6BLP
By GW4DVB, from FK97bc; 40-6m; SSB
By VE3LYC and others, from Antipodes Is OC-286; 40-10m; CW, SSB
By N6PSE and others; 160-10m; CW, SSB, RTTY
By N6PSE and others; 160-10m; CW, SSB, RTTY
By W5MU and others; 160-10m; CW, SSB, RTTY; dates tentative
By I2YSB and others, from AF-051; 160-6m; CW, SSB, RTTY
By HB9BEI; 40-10m; SSB and digital; Holiday style operation
By LB2TB and others; 160-10m; CW, SSB, RTTY; QSL via LA6OP, buro, direct, or Club Log

---
QSL Corner

On page 1 is a scan of a QSL card I received during an "eyeball" QSO back in October, when I had lunch with Adrian Sinitaru YO3APJ. Adrian is an avid dx'er and one of the driving forces behind the YODX Association. You'll hear him on the bands, operating mostly CW, during contests. The card depicts one of his portable operations from Cantacuzino Castle, in Prahova. During our lunch, we had an interesting conversation about restrictions placed on hams during the Communist era, and at one point he said, "if we had this meeting back then they'd question me about it - especially since that place across the street is the former headquarters of the
Securitate
. It would've been a very bold thing to do to say the least."
The other cards below are submitted by Stefania YO9GJY - one from Norway, and the other for a QSO with LU7CAW, operating portable as OA4/LU7CAW from El Callao, Peru.
If you received an interesting QSL lately that you'd like to show off, please send a digital image to
[email protected]
, and we'll highlight it in an upcoming issue!



LA5GTA

-

21 MHz SSB QSO with YO9GJY on 29 September 2016, at 1619 UTC. QSL features the "Land of the Midnight Sun."




YO3APJ/p

- for an "Eyeball" QSO with KB1HNZ on 20 October

2016, at

Energiea

, in Bucharest. QSL features Cantacuzino Castle, in Prahova. For mor info on the castle, click here.



OA4/LU7CAW

- 28 MHz SSB QSO with YO9GJY, on 12 March 2015. QSL features the shoreline of El Callao, Peru.



---



FOR SALE

-

Drake TR4C

transceiver, completely restored and in like-new condition. Features include VFO, lighted dial, and 300 watts output. $500 or best offer. Call Thom, W1WMG, at (207) 839-0402 for more info.

If you have any items for sale, contact one of our members to have it listed here, or send an email to:

[email protected]

with a brief description and contact information.





Algonquin ARC Hamfest

- February 13, 2016. Location: Marlborough, MA. Type: ARRL Hamfest. Sponsor: Algonquin Amateur Radio Club. For more info, visit:

http://www.qsl.net/n1em/

Framingham ARA's Annual Spring Flea Market

-

April 10, 2016. Location: Framingham, MA

.

Type: ARRL Hamfest. Sponsor: Framingham Amateur Radio Association. For more info, visit:

http://www.w1fy.org/flea.aspx
New York City / Long Island Section Convention -

January 10, 2016. Location

:

Bethpage, NY. Type: ARRL Convention. Sponsor: Ham Radio University ARC. For more info, visit:

http://hamradiouniversity.org/

East Greenbush ARA Hamfest

- May 5, 2016. Location: East Greenbush, NY. Type: ARRL Hamfest. Sponsored by: East Greenbush Amateur Radio Association. For more info, visit:

http://www.w2egb.org/




If you have any items for trade, contact one of our members to have it listed here. Send an email to:

[email protected]

with a brief description and contact information.




If you offer any ham radio related services, for example, if you repair meters or radios, build your own transmitters, make QSL cards to order, or rebuild microphones, you may list these services here.





I

f there are any items you may be looking for, use this space to get the word out. Just send an email to

[email protected]

, or mention it at an upcoming meeting.
All advertisements are listed for FREE. Advertising shall pertain to products and services which are related to amateur radio. No advertisement may use more than 40 words. Please send a description of items for sale, wants, or services to Thom Watson at

[email protected]

, or bring it to an upcoming meeting of the Wireless Society of Southern Maine. All ads will be printed one time, unless renewed.
Page 2