WS1SM Team Activates Pemaquid Point Lighthouse for ILLW
Bristol, ME


by Tim Watson, KB1HNZ

BRISTOL, ME - On August 18th the WS1SM team activated Pemaquid Point Lighthouse for

International Lighthouse and Lightship Weekend

. After participating in our first ILLW event there two years ago, it was great to return to the iconic lighthouse in Maine's picturesque mid coast region. Special thanks to the kind folks at Bristol Parks for inviting us back.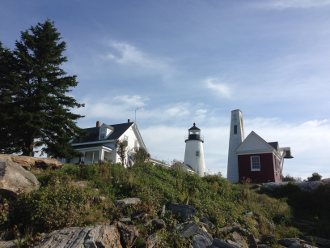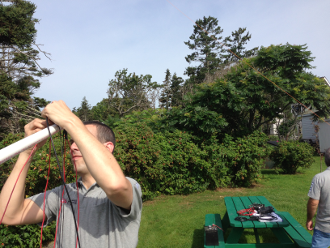 This year's ILLW saw over 500 light stations and light ships participating, so the bands were packed with activity. In the morning we had QSO's with several lighthouses up and down the Eastern Seaboard, including Cape Hatteras Light in North Carolina, and Cape May Light in New Jersey. By the afternoon, we exchanged reports with lighthouses in the Great Lakes, Bristish Isles, and across Europe , and by dusk, propagation shifted to the Pacific Northwest and California. Our most abundant QSO's, however, were folks collecting lighthouses, and needing our ILLW number.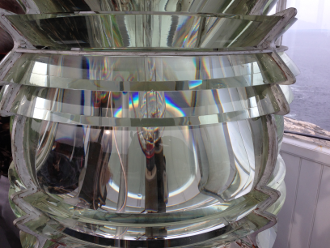 Our setup included 4 HF stations, operating 40-10 meters, and we logged over 200 qso's during the day. Our operating position was ideally set alongside a ridge, overlooking the sea, and we had enough space to setup multiple antennas, including a 40 meter dipole, multiband sloper, a BuddiPole , and a fan dipole.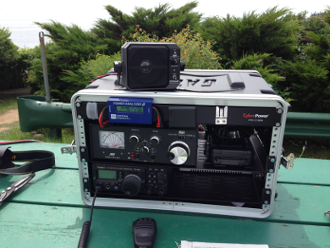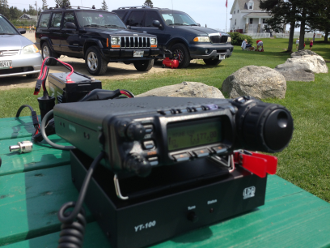 Our Pemaquid expedition was blessed with awesome mid summer weather, excellent band conditions, and a constant stream of interested onlookers.Some of the equipment we used were Steve, N1EOE's portable ham shack (seen above left), a Yaesu FT897, (above right), Charlie, W1CPS' Icom IC7000, and Ryan, KB1YTR's Elecraft KX3.
Thanks to everyone who joined us at the lighthouse, including those who stopped by to see us, and contacted us on the bands! Lets do it again next year!

---
Maine 2 Meter FM Simplex Challenge is February 16th

Gorham, ME
by Tim Watson, KB1HNZ

GORHAM, ME - The 4th annual

Maine 2 Meter FM Simplex Challenge

takes place in just a few weeks! This is a fun contest to take part in and there's categories for mobile and fixed stations, as well as different power levels, such as QRP, medium, and high power, to give operators a chance to compete on an even basis.

Three items are exchanged during the contest, including call sign, power level, and the town you're operating from. Last year's overall winner contacted 104 stations in 59 different municipalities, so we expect there to be a lot of activity across the state.

Mark your calendars for Sunday, February 16th (from noon - 4pm). For more details, including complete rules, Click here.



---
W1CPS Earns 10-10 Membership


SCARBOROUGH, ME - At our most recent informal meeting at the Tim Hortons on Route 1, in Scarborough, Charlie Shepard W1CPS, showed off the certificate he received for successfuly working the required number of 10-10 International members, earning him his own 10-10 number. Congratulations Charlie!

The conditions have been excellent on 10 meters this fall, and into the early part of winter, so what better time is there to work some dx and maybe earn a 10-10 number for yourself.

The 10-10 International net takes place at 1800 UTC daily (except Sundays) on 28.800 and 28.380 kHz. For more information about 10-10 International, click here.


---
Special Event Stations Educate, Entertain
Ann Arbor, MI
by Dan Romanchik, KB6NU

ANN ARBOR, MI - I like special event stations. I enjoy operating them and making contacts with them. Whenever I operate WA2HOM, our club station at the Ann Arbor (MI) Hands-On Museum, one of the first things I do is to search for special event stations.

One of the reasons I enjoy operating special event stations is that it's educational. For example, on November 17th, I worked W4D in Mayaguez, Puerto Rico. They were commemorating the 520th anniversary of the discovery by Europeans of the island of Puerto Rico. As a result, I learned that on November 19, 1493 Christopher Columbus landed on the island, naming it San Juan Bautista in honor of Saint John the Baptist, a name that was later changed to Puerto Rico (Rich Port).

Working special event stations is also entertaining. Most times when you work a special event station, you can tell that they're having a good time. One time, I worked W4B, operating from the Kentucky Bourbon Festival. Now, those guys were really having as great time!



How do you find special event stations?



One way to find special event stations is to just tune around. Most special event stations will be operating at least a 20m phone station, so take a look at that band first. Also, consult the special event stations listings in QST or on the ARRL website. KE2YK also has a special events page.

In addition to working special event stations, you should consider organizing and operating one of your own. For the past two years, several members of our Rotary Club who are also amateur radio operators have operated W8P on the third weekend in February, which commemorates the founding of the Rotary Club and helps spread the word about the End Polio Now campaign. It was not only fun to do this, but I think that we helped raise awareness about polio around the world.


13 Colonies Special Event


Whatever your reason for holding a special event, you'll want to be somewhat knowledgeable about your topic. For example, if you decide to set up a special event station at the local Rutabaga Festival, you might want to know how long they've been having the festival, how many pounds of rutabagas are produced by local farms and around the U.S., and maybe even find a couple of rutabaga recipes that you could send out to stations that work you.



When he's not working special event stations, Dan, KB6NU enjoys building kits and working CW. For more information about his operating activities and his "No-Nonsense" series of amateur radio license study guides, go to

kb6nu.com

or email

[email protected]

.




---
DX News
November 26 - January 29
by Tim Watson, KB1HNZ

2013 was a great year for DX, including such memorable DXpeditions as the T88SM activation of Palau in January, and the TX5K Clipperton Island expedition in late February through early March. Others include the HQ8S activation of Swan Island, and the Japanese expedition to Bhutan in early summer. In July, the Solomans were activated by an Australian team, and most recently, Lakshadweep Islands were put on the air by a group of mostly Indian and American operators. Propagation wasn't always good during 2013, but recent conditions on 10 and 12 meters have certainly made up for it. Hopefully next year will bring lots more DX, favorable conditions, and more chances to work some new ones.


11/26 - 12/31
12/15 - 01/15
12/21 - 01/10
12/22 - 12/24
12/22 - 12/24
12/22 - 12/24
12/23 - 12/27
12/24 - 12/30
01/02 - 01/07
01/03 - 01/21
01/09 - 01/14
01/11 - 01/19
01/13 - 01/19
01/18 - 01/22
01/21 - 02/21
01/21 - 01/27
01/24 - 02/12

01/26 - 02/28
01/29 - 02/09

9L1A
S79ACR
H40FN
7P8CE
7P8DJ
7P8WO
9Q0AR
XW0YJY
1A0KM
6W7SK
XU7AEU
ZF2PG
TO3JA
VP2M
V47AJ
E51CDW
FT5ZM

XT2AW
J79JG

Sierra Leone
Seychelles
Temotu
Lesotho
Lesotho
Lesotho
Dem. Rep. of Congo
Laos
SMO Malta
Senegal
Cambodia
Cayman Islands
Martinique
Montserrat
St. Kitts & Nevis
South Cook Islands
Amsterdam Island

Burkina Faso
Dominica

By 9A3A; 40-10m; mostly CW, some SSB
By UA3DJY; from Mahe Island; HF; Holiday style expedition
By DK9FN; from Nendo Island (OC-100); HF; QSL via Buro or direct
By DK1CE; HF; Holiday style expedition
By DJ2HD; HF; Holiday style expedition
By DH3WO; HF; from Roma Lodge; Spare time op; QSL via DH3WO
By ON4CFC; HF; (more details to follow)
By E21EIC; from Vientiane; 80-10m; mostly RTTY; QSL via E21EIC
By IK0JBL; and others; HF; QSL via IK0FTA
By F6BLP; 160-10m; QSL via REF Buro or direct
By M6CFW from Phonm Pehn; HF; SSB
By K8PGJ; 17,12,10m; QSL direct
By JA3ARJ; from (NA-107); HF
By SP7VC and others; HF
By N3ME & W3UR; from St. Kitts; 160-10m; RTTY, CW, SSB
By BA4DW; from Rarotonga; HF
By 9V1YC and others; 160-10m; CW, SSB, RTTY Click here for the latest news.
By DF2WO; from Ouagadougou; HF; CW, SSB
By AD8J; HF; mostly CW, some SSB; QSL direct via AD8J

---
QSL Corner

On page 1, we show a card received by WS1SM for a 40 meter QSO with N2CMC from the Cape May Lighthouse, in New Jersey. The QSL's below feature D64K, of Comoros, a French special event station to celebrate the 24 Hours of LeMans, and a QSL from South Africa.
If you received an interesting QSL yourself that you'd like to show off, please send a digital image to
[email protected]
and we'll be sure to publish it in an upcoming issue.
D64K

- for an 18 MHz ssb QSO with KB1HNZ at 2333 UTC on 12 August 2012.


TM24H

- for a 14 MHz ssb QSO with KB1HNZ at 2133 UTC on 11 June 2013.


ZS1PZ

- for a 7 MHz ssb QSO with KB1HNZ at 0419 UTC on 22 December 2012.