Introducing the Maine QSO Party HF Contest

www.maineqsoparty.com
by Tim Watson, KB1HNZ







The Date:

September 29, 2013




The Website:

www.maineqsoparty.com




The Contest.



GORHAM, ME - A few weeks ago, WSSM members asked a question over coffee: "Wouldn't it be awesome if there was a twice around the clock HF contest that emphasized contacts with Maine stations?" The result, after weeks of development, is the Maine QSO Party, which takes place September 29th.

The QSO Party's mission is to encourage Maine hams to expand their knowledge of DX propagation on the HF and MF bands, and to improve their operating skills and station capabilities by taking part in a competition in which W/VE, and DX stations have the incentive to work Maine.

QSOs with Maine stations count twice as much as other contacts, which serves as the incentive, while multipliers are the same for everyone participating. The multipliers include the sixteen (16) Maine counties, fifty (50) U.S. states, fourteen (14) Canadian provinces, and each new DXCC entity (other than the U.S. and Canada).

We're especially grateful to all the contest clubs and groups around the world who have publicized the event, and to those who have helped translate the contest rules into other languages.

Mark your calendars and tune up your gear. The Maine QSO Party is here!


---

WS1SM Team Activates W1/AM-381 for Summits on the Air
Mt. Agamenticus, York, ME
by Tim Watson, KB1HNZ

YORK, ME - On April 28th, the WS1SM team activated Mt. Agamenticus for Summits on the Air. The day started out with breakfast at the Maine Diner, and then it was off to the hilltop.


Located west of the oceanside community of York, Mt. Agamenticus' panoramic views of the Atlantic Ocean to the east, and New Hampshire's foothills to the west were a backdrop for the operation, which included three HF stations and a VHF setup. Antennas were a BuddiPole and various dipoles for HF, and a pair of J-Poles for 144 and 220 MHz.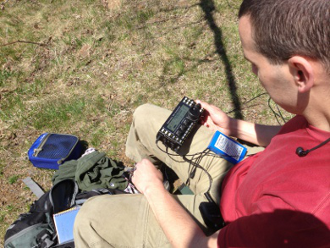 Mount Agamenticus has an interesting story to tell. During the 1940's it served as the site of an anti-aircraft spotting station and an SCR-271 early warning radar, as well as quarters for 25 soldiers from the 551st Battalion of the U.S. Army Signal Corps. The entire complex was destroyed by fire in the winter of 1945 when crews couldn't get up the auto road due to heavy snow. Except for the radar tower's concrete footings, nothing remains of that era.
In December of 1966, after being planned for several years, the "Big A" ski area was opened for the first time, and was dedicated at an opening ceremony by Governor Reed. It was designed by the famous ski resort architect and consultant, Sel Hannah, founder of Sno Engineering. Mt. Agamenticus is one of few ski areas which featured parking and a lodge on the summit. It featured a double chairlift, T-bar, and rope tow, and also offered night skiing.
In the 1970's when a real estate development threatened the area with 3,000 residential buildings proposed, a Save Mt. Agamenticus Committee was established to protect the lands as part of a wilderness area and wildlife preserve. The committee was ultimately successful, but the environmental movement, combined with an anemic economy, and other factors such as poor snowmaking, also had an effect on the popular ski area, which closed after the 1975 season.
The famous ski lodge, with its massive fireplace and 34 by 54 foot second story lounge, still exists today, and serves as an education center. Several remnants of ski area equipment, though mostly dismantled and far beyond operation, are still on the grounds as well.
We setup our stations on the south-western slope, and were especially successful on 220 MHz, where Dakota Dumont KB1YYC, made simplex contacts as far away as Rhode Island! Charlie Shepard, W1CPS, and Cindy Shepard W1CJS, were busy working stations on 15 and 17 meters, using a fan dipole and an Icom IC7000, while Ryan Michaelson, KB1YTR made use of his Elecraft KX3 and random wire to work stations on 20 meters. Meanwhile, Thom Watson W1WMG, myself, Dave Wood KB1FGF, and Sam Webber N1WIG, worked stations mostly using a Yaesu FT857 and a dipole (40 meters) and Buddipole (20 and 15 meters), many of whom were taking part in the Florida QSO Party.
Our first outing of the season was enjoyable and finished with a dinner and debrief at the Bull and Claw restaurant on Route 1 in Wells.
---
Field Day Preview

Wassamki Springs Campground
by Tim Watson, KB1HNZ

Its that time of year again! On the weekend of June 22-23 join us for Field Day at Wassamki Springs Campground. Special thanks to the Hillock Family for once again providing an outstanding location to hold this event.

Last year we beat our previous QSO record despite having to break down for a few hours because of thunderstorms. We made the most of bonus points opportunities and handled more than a dozen radiogram messages.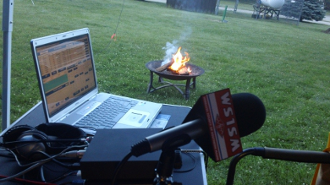 For 2013, we anticipate good participation and expect to improve our QSO totals even more. But Field Day is about more than just making lots of contacts and finding new ways of capturing ARRL's foolish bonus points. Its about building camaraderie and working together as a team to accomplish a certain goal. Most importantly, Field Day is about enjoying the experience and having a good time.


---
New IRC Introduced

Czech design chosen to replace current IRC
by Tim Watson, KB1HNZ



A recent

DX Coffee

article reports that the Universal Postal Union has announced that the Czech Republic won the contest to develop the new model of International Reply Coupon (IRC). Known as the Doha round, the new coupons will become available on July 1st, 2013 and will be good through December 31, 2017.

The theme of this new model is "Water, source of life" in order to reflect the International Cooperation year of the United Nations in 2013.

The current Nairobi model IRC's are valid through December 31st, 2013. The U.S. Postal Service no longer sells IRC's, but post offices in the U.S. must redeem them and they may still be purchased in other countries.


---
DX News
June 1 - July 28
by Tim Watson, KB1HNZ

Maybe we haven't seen any DXpeditions with the rarity or publicity as 7O6T, like we had last last year at this time, but there have been few that have caught our attention since the last issue. These include the German activation of Mayotte, with the call sign TO7BC, which took place in late March through early April, as well as the TK2INT Corsica Island activation by a team of French and Spanish operators in late March. More recently, South Cook Island was on the air with the call sign E51AAO.

Looking forward, some interesting expeditions include HQ8S (Swan Island), VQ93JC (Chagos Islands), and Madagascar (5R8NE). Check out the chart below for more info about announced DXpeditions that will take place through mid summer.

Another great place to check for upcoming DXpeditions and special events is the 425 DX Calendar, edited by I1JQJ.


06/01 - 06/22
06/01 - 07/14
06/06 - 06/20
06-09 - 06/19
06/12 - 06/21
06/15 - 06/20
06/15 - 06/30
06/16 - 06/20
06/17 - 06/24
06/21 - 07/01
06/22 - 07/07
06/25 - 10/31
06/27 - 07/27
06/28 - 07/07
07/01 - 07/06
07/01 - 07/07
07/16 - 07/30

07/24 - 07/28

J68HZ
TM100TF
D44TWO
A52W
ZP99E
A25RJ
PS2013SSB
HQ8S
H44IOTA
V31IV
VQ93JC
TU5DF
C91GBA
VK9DAC
OJ0V
H40IOTA
5R8NE

CF2I

St. Lucia
France
Cape Verde
Bhutan
Paraguay
Botswana
Brazil
Swan Island
Soloman Islands
Belize
Chagos Islands
Ivory Coast
Mozambique
Christmas Island
Market Reef
Soloman Islands
Nosy-Be Island, Madagascar
Verte

By K9HZ; 40-6m; CW, SSB, RTTY; QSL via K9HZ
Special Event - 100th Anniversary of the Tour de France
By DW2WO from Praia (AF-005, HK84fw); 40-10m; CW, SSB
By JH1NBN; mainly SSB; 100w; wires; spare time op
Special Event - Jesuit Ruins of Jesus and Trinidad 40-10m, CW, SSB
By ZS6RJ, from KG47ac; 80-10m; CW, RTTY; QSL via ZS6RJ
Special Event - FIFA Confederations Cup; 40-10m; CW, SSB, Digital
(NA-035) 10, 15, 20m; CW, SSB, EME
(OC-285) HF; visit: www.h44iota.com for details
By W6JKV; HF
By ND9M; from Diego Garcia, "Field Day style" op
40-10m (possibly some 50 MHz) Mainly CW, some SSB + PSK31
By EA4GBA; HF, mostly SSB
By VK3DAC; 80-10m; SSB (100W, dipole + vertical)
(EU-053) By ON5JT and others; HF; CW, SSB
(OC-100) By NR6M; HF; visit: www.h40iota.com for details
(AF-057) By IW2NEF; 10-40m

(NA-128) By CF2I Contest Group; HF

---
PSK-31 Code Gets ITU Official "Seal of Approval"
ITU Endorsement

by Tim Watson, KB1HNZ


The code behind the popular PSK-31 digital mode has now been officially endorsed by the International Telecommunications Union and given its own "recommendation" number.



Echo Ireland

, the journal of the Irish Radio Transmitting Society, reports that the technical characteristics of "Varicode," developed by Peter Martinez, G3PLX, in the 1990s and which serves as the underpinning of PSK-31, has been enshrined by the ITU as Recommendation ITU-R M.2034,
Telegraphic Alphabet for Data Communication by Phase Shift Keying at 31 Baud in the Amateur and Amateur Sayelite Services.
ARRL CEO Dave Sumner, K1ZZ, says the primary value of the designation is that it "provides further documentation in an important international forum of radio amateurs' continuing creativity and contributions to the art and science of radio communication" (Echo Ireland, March, 2013, 19).
---

QSL Corner

In this issue, we'll take a closer look at some vintage QSL's from Clipperton Island, ranging from 1958-2000.
If you received an interesting one yourself that you'd like to show off, please send a digital image to
[email protected]
and we'll be sure to publish it in an upcoming issue.













FO0AAA - CW contacts on 20, 10, 12 and 17 meters March 2000 - We all know about this Dxpedition from the DVD we watched




FO0XG - SSB with W2AO 10 meters March 1978





FO0XX - CW contact with W6BS 20 meters April 1985, Clipperton '85 consisted of 16 operators, they traveled aboard the "Royal Polaris" made nearly 31,000 QSO's in 130 different countries during six days of operation.

FO8AT - SSB and AM contacts with W1PFA 20 and 15 meters August 1958. This is one of the first Dxpeditions we are aware of to the island. Sponsored by the San Diego DX Club, the crew, 11 men and one woman, were scientists who were put ashore to perform "IGY" studies. Shortly after reaching shore, rains and extremely high winds arose, making immediate operation impossible. Operation commenced on August 8 and continued through August 23. Extreme weather conditions which existed during the entire stay on Clipperton and "IGY" tasks limited operations.