"Storm Watch"
Newsletter of NZ1U – The Barnstormers Contest Group
Volume 16 No.5. September 13,2011
44 Days, 6 Weekends…..
Yes, those are the numbers until the CQWW DX SSB weekend. Every year the contest season rushes on us and we have a list as long as your arm to finish before 0000Z the last Saturday in October. This year is no different and maybe a little worst than usual.
Let's go over the goals:
First the repairs.
T
he 80M vertical. Yes, the same one as last year. Look closely at the right side of the tree house and you can see the tree that snapped off and took out the guy ropes. It looks like 2 new pieces of pipe with the two I found out back will be needed. Kim will arrange the bucket truck again I hope.
We had a heck of a signal at the South Pole with this antenna pointed this way!
40M EDZ and 160 Inverted Vee. – Both of these antennas have the ropes in the trees gone. We need a shoot over the trees for new ropes.
Now the new or continuing projects….
H
ave you seen this mess? This is some of the squirrel damage that was exposed when we tore down some of the ceiling.
Not only are we planning on repairs and rerouting but I am also ordering some 2X6 coax switches from KK1L which will be part of the plan to take any antenna to any of 4 radios. We are planning a two station SO2R setup. Plans are for Station one to have two K3s and Station 2 to have two FT-1000MP/Mark V. Both setups using the YCCC SO2R boxes. We now have three Titan amps available plus the Commander.
The "Dallas"…. Here are a few pictures of the final assembling. Kim is working on the trussing and a saw horse to get it off the ground. We have reinforced the boom and we hope that in two weeks we will begin the matching network. It looks like we will use an Omega match such as ON4UN explained in his book.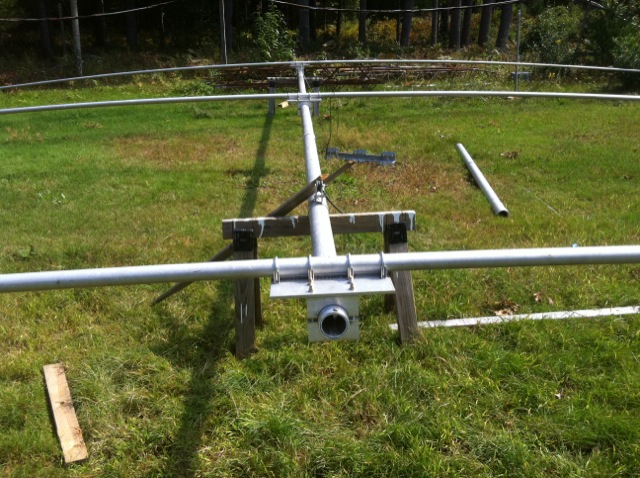 Of course we still have the ceiling to finish along with new lighting. The ceiling removal should only take a few hours and then we can start rebuilding.
Jay is building a Moxon 40M antenna and with his experience building this we plan on building one here also to start as soon as his is finished. We think we have plenty of aluminum to make this great performing antenna which will add to our options to the Dallas, EDZ, and 4 Square.
"Open Station" ……
Here is a copy of am email sent to me and the other Area Managers by Tony, K1KP, the President of the YCCC:
To YCCC Area Managers - Reply Requested
As you know, one of my goals for this year is to restart the YCCC Contest University. The way I see this working is as follows:
In addition to holding local meetings in each area this fall, I'm hoping to convert a minimum of 3 of these local meetings into Contest Universities in the Months of October and November, to prepare for the CQWW Contest. I'd like to have the Area Managers set up a local meeting that would be attended by visiting 'professors'. The meeting could be at any location in their area that provides for the expected number of people, and provides a reasonable meeting spot. For example, I actually had a Contest University at my home when I was EMA Area Manager back in the '90s. We had about 60 members attend – and somehow we found chairs for all of them! In the past, Contest Universities have been held on weeknights – but I would entertain any venue/schedule that makes sense for the attendees.
As of this moment, I have schedule-permitting commitments from K1AR, K1DG, and K5ZD to be professors. As Area Manager, you will be acting as 'host professor'. Topics discussed could include (but not limited to) the following:
-Operating
-Sleep Strategy
-Nutrition/Conditioning
-Station Ergonomics
-Station Hardware
-Logging Software
-Propagation
-Multi-Ops
-Newbies
Please look at your calendar and resources, and let me know if you can set up a Contest University in your area. Let me know what dates work for you (give me several so I can work around the professor's schedules).
It promises to be a great evening of discussion about our favorite subject, and I think it will go a long way towards motivating folks to get on the air and submit a score for YCCC!
-Tony, K1KP
This would work well with the "Open Station" idea we used a few years back. The one condition I see stopping us is the mess the station is in. If we can get things done and together I would like to have a few "Open Station" Saturdays now through the CQWW DX CW contest. Hopefully we can find new YCCC members and recruits for the Barnstormers Contest Group.
N4XR "On The Air"
If you missed Jay email:
I just had a great QSO with Vic, N4XR on the 'twisted pair' and more importantly, on 7021Mc!
Vic is on the air from Gettysburgh PA with a Jetstream Multiband HF vertical on the roof of his residence, and the new Ten Tec Eagle.
Drop Vic a note, he is ready for a sked!
Vic's Cell phone number 860 377 2202
Jay W1UJ
Finally, it has been a busy Summer for all of us. True to form we approach the contest season with lots to do. We have accomplished our goals in the past and I am sure we will do it again.
Our results last year were outstanding, making it at times to the #3 spot in M/2. With an improved 40M antenna system we could move up higher I am sure.
I know I and the group are asking all of us to sacrifice some more time getting ready but it will all pay off when the games begin! Try to help as much as possible.
73 – Dick