"Storm Watch"
Newsletter of NZ1U – The Barnstormers Contest Group
                                                            Volume 15 No.1. February 3, 2010
Finally a #1 Finish on VHF – January 2009
<![if !vml]>
<![endif]>
Well here is our 1ST Place Certificate for the January 2009 VHF SS.
Unfortunately the ARRL does not offer plaques for this contest so we will have to be satisfied with a paper plaque.
Within the past two weeks we have operated in the 2010 version and even though conditions were not great we turned in a fine score and maybe a repeat.
2009 Barnstormers Christmas Party
On the 30th of January we held what I believe is our 13th Christmas Party. Unfortunately the month was pretty booked up with contests and personal commitments so the event was not as crowded as years past. Still fun was had by all and though many left earlier than usual the final four were KB1DFB, N4XR, KB1NRB, and KB1H. A bottle of rum provided by N1XS was cracked open and passed around. Whew, shades of Dayton and the Russians.
The coveted "K1GX Award" was given to Allan, KB1NRB. In this past year he has learned the code, gotten to about 30 WPM, upgraded to Extra Class, but most of all he provided much needed tower work. After Kim got the new tower up to 60 feet Allan took over and got it up to 125 feet all alone. This was his first tower erection so quite a learning curve but done well.
<![if !vml]>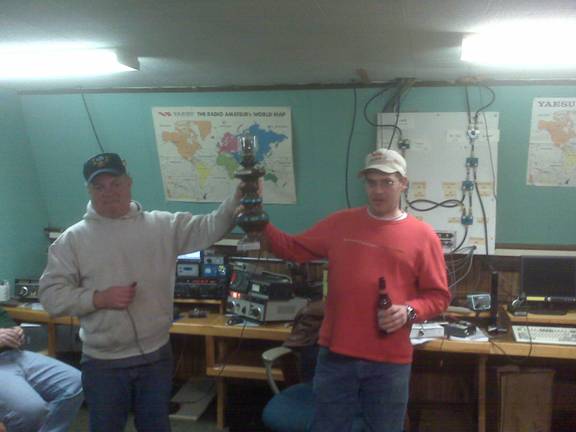 <![endif]>
In Allan's left hand is the courage he needs to go higher on the tower.
Too much food and not enough people lead to allot of over eating. Thanks to everyone for bringing food and beverage.
40 Meter Tower Status….
As mentioned above, the new tower is up at 125 feet. I have been told the K0XG ring rotor is complete and Richard, K0XG, will drive out to this area from Iowa soon with equipment he needs to deliver. Our ring rotor is part of that.
Dave, AA1CE, has gotten the OK to climb and KB1H has spent four days and 4 times as many hours on the towers so when the weather breaks we should be good to go and finish the tower.
As soon as the snow melts we will have to begin the final assembly of the 40 Meter antenna. Dallas, K1DW, is working on the final dimensions and gamma match design.
Sorting Incoming QSLs
On February 13th we will sort our first box of incoming QSLs. This should take about 2-3 hours if we have enough people. Start time about
By doing this presort we are able to send all outgoing KB1H and NZ1U QSLs free of charge. Last batch cost $140.00!
YCCC SO2R
Jay has built both his and the station's YCCC SO2R box and we now have one installed on Station 2/3. This is far better than the MK2R mess we have tried to use. Frank, K1EBY, even likes the new box. We will have to have Jay give us an in-service on the operation of this box in conjunction with N1MM.
HV Power Supply Project
Things are moving along nicely on this project. Dave is building the unit and began assembly after a panel discussion via emails finalized the design and Jay finished the schematic. This power supply will be used for the 6 Meter amplifier.
Station Checks..
With ARRL DX CW coming up at the end of February we need to spend some time checking all the antennas and equipment before the contest.  We can do this either by participating in contests before ARRL or just operating on a weekend. If you have time and can stop by come put the equipment through a series of checks so we have no surprises come ARRL DX.
Contests and "Open Station"
As we tried to do over the past year operating every contest if possible should still be our goal.  We did operate in many and I hope to continue this. If you want to use the station for a contest even with your callsign just let me know.
Also I am considering holding some "Open Station" Saturdays to try and recruit new operators and YCCC members. I will set some dates soon.
73 – Dick