"Storm Watch"
Newsletter of NZ1U – The Barnstormers Contest Group
                                                            Volume 12 No.2, April 6, 2007
Catching up on what has been happening…
First, I have to apologize for not getting more news out to the gang. This is only the second "Storm Watch" of this year!
Let me go back to the start of this year. The party. We had a good group of you show up for the Annual Barnstormer's Christmas party and as usual food and drink was plentiful. A few new faces from the KW1AM crew came over to help celebrate. The K1GX  Award went to KM1X and third time winner K1GX. They had worked 80+ countries on 160 meters during the ARRL DX CW contest. An excellent effort and one of the highlights of this past contest season. Unfortunately Bob, KM1X, could not be there but K1GX was present and reluctantly accepted the award.
<![if !vml]>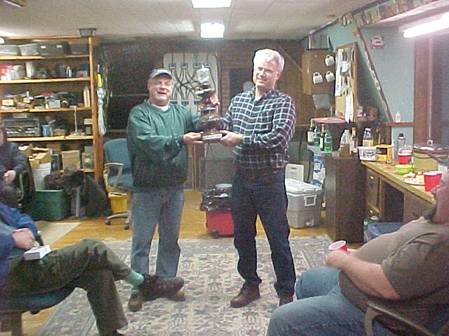 <![endif]>
K1GX accepting his Third Time winning award. That's "The Sitting Budda" on the right

Sometime during the night a challenge was issued. KW1AM verses KB1DFB in the VHF Contest. The two stations competing on the four lower bands. The winner to get a bottle of Crown Royal from the loser. The results later in this issue.
<![if !vml]>
<![endif]>
"Murderer's Row" Can Tom really read?

I think the final drink was gone at 3:30 AM and I know I crawled to the house for a few hours of sleep. Thank you to everyone who helps make this a great night. Our 11th year!
VHF Contest Results and Story of Woe…
KB1DFB, KB1H, and N1GKI had planned to kick some butt and win the Crown Royal. We had borrowed a 2M amp from K1GX so we could call CQ on 6M and 2M with almost a full KW simultaneously. A third station was set up for 220 and 432. After eight hours the rates were good and passing stations between 6M and 2M was like passing mash potatoes at the Waltons on Thanksgiving. Six and Two had almost the same QSOs and we were doing great. Then Murphy came in his glory. The 15M rotor quit and that meant we could not rotate the 2M, 220, and 432 antennas. The antennas were stuck almost due south. Allot of ocean out that way!  Alas, our rates and QSO total died and we owe (still to pay) a bottle of Crown Royal to KW1AM.  Always the next time.
Dayton or Bust 2007……
Plans are well along for our pilgrimage to Dayton. Taking Alain's band van we are planning on leaving Thursday AM and driving back home Sunday. KB1DFB, N1GKI, NB1U, and KB1H will be on this journey. We have a room at the Doubletree hotel about 20 minutes from the HQ hotel. Tickets have been purchased for the contest dinner and KB1H will eat the YCCC supplied pizza for the first time. This is like a first communion! I guess I can't complain this year about the cost of pizza but I have been told by K1ZE the pizza is usually gone in about 15 minutes. So far it will costs each of us $269.00 plus gas and food. We had a $484 repair bill on the van to get it ready for the long trip. This still seems cheaper than flying and getting a rental car. Any other Barnstormers going?
QSLs
I dropped off about 1500 KB1H QSLs to the outgoing QSL bureau. I have printed and N4XR labeled almost 1000 NZ1U cards and I have another 1500 KB1H cards inputted and must print labels. This will clear all cards we have received but K1HT has another bag for KB1H
LOTW
W1TJL uploaded 184,000+ QSOs from the KB1H logs. I was told by a person at ARRL HQ that the upload slowed the system down for a short time. I am now dutifully sending Tom logs after each contest so we will stay current.
Two Hot Projects
We are actively working on two hot projects. The first is the sequencer and preamps for the VHF/UHF operation. Kim has reworked the preamp box we all saw at the party using the proper relays. He now is going to take Jay over to K1JCL's to show Jay how Al did the sequencing. We need to finish this project soon. We plan on operating and testing the preamps down in the station before installing on the tower. The second project is SO2R for Single Operator efforts. Yuri, N2TTA, has ordered a MicroHam 2+ controller with cables. This should arrive sometime this month. More on the SO2R project later in this issue.
Amps, Amps, and more Amps…
Well, the HF Commander came back and looks really nice. They even painted the cabinet. A modification for the 160M and 80M tank circuit was done at the same time.  Some new circuit boards and Teflon wires can be noticed. The amp has been reinstalled in Station #1 and once again puts out 1500W with no more than 40W drive. All this for a small fee of $1216.00
The used Ten Tec Titan I purchased ($1450.00) is working great. It did a great job while the HF-2500 was out. Yuri used the amp for both the Russian DX and CQWW WPX SSB.
SO2R
During the CQWW WPX SSB we tried to quickly get a SO2R set up running. Using the $5.00 SO2R system shown in the N1MM manual it was a good effort but after a day of complaints of audio quality it was abandoned. This method passes all audio in and out through the sound cards and levels have to be set in software which requires more than a few hours of testing.
As mentioned, Yuri has purchased the MicroHam SO2R+ controller which has great reviews and also seems more straight forward with easier adjustments. The plan now is to set up Station #2 as a SO2R position. If you Single Op the SO2R setup will be available there. The two TenTec Titans will be the amps with a FT-1000MP Mark V and FT-1000MP. Station #1 will be for those of us SO2R-impaired and daily casual operating.
40M Antenna System Situation and Status
As most of you know, the 40M beam was damaged in the ice storm just before ARRL DX CW. It is still dangling half a director.  Though plans are for a new 150' tower we need to fix the antenna as it needs to be used until we get the new tower up and decide what beam we will install on it. Can we make plans to fix this beam?
The new tower also needs to be started. Kim has built the form for the base and I suspect we will be pouring cement very shortly. The hole is dug and waiting.
No Code – No Excuse
Many of you already know that Jay, N1GKI, has upgraded to Extra Class, With the  removal of the code requirement I say lets try to upgrade to Extra as many of the Barnstormers as possible. I will be willing to help with the studying and questions. Let's get the books and start.
YCCC Dues
Yankee Clipper Contest Club dues are due in April. $15.00 for dues with the EButt subscription and $20.00 with the printed bulletin. These dues are for the 2007-2008 contest year. For your portion of out total score to count for YCCC Club competition you must be a paid up member. Check the YCCC website to see if you owe any dues.
FYI……
Normally I don't like to let out numbers but I felt it would not be a bad idea to recap what we have purchased in the last year just to show though we seem to have been a little less active the wallet still was open. That is why I put the amplifier costs above.  Besides those expenses we bought three new computers for $1250.00, purchased 6000 QSL cards for $270.00.  Kim spent well over $1200.00 on his VHF preamp project. Yuri has purchased a SO2R Controller for $900.00.  We bought a spare Yaesu rotor for $400 and still have to get the control box repairs. The prop pitch controller was repaired at a cost of about $180.00 N1GKI provided various station and computer accessories. All this is the way it has been since we started as a group. Everyone has pitched in one way or another on a project. I can not think of anyone of you who have not contributed including N1XS who we might see once a year. I could not do what we do alone. I have not hit the Pwerball yet!  I am sure everyone appreciates each and every contribution, big or small.  We might be No. 7 or No. 8 in the M/M pecking order but none of those above us try harder or have more fun. Fun is #1, developing our skills is #2, trying new technology #3, and drinking beer #4. I may have a few in the wrong order but you get the idea.  We might not win a piece of wood but if that what we need I have a 2 X 6 piece of board we can engraved.
I promise to get more news out and also start to bug you guys so we can be ready for the next contest season.
It's Good Friday and I get a day off! Happy Easter, Passover, whatever you celebrate.
73 – Dick
p.s. On a personal note, my vision problems still exists but I seem to realize some slow improvement. It might take the three months the doctor said it could take.