"Storm Watch"
Newsletter of NZ1U – The Barnstormers Contest Group
"The BarnStormers News"                         Volume 11 No.1, January 11, 2006
And a Good Time was had by All!!
Well, January 7th was our 10th Annual Barnstormers Christmas Party. I hope I list everyone that was here: KB1H, KB1DFB, N4XR, KE1LI, K1EBY, N1GKI, NB1U, K1GX, W1TJL, K1ZE, Matt (NB1U Harmonic) W1MKM, and WB2VVV.
The food was outstanding with Kim's mystery meat chili being made with buffalo meat.
<![if !vml]>
<![endif]>
I am sure that Vic' cheesecake and Mark's Black Forest Cakes were co-winners in the dessert category. Both were gobbled up! Jay brought a nice chocolate cake which served as Kim's birthday cake whose birthday was the next day.
We were not deprived in the libation category either with KE1LI bringing two types of homebrewed beer and N1XS donating a bottle of rum (check received).  The rum is the bottle on the left.
<![if !vml]>
<![endif]>
The first to come were K1EBY and W1TJL about 5 PM and the lights went out about 3 AM! While the webcam ran (it quit updating around midnight) N1XS in Texas was watching and saving images. I wonder how many more were watching? I know N1ROZ was watching from work and also getting updates via cell phone from KE1LI. The NE Patriots were on the TV so it had to be a good time. Many stories told and a lot of just plain good talk all night. If anyone went hungry or thirsty it was their own fault for sure.
The usual cigars were smoked by some. Everyone thinks they are Red Aubach!
One of the annual highlights is of course the awarding of the "K1GX Award". Remember, this award is now for doing good things where in the past the award went to someone who pulled a real bonehead mistake during the year.
Seeing this being the first year the award was for good things I decided on co-winners. First, Kim, KB1DFB, was one of and probably the most important winner of the award. Since near the beginning in 1988 Kim has helped with construction projects, tower projects, building operating benches, and just plain running around for us. Some of this when he himself did not have a license. He really deserved this award! The co-winner was Jay, N1GKI. This year we upgraded all the computers, installed new operating systems, got the webcams running, had live score updating, and also converted over to N1MM Logger. With our main IT guy, N1XS, moving away Jay picked this ball up and really ran with it! Probably more for his convenience but good for us, all the computers are accessible by Jay remotely and he spends many hours in his shack keeping our computers updated and also configured for the next contest. Because Jay accomplished all this during 2005 I just felt I did not want to wait until next year to present him with the award. So, to Kim and Jay, thank you for all you have done and our score would not be nearly as high without your help.
<![if !vml]>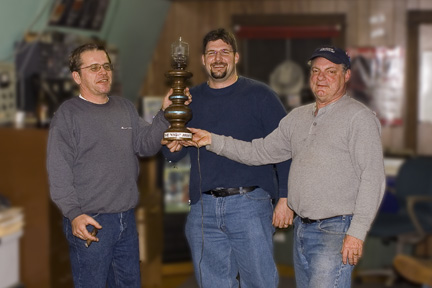 <![endif]>
Kim KB1DFB, Jay N1GKI and needing to loose that belly KB1H (in my defense I had already drank about 3 gallons of KE1LI's homebrew! I was ready to blow!)
We have quite a few more pictures and are planning to upload them to a special section on the website. Some captions have been added to the pictures that are really hilarious! Keep a watch on the website for all this. Thanks Dave for taking the pictures and working on formatting them.
We also received two nice operating recognition awards from the  YCCC for our contribution to the club score.
What do we do now….
N1XS asked what had I announced as new projects which I usually do during the Christmas Party. Well I guess there are not too many new ones but ones which I still would like to see finished.
Put up a K9AY listening antenna system

Put up the short E-W beverage

New optical mouse on all computers

Fix the damaged roof

NEW – Set up a 6M station that we all could remotely access.

Still thinking about the 130' of Rohn 45
I am sure this is going to carry into next year but it is always good to have the list around so everyone knows we have stuff to do.
Amplifier Report
The TL -922 is back from Beltronics. $285.00 to repair. I have tested it and it seems to be a little light on 160 because the FT-1000 is rolling back to only 50 watts output. On 80 I have the full 100 watts and more than 1KW out of the amp.
The HF-2500 is just about repaired. The RF section works but we have some problems with the metering circuit. We hope to have this repaired this week.
Frank's LK-500 still needs to look at.
Mark's LK-500 is working well with a new set of graphite 3-500s
VHF Sweepstakes – January 21-22
We still need help operating during this contest. 6M – 432 Mhz. , four bands, Multi/Limited category. Please let Kim or I know if you can help.  Some of our usual is heading to N1ROZ to help out in a M/Unlimited effort.
Well, talk to you soon and look for Frank in the NAQP CW this weekend. Watch the webcam for score and if he falls asleep!
73 Dick