WILLY'S AMATEUR
RADIO HISTORY
I was licensed as a novice in October, 1984. I upgraded to a General Class during the U.P. Hamfest in Manistique, Michigan the last weekend of July, 1985. I recall being all nervous that I wouldn't pass the test since I wanted the General Ticket so badly. About half way through the written test, the hamfest and test rooms were evacuated due to a bomb threat. I thought for sure that my test would burn up in the explosion and I would have to go home still as a Novice. But, all was well, and I passed the test with flying colors.
This is a photo of my first ham station. I operated a Kenwood TS-520 on HF. I enjoyed CW and spent many hours on 15 Meters. For six meters, I operated a converted RT-68 military surplus radio. We used to rag chew in the evenings on 52.525 MHz. That is a homebrew antenna tuner on top of the Kenwood HF radio.

---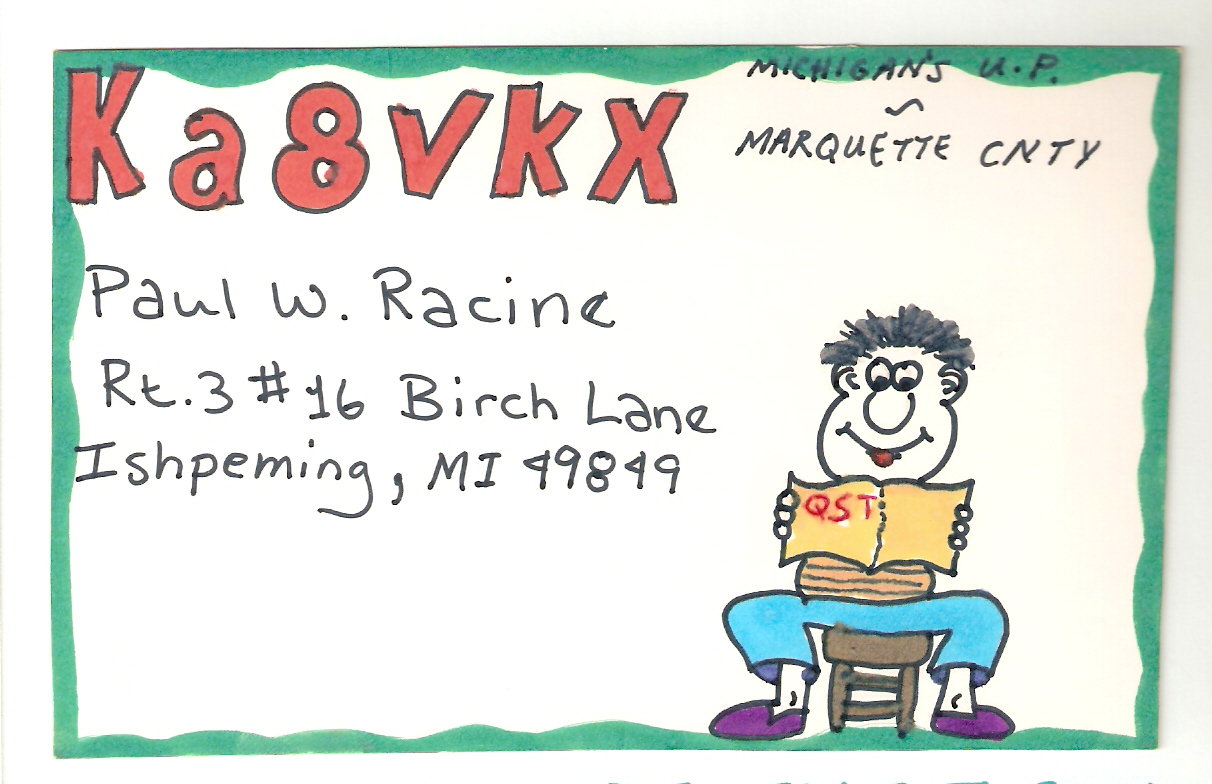 This is an example of my first QSL cards. At the time (during the Reagan Years), I was in school and could not afford QSL cards. So, I would hand-draw each card for each contact I made. Some of you out there must have these cards someplace. If you do, please contact me via email.
This is an example of a computer generated QSL card from 2000 when I lived in Minnesota. A nice thing about the computer generated cards is that every card can be made to be unique. Also, I enjoy making cards using photos of some of my homebrew radio equipment.

---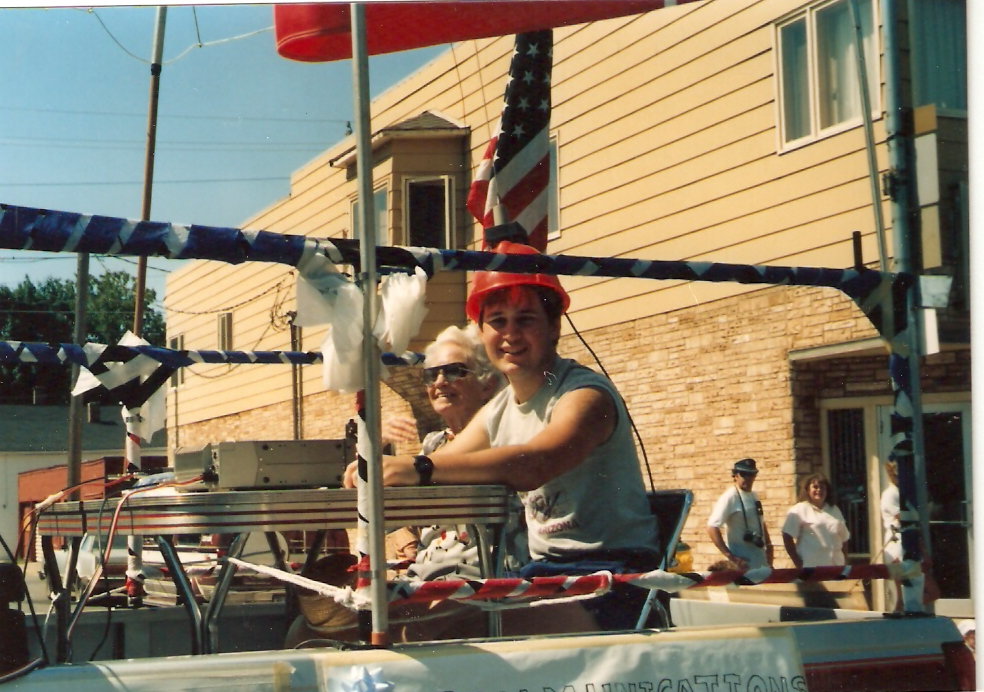 During the summer of 1987, the HARA (Haiwatha Amateur Radio Association) featured a float in the Ishpeming, Michigan 4th Of July parade. This is a photo of me wearing a hard hat with a Larsen 2 Meter magnet mount antenna attached to the top. That was a heavy antenna! My neck was aching by the time the parade ended. Oh, and it seemed that every time we transmitted on 2 Meters, my vision would go blurry and I would see awesome burst of colors and shapes before me. Sitting next to me is the late Vi Lehtinen, W8JXJ.


---
In 1988, I left home and went to Michigan Technological Univeristy (MTU) to pursue my Electrical Engineering Degree. One nice thing about MTU is that they had a campus Ham Radio Club, W8YY. I was secretary of the club for 3 years, 1988-89, 1989-90, and 1990-91. I spent many hours up at W8YY operating 160 Meters and 75 Meters. The W8YY shack is located in the elevator penthouse on the top of Wadsworth Hall. I lived in DHH hall and I always managed to have a ham station set up in my dorm room. My setup usually was limited to 2 Meters. Since there was no such thing as the Internet, we all hung out on 2 Meter simplex. 146.580 MHz was adopted as the official MTU hangout frequency since I only had a crystal controlled transceiver in 1988 and that was the only simplex frequency I had available to me.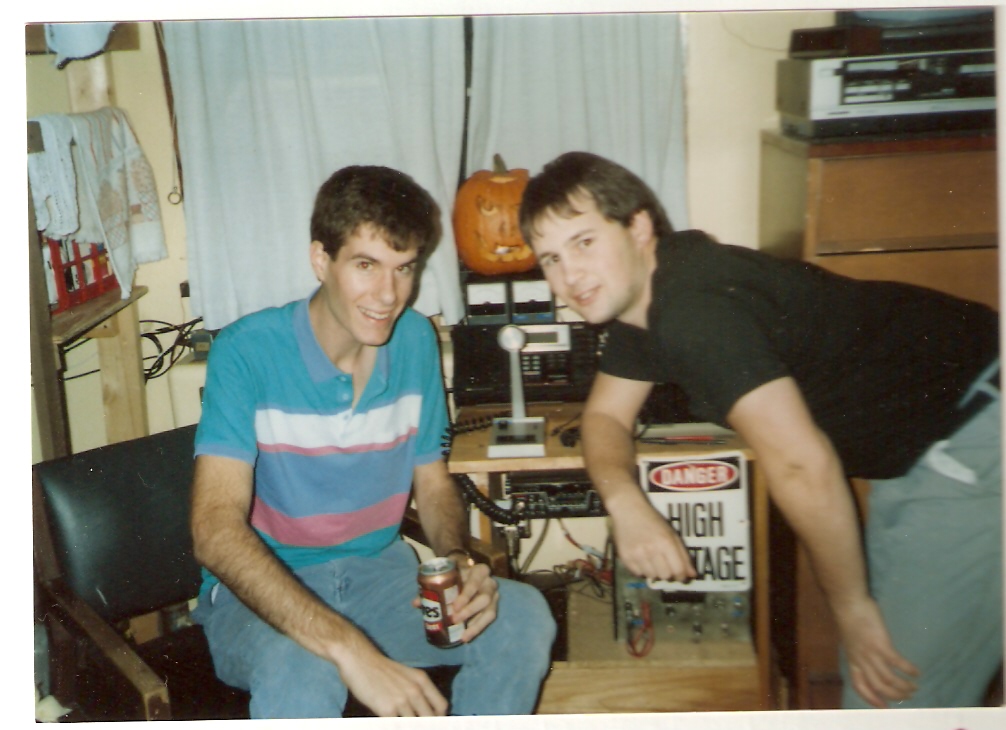 In the second photo I am posing with my friend (and roommate) Todd, N8JWT. During the year 1989-90 I actually ran a full HF station from the dorm room. Using an FT-101EE (purchased from N9ISH at the Milwaukee hamfest in January 1990) and a 125 foot wire stretched from my top-floor dorm room window to a large oak tree across the parking lot, I worked 160 Meters to 10 Meters from the comforts of my dorm room couch.
The outside of the top floor of DHH hall was sided with copper flashing. I used that copper as my antenna counterpoise. Dressed in complete black, a friend (Jon, N8HLH) helped me string up the 125 foot antenna wire at 1:00 AM one night. I wonder if that wire still hangs there, today?

---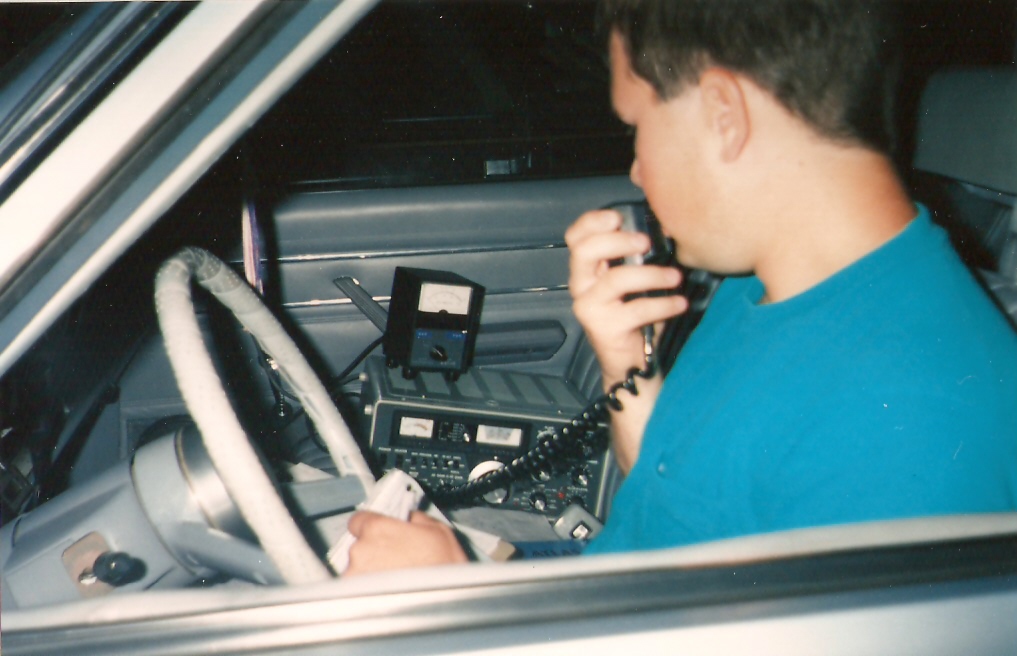 I enjoyed operating HF mobile. Here is a photo of me operating 20 Meters from the front seat of my 1982 Arie K-Car (light blue, 2-door). As you can see, I am using the FT101EE, which is strapped to the passenger seat using suitcase straps. I enjoyed operating HF while commuting from MTU to home during the weekends. One time, I recall carpooling with another student. I didn't want to move my HF station, so I made her sit in the back seat for the 2 hour drive.

---
In 1992 Mead Paper employed me in Escanaba, Michigan as an Electrical Engineer intern. I rented my very first place (apart from college dorms and apartments) on the Whitefish River in Rapid River, Michigan. This was a small apartment next to the river and I had lots of room for antennas. Here, I am posing at my ham station in 1992. I operated HF (160 Meter to 10 Meters) using my FT101EE. Also, I had a 11-element 2 Meter beam on a TV rotor pointed northwest toward Marquette and Ishpeming so that I could talk back "home". I operated a mobile Alinco 22T for a base.
One afternoon, Les Elder (then N8NHD, then KG8SQ, and today he is WA8LE) and I was tuning up my antenna for 3921 KHz getting ready to check into the U.P. Net. With the antenna tuner, the SWR was down to a 1:1 and all looked well, until SUDDENLY, in an instant the SWR shot up to infinity. We both looked at each other wondering what had just happened. We heard some commotion outside. We ran outside and found a group of snowmobilers stalled in the field behind my place, and the lead rider was scratching his head. As the snowmobilers were speeding across the field, the lead rider struck the end of my dipole and got it across his chest. This caused the antenna to come down resulting in the high SWR. He didn't know what hit him.


---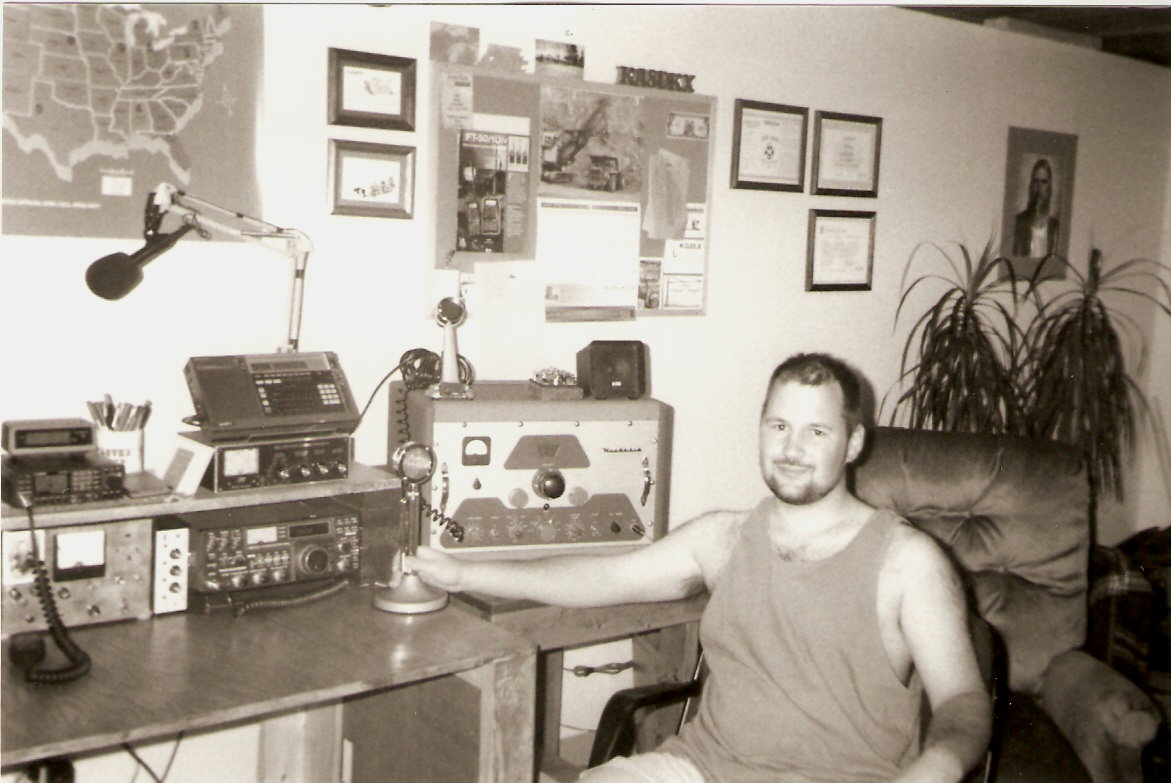 I moved back "home" to Ishpeming in 1994 and in 1995 I purchased my first home and set up a ham station in the basement. This was prior to moving to Minnesota in 1998. Here, I am posing in my shack and work shop which was my very first building project, ever. I built a nice 12 x 16 foot shack which was plenty of room for an operating position, a work bench and cupboards, and even a Lazy Boy chair to relax in to read a few radio magazines.
At the time I sold the FT-101EE and purchased a used IC-751 from Art (then KG7Z, today K8ET). For 2 Meters I used a Kenwood mobile radio. It was at this time that I was introduced to AM on HF and I operated a DX-100 on 10 Meters, 40 Meters, and 75 Meters. For a receiver, I used the Heathkit 10B HF receiver.

---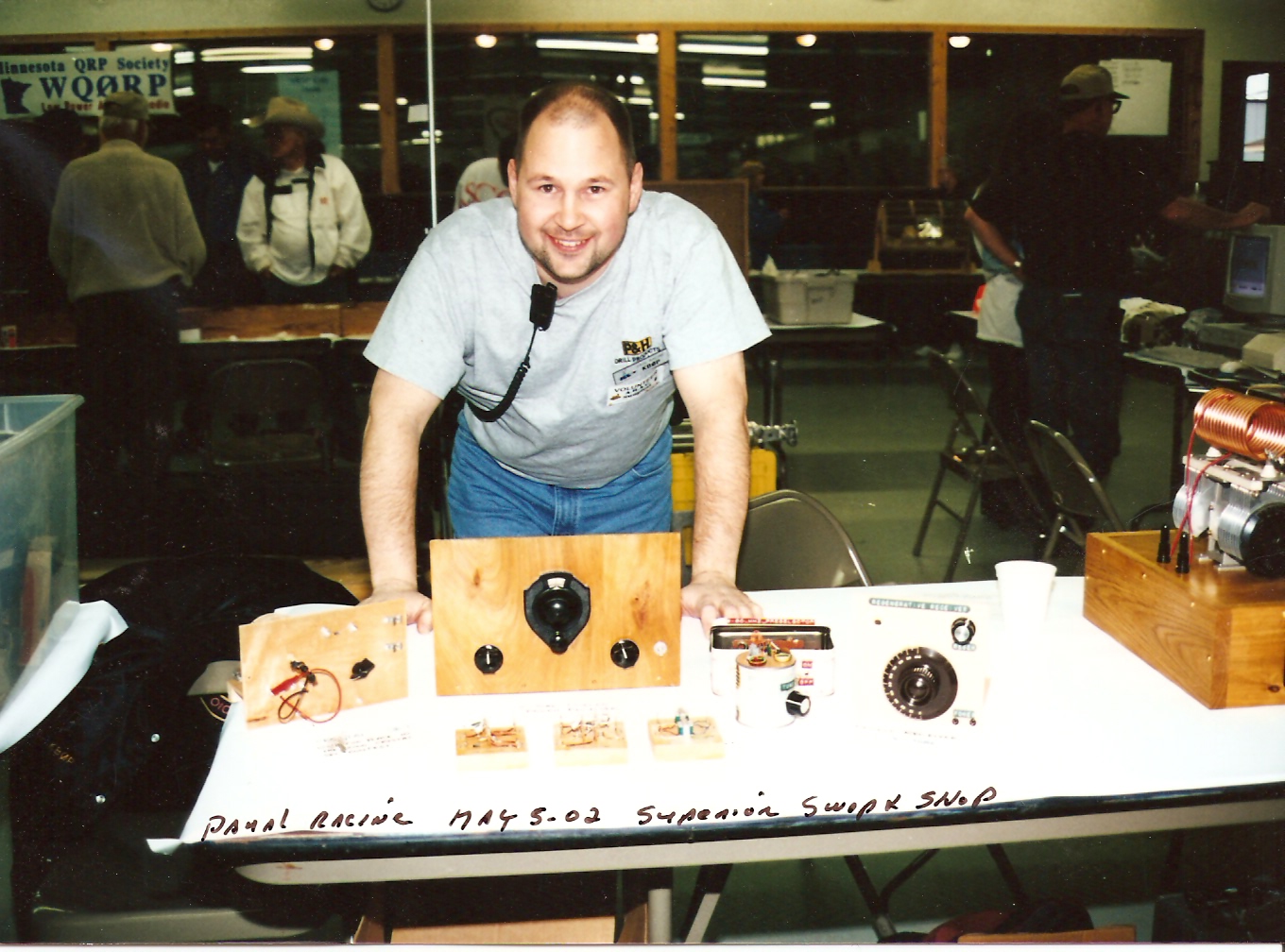 When I lived in Minnesota, I attended most of the hamfests in the area. This photo was taken in May 2002 by Stanley, K8NYT. This is me posing with my homebrew projects at the annual Superior, Wisconsin Swap and Shop. I enjoy building QRP projects in small cans. I also enjoy building vintage radio gear.