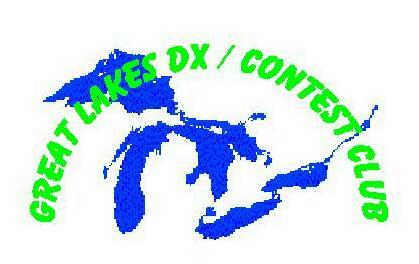 WELCOME TO
THE GREAT LAKES DX / CONTEST CLUB
K9PXV
WEB PAGE
---
(This site created and maintained by W8EB)
---
---
The Great Lakes DX / Contest Club is located in the central part of Michigan near the city of Lansing which is the state capitol.
The club's main purpose is to support and encourage the DX aspect of the amateur radio hobby.
This is done by providing and participating in DX Forums at various Ham Radio functions, by sponsoring plaques for the winners in the ARRL RTTY Roundup Contest and the CQWW RTTY Contest and by creating and maintaining the 300 Club Award, see below.
The club is an official affiliate of the American Radio Relay League, Inc.
The GLDXCC's official ARRL QSL Field Checker is Don KC8CY.
---
The QSL card shown above right, was used for the annual mini-dxpedition when several members of the GLDXCC visited the island of St. Maarten in the Caribbean.
Ron, ND5S, his wife Sue, KF5LG, Bil, W8EB and his wife Dorothy, W8DVC own timeshares at the Sapphire Beach Club where a R-7000 vertical antenna was mounted on the top of the 10 story building.
They operated all modes and all bands and participated in the ARRL CW and SSB DX Contests from 1996 to 2000. Contest QSL for PJ8A go to W9NIP and the others go to PJ8/home call.
---
Because of the new international licensing agreements the callsign of PJ8A was no longer available thus starting in 2001, a new callsign of PJ7B was assigned. Bil, W8EB, has used this callsign in the ARRL DX Phone contests since 2001.
All QSL requests from 2001 on will go to the home call of W8EB.
---
The callsign of K9PXV is the original callsign of the club trustee, W8EB, issued in 1958. It is now the vanity callsign for the Great Lakes DX / Contest Club station. Original "K9PXV" QSL card pictured below.
---
Current Club officers are:
President K8RLM Bob,
Vice-President K8RLR Bob,
Secretary W8DVC Dorothy,
Treasurer/License Trustee W8EB Bil.
---
As mentioned above, the club has created the 300 Club Award, art work done by ND5S Ron. This award is available to those hams who have worked and confirmed 300 or more official DXCC countries.
This is what the certificate looks like:

---
To apply for the certificate just send a SASE to W8EB or K9PXV for the application form, or you may make a copy of the form and send it to the club with your donation.
Click to view the FORM
---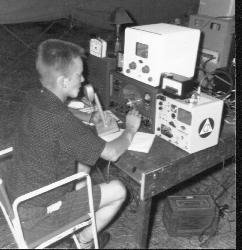 Can you guess who is this mystery operator?
His callsign can be seen spotted on the DX-Cluster nodes for various contests, generally CW and Top Band contests.
He has been known to spend time on 14.313.
He has had conversations with the FCC.
To find out who this ham is, go to web site of W8EB at
---
If you have comments or suggestions please email them to

[email protected]

.
You are invited to visit the other two web sites, W8EB and PJ7B.
73 for now...Bil W8EB-K9PXV-PJ8A-PJ7B-PJ7WB
---
RETURN TO TOP
---