Libertyville MARC Station is Operational!
After much anticipation, the Ham Radio Station at Libertyville Motorola PCS is now on the air. The first contact made was by Fred Sanborn (KG9X) on 20M SSB with Igor (OZ/RZ9OU), an operator in Denmark. Following some further testing, a special event was held Saturday, Oct. 2, 2004 to inaugurate the station, commemorating the 76th anniversary of Motorola.
Ken (KW9U) and Jerry (N9GGO), worked 20M and 40M SSB in the morning, and Wayne (AA9DY) and Howard (K9KM) rounded out the day with 52 phone contacts and 12 CW contacts, mostly on 20M. They worked the California QSO party with a score of 5180, W1AW (Hiram Percy Memorial Station), and a Nova Scotia Island (IOTA NA-081).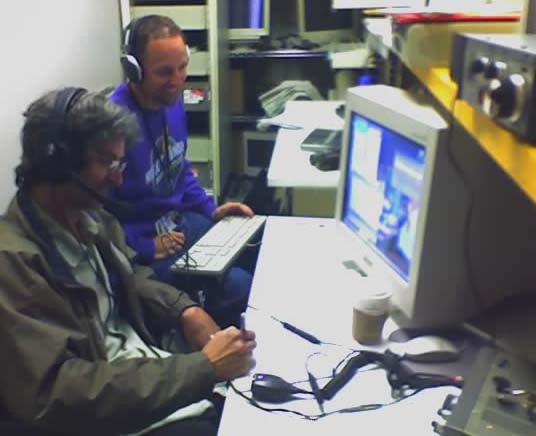 Jerry commented,
"We contacted over 100 Hams during our event Saturday from all around the USA. Several contacts were with Motorolans or those familiar with our products. Lee (WD0BYM) a 25 year Salesman for Motorola equipment who was vacationing near Lake Superior in his motor coach, talked to us about the Motorola products he sells. Philip (K0WHI) from Missouri told us he was listening to us thru a black 4x4 Motorola speaker. What a great way to connect with the Ham community! Many Hams wished us well with our station including several local Motorola MARC Schaumburg Hams informing us that our system was performing as well as their set-up at home."
The station is a result of several months of planning by a station committee of the PCS Motorola Amateur Radio Club, which met for the first time in December, 2003. By November a room was obtained for the station, and outfitted with computer and benches. It is located on the basement level of the building. The Facilities Group worked with the Club to ascertain the station requirements, and installed 650 feet of our coaxial cable in four separate runs to mounting brackets on the roof.
A group of Club Members had earlier completed a rooftop safety training course. On a crisp October afternoon Jerry, Wayne, Fred and Ken trekked across the vast gravel expanse that is the Facility roof, carrying a shiny 14AVQ Multiband Vertical antenna. The breeze was almost cool enough to chill Fred's 200 watt iron, but with some care the connector was put on, sealed, and the antenna mounted. The sun was setting, so no attempt was made to outfit the other three cables. Later the area was tested for RF Safety by Luis Santini from Motorola EHS, and John (N0BMP)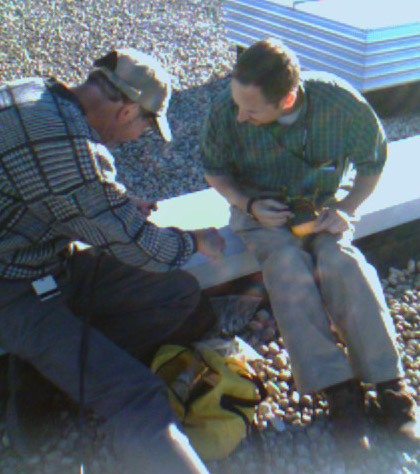 The station will soon be available to club members, and relies on donations for equipment. Currently, the radio is a borrowed Kenwood TS-440. Plans call for a tuned wire antenna for 80/160M, a Comet GP-9 VHF/UHF vertical, and a 6M omni. In addition to regular member usage of the station, volunteer activities are foreseen that will contribute to the community. The club holds monthly meetings, and all interested parties are welcome.
---